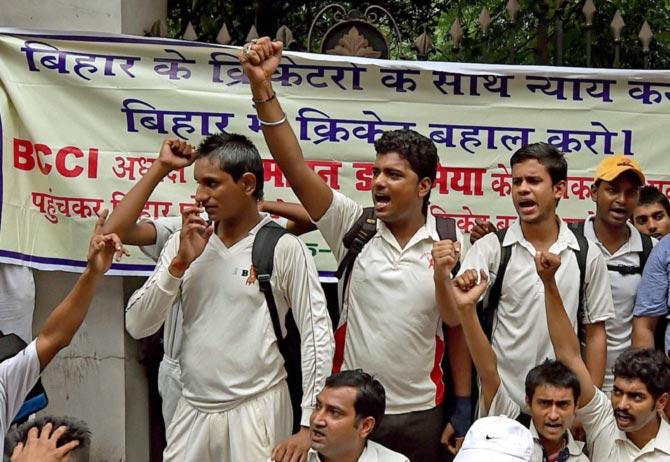 IMAGE: Bihar cricketers protest outside BCCI president Jagmohan Dalmiya's residence in Kolkata. Photograph: PTI
The Board of Control for Cricket in India on Friday formed an ad-hoc committee for cricket administration in the states of Bihar and Uttarakhand.
The committee, formed to look after cricket affairs in Bihar, is spearheaded by its chairman, Niranjan Shah, and includes Vinod Phadke (secretary, Goa Cricket Association), Sourav Dasgupta (secretary, Tripura Cricket Association), Bharat Zaveri (executive Member, Gujarat Cricket Association) and Ratnakar Shetty (General Manager - Game Development, BCCI).
The panel for Uttarakhand is chaired by MP Pandove. It includes Vishal Marwaha (secretary, Himachal Pradesh Cricket Association), Subir Ganguly (joint-secretary, Cricket Association of Bengal), Vinod Shah (vice-president, Maharashtra Cricket Association), KVP Rao (Manager - Game Development, BCCI).
Speaking on the development, BCCI secretary Anurag Thakur said, "Due to infighting among different associations present in these states, aspiring cricketers of these states have to suffer for no fault of theirs. To ensure cricket grows in these states, the BCCI has decided to form an ad-hoc Committee for these states, which will function till the affiliation issues of these states are resolved.
"This will ensure participation of budding cricketers from these states in the BCCI Associate and Affiliate members tournament this season onward.
"During my recent visit to Bihar, I got representations of at least 17 organisations to start cricket once again in Bihar and, similarly, I've got representations of various organisations in Uttarakhand, who have lost out on playing opportunity after bifurcation of Uttar Pradesh," Thakur added.
After the bifurcation from Jharkhand State Cricket Association in 2001, Bihar was a full member till September that year when the Dalmiya-led BCCI disaffiliated Bihar and in the 2008 Annual General Meeting of the Board the state was granted associate membership.
Incidentally, Bihar has several factions with Aditya Verma's Cricket Association of Bihar, the Bihar Cricket Association, led by Lalu Prasad Yadav, and another one that goes by the name of ABC -- Association of Bihar Cricket -- among others.
Last month, about 100-odd present and former cricketers under the banner of Bihar Players Association demonstrated outside BCCI chief Jagmohan Dalmiya's residence in Kolkata demanding full membership for the state.
Displaying placards, which read 'We want justice for Bihar cricketers' and 'Start cricket in Bihar', they encircled Dalmiya's residence in 10 Alipore Road for about half an hour before police dispersed them.
The petitioner in the IPL spot-fixing case, Cricket Association of Bihar secretary Aditya Verma, who hasn't been included in the committee welcomed the move.
"The decision means Under-16, Under-19 and Under-23 boys of Bihar would be able to play at national level tournaments," Verma said.
"As long as I am sanguine that BCCI wants cricketers in Bihar to prosper, I have no problem but if it happens otherwise my fight against establishment will continue," he added.