BCCI's interim chief Jagmohan Dalmiya is likely to represent the Indian Cricket Board at the International Cricket Council's annual conference scheduled to start in London from June 23.
With president N Srinivasan stepping aside till the two-member probe committee complete their inquiry on his son-in-law Gurunath Meiyappan, Dalmiya who is now the functional head of the BCCI, will be the face of the Board at the meeting which might witness some important decisions.
- DRS technology not good enough: BCCI
"Dalmiya is all set to represent BCCI in London. As of now, there is certainly not going to be any change in this plan," a senior BCCI official said on Thursday.
The meeting is likely to be a tense one as ICC is likely to take a stand on whether the Decision Review System (DRS) can be uniformly implemented across all Test playing nations.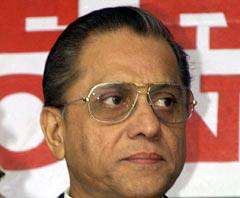 It will be very interesting to know what will be Dalmiya's stand on the issue as Srinivasan has vehemently opposed the use of DRS.
"The BCCI currently has a stand on DRS, so it will be unfair on my part to make any comments on this issue till I have a detailed look at the relevant documents. Once I have a look at the documents will I get a clearer picture," Dalmiya said from Kolkata.
The veteran administrator was non-committal at when asked about his point of view on this issue.
"I am not going to say anything further on this issue," Dalmiya said.
There are contradictory reports coming in about what exactly will be the BCCI's stand on this issue.
If Dalmiya goes on to support the uniform implementation of DRS at the London conference, then it will be in direct confrontation with Srinivasan's stand which is widely believed to be Indian captain Mahendra Singh Dhoni's position on the issue.
As per rules, seven out of 10 Test playing nations need to agree on uniform implementation but the BCCI has a lot of commercial clout in world cricket and could turn the tide in their favour by withdrawing from ICC's Future Tours & Programme (FTP) calendar.
If Dalmiya relents, it might be seen as a softening of stand on the part of BCCI.
Photograph: Tom Shaw/Getty Images