The Board of Control for Cricket in India (BCCI) will have to face financial losses to the tune of crores if the Supreme Court-appointed RM Lodha Committee recommendations on Indian Premier League are to be implemented, President Anurag Thakur said on Sunday.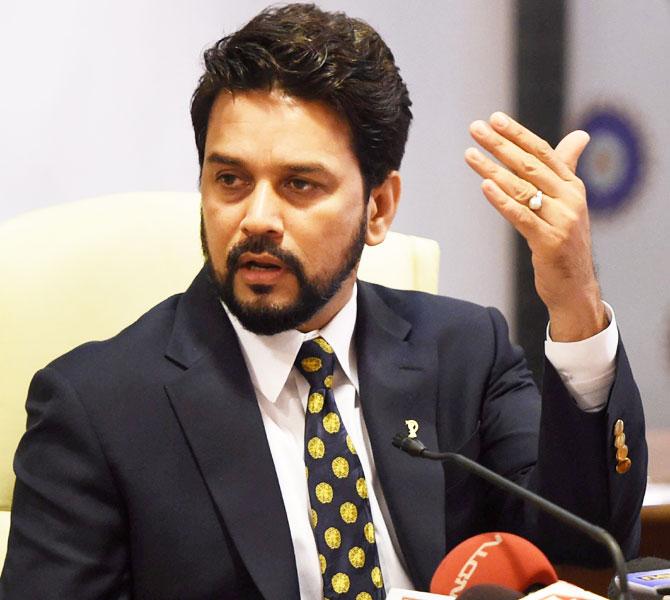 "If you look at the overall IPL calendar then IPL would not be possible that way. Are you going to lose 100s of crores of Rupees?," Thakur said while referring to the recommendation of ensuring a 15-day gap between the national calendar and the IPL.
The BCCI President was replying to a query to keep the India's home calendar confined from October to March. He was speaking at the book launch ceremony of Sportstar's 'India 500 Tests' at the team hotel.
Stressing that the Board will incur crores of money, he further said, "The money is paid to the past cricketers. More than Rs 110 crores have been distributed to past cricketers. If you wind up the IPL because of the international calendars, Indian cricket is going to lose. You have to decide overall. 15 days window is not possible as of today if you have both IPL and the Test calendar to go on."
"We wanted to start our home season from Gandhi Jayanti (October 2) but one recommendation of the Lodha Committee is that there has to be a gap of 15 days..."
Having tested Pink ball in Duleep Trophy, Thakur further said the Board will weigh the option of day/night Tests and hosting Tests in small centres after the 13-Test home calendar.
"Whether day/night venue or new venue will help we are looking at both options. By the end of home season we will get various views."
Image: BCCI president Anurag Thakur
Photograph: PTI