After ending their Asia Cup campaign with four straight defeats, Bangladesh skipper Mushfiqur Rahim has vowed to come back stronger in the World Twenty20, beginning in 10 day's time.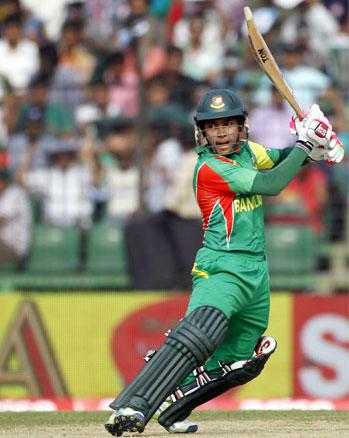 "Obviously a win today could have given us a winning momentum and maybe we're a little bit low on confidence. But we will have a full strength side for the World T20.
"Hopefully we will be mentally and physically fresh. Twenty20 is a different format," Rahim told reporters after a three-wicket loss to Sri Lanka in the concluding Asia Cup league fixture.
Premier batsman Tamim Iqbal along with off-spinner Sohag Gazi and pacer Mashrafe Mortaza will be back to bolster the Bangladesh for the World Twenty20.
Bangladesh will face Afghanistan on March 16 in the tournament opener as they will play qualifiers to make the main round.
"We have not been doing well and are not playing up to the strength. But we are still hopeful. We have played well in these two matches. Hats off to the boys for the way we they come back after the early debacle. There were ifs and buts.
"We have put on an improved show. Overall, we have to work hard ahead of the World Twenty20," he said. The skipper said they have been unlucky a few times.
"Everybody is giving their 100 percent. I'm happy with the boys' attitude both on and off the field. It's just that the result did not go our way. It's been a learning curve for us.
"We still have the strength to take the upperhand at home against any opposition. We have been unlucky as a team, that's all," he rued. On the defeat against Sri Lanka, he said they fell short by about 35 runs.
"It's always a disappointment. As a team we have more capability. We fell short by 30-35 runs. It's not that we don't have the ability. We have been unlucky in some aspects. overall, it feels very sad."
Image: Mushfiqur Rahim
Photo: Andrew Biraj/Reuters