Humiliated by Afghanistan in the ongoing Asia Cup, a livid Bangladesh captain Mushfiqur Rahim said the 32-run defeat against the tournament-debutantes was "shameful" and should trigger a few sackings.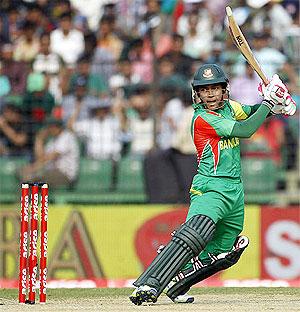 "I don't think I can remember a worse instance. This is the most embarrassing defeat, a shameful loss," Mushfiqur told reporters.
"I did not think even for a second that we could lose this match. I thought that someone or the other would stand up and bail us out. But in the end we were not good enough," Rahim said after Bangladesh botched up a 254-run chase on Saturday.
"We have to replace those players who, after being motivated, do not understand. It is not my or someone else's team. It is a matter of the nation. I think it is time to replace those who cannot perform.
"If they don't feel bad after losing to Afghanistan or Sri Lanka, they should not play cricket. After seeing some of their cricket, I think some of us can't feel what is going on. The team management and selectors will probably think about changes," added the miffed skipper.
Rahim was particularly upset at the way his team fielded and said he would demand answers for it.
"If I knew what was wrong, I would have fixed it after a game. I don't have any answers about fielding. Our fielding hasn't been this consistently bad for so long," Rahim said.
"I have to answer this question time and again. If the players don't understand, it becomes tough. I cannot spoon-feed all eleven players. If they don't show responsibility at this stage, it becomes very tough," he added.
However, Rahim's own captaincy has come under the scanner after he failed to go for the kill when Afghanistan had been reduced to 90 for five.
The batsman defended himself, stating that a finger injury to off-spinner Sohag Gazi has forced him to employ the services of part-timers such as Nasir Hossain and Mominul Haque.
"We were one bowler short so I had to make do with some part-timers. I think they batted really well at that stage. We dropped a couple of catches. But I still feel we should have chased down this target," he explained.