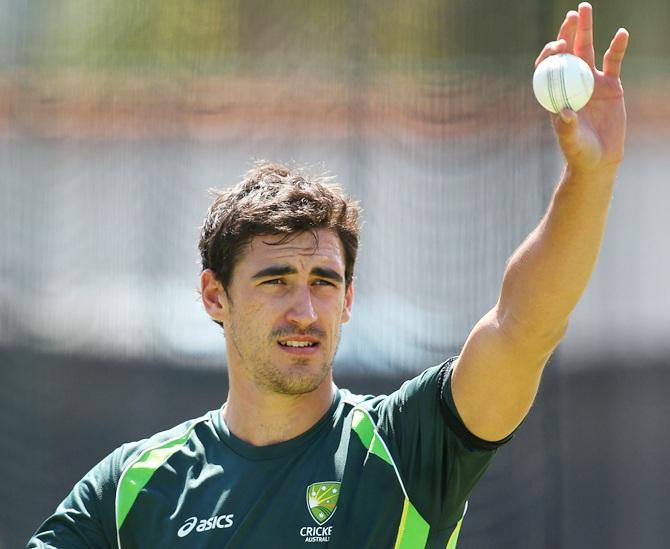 Australia and Royal Challengers Bangalore fast bowler Mitchell Starc. Photograph: Paul Kane/Getty Images.
Keen to take the field after missing the first few Indian Premier League matches this season due to a knee injury, Royal Challengers Bangalore pacer Mitchell Starc expressed his desire to play against Chennai Super Kings, in Bangalore, on Wednesday.

After leading Australia to a successful World Cup campaign, Starc was forced to sit out of RCB's initial games due to a niggle in his knee but the left-arm pacer is itching to bowl in the T20 league.

"I have got to bowl in training now, so we will see how it goes. But the knee feels good and if it was up to me I am available to play," he said on Tuesday.

The 25-year-old player said that he is disappointed to have missed the initial action but will try to be among the wickets if given a chance.

"I am disappointed not to be here at the start of the IPL, but I am here now so I will try and catch up, and take a few wickets when I get the chance," he added.

Starc further said it is nice to be training with his RCB team mates after three weeks of rest.

"I have had three weeks off from cricket, so it is nice to train with the team and be back in Bangalore with boys," he said.

Asked about his transition from ODIs in Australia to T20s in India, Starc said he would adopt the same approach what he adopted in last year's IPL.

"It is still T20 cricket, so my plans aren't going to change. The way I bowl is regardless of where we are. I played in the IPL last year and will probably take that same approach into it this year," he said.

Starc said he is a more complete bowler this year than he was in the previous season in the 50-over format. Even though the left-armer hasn't played much in the shorter version this year, he still exuded confidence about his T20 plans.

"In 50-over format, yes. I have not played too much T20 since last IPL - just a couple of Big Bash games. But I am quite confident of my plans with the white ball, whether it be T20 cricket or 50-over cricket ... I am looking forward to doing a good job for RCB and hopefully contribute in winning some games," he said.

Asked about the pressure on him with expectations running high, especially after RCB's dismal show so far, Starc said he enjoys such challenges.

"It is exciting, I enjoy the challenge. That is why I enjoy bowling at the death as well. It is that challenge of you never know if you are going to pull off a win or you may lose. I am excited for the challenge," he said.

Asked whether the team has a particular plan to tackle Chennai's power-packed batting line-up, Starc said the RCB pacers would look to get a few early wickets.

"Thy have got some big names in their top order and some guys we need to make sure we do not let them get away. So we will plan really well, train well tonight and look forward to a really good contest," he added.

Talking about Allan Donald as coach, Starc said he is looking forward to working with the South African legend.

"Yes, it was great working with him last year in the IPL and looking forward to doing that again this year. We also have young guys eager to learn and improve. It's exciting to work with a legend like Allan," he added.

Asked about white-ball bowling skills in last 12 months, Starc said, "Just that consistency I guess. Throughout the tour of Zimbabwe for Australia, I worked with Craig McDermott on a few things. Consistency, knowing a bit more about my wrist and my wrist position to try and get that ball swinging."

"It's been working for the last few months so hopefully that can continue, but for me, I think in all formats, consistency and knowing my game really well are key. And I think I know that game really well with the white ball," he concurred.