Lakshmipathy Balaji's comeback into the national squad after a gap of three years has been welcomed by all and the Tamil Nadu seamer feels that it is his IPL stint with Kolkata Knight Riders that has helped him make a comeback.
"I attribute my comeback to the national team to my stint with the Kolkata Knight Riders in the Indian Premier League. I have been in good form for the past two seasons for the Knights and I am grateful that the selectors have taken notice of my performances," Balaji said.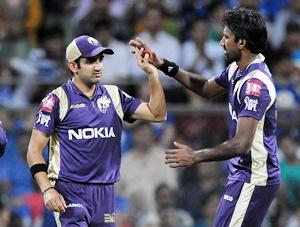 "The fact that IPL is an international tournament helps you to assess your exact standard among the international cricketers. It felt good that I was able to perform in all kinds of conditions and different pressure situations.
"I have bowled to the best batsmen in the world and I knew that I am good enough to play for my national team," said Balaji, who took 10 wickets in eight games for KKR during their victorious IPL-V campaign.
One of the primary reasons for Balaji's inclusion has been his effectiveness at the death and the variation in his slower deliveries.
"Obviously, as you grow older, you become sure about your strengths and abilities. I have definitely matured as a bowler in these years. You can say that I am more confident that I can perform at the international level," the soft-spoken seasoned campaigner added.
After an impressive start, serious knee injury looked like threatening his cricket career but "patience and belief in the Almighty" have been two things that has kept him going.
"I knew that if I had to fulfil my dreams, I have to be hundred percent fit in order to do that. I never wanted to rush my comeback after injuries.
"One needs to understand his body and be patient. Also I am a firm believer in the power of the Almighty. I always knew that God was on my side and I would certainly play for India again," he concluded.