Cheteshwar Pujara tells Haresh Pandya he is confident of doing well in the upcoming series against New Zealand
Cheteshwar Pujara is back to where he belongs. Fully fit, he returns to Team India for the two-Test home series against New Zealand by right. In fact, his comeback was always a foregone conclusion; but what is important is that he is picked as a replacement for Rahul Dravid, who called it a day in March.
- Sachin back, Laxman retained for NZ Tests
- Emotions outweigh reason as Yuvi returns
- Yuvraj returns to India\'s WT20 squad
Obviously, the expectations of the young man are very high, as people are already comparing him with the former India batsman and captain.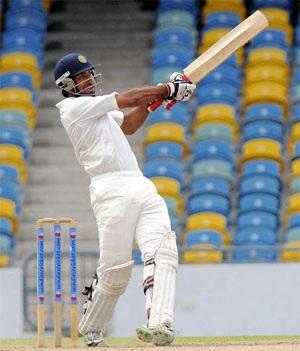 "I am very happy to be back in Team India. I have worked very hard on regaining my fitness. I am fully fit now and have completely recovered from my injury. Now that I am selected in the Indian side, I have to prove my form, too. And I am pretty confident of doing very well," a visibly delighted, but typically modest, Pujara told Rediff.com.
"It is a matter of honour that the selectors have picked me as a replacement for Dravid. It is only to fill the slot and not to fill the void left by Dravid.
"Nobody can fill the void left by such a great cricketer. He was truly a champion batsman who scored more than 10,000 runs in Test cricket. You cannot compare any batsman with such a stalwart. Of course, it is going to be a big motivation for me that I am considered good enough to take his place in Team India.
"It is a compliment to me, I think. I am grateful to the selectors and I will try my utmost to justify their confidence in my ability."
The last time Pujara, Saurashtra's most compact batsman and prolific scorer, donned the India cap was in the third Test against South Africa at Newlands in Cape Town in the beginning of January 2011. Though did not score heavily in the two Tests he played in South Africa, he won rich encomia from those who matter in cricket -- including Gundappa Viswanath – after showing good technique and sound temperament that enabled him to face Dale Steyn and company with confidence.
He had already impressed with a masterly 72 against Australia on his Test debut at Bangalore in October 2010 that helped India successfully chase a target of 207 runs.
Unfortunately, yet another injury in the IPL dashed his hopes of consolidating his position in Team India. He missed two crucial tours, of England and Australia, where most frontline Indian batsmen, including Sachin Tendulkar, came a cropper.
While Dravid's consistent batting was the sole redeeming feature in England, it was the young Virat Kohli who salvaged some of India's pride on the disastrous tour Down Under. Mahendra Singh Dhoni, too, sorely missed Pujara, who has done well in England and Australia while representing India's young side.
"Nobody is happy with injuries. I was, of course, sad at missing the England and Australia tours. But you cannot help illness and injury. I was out of action for six months. And I have learnt many things during this time. I think I am more mature now. I am keen to prove my worth all over again and want to make up for the opportunities missed owning to my bad luck," the Saurashtra star added.