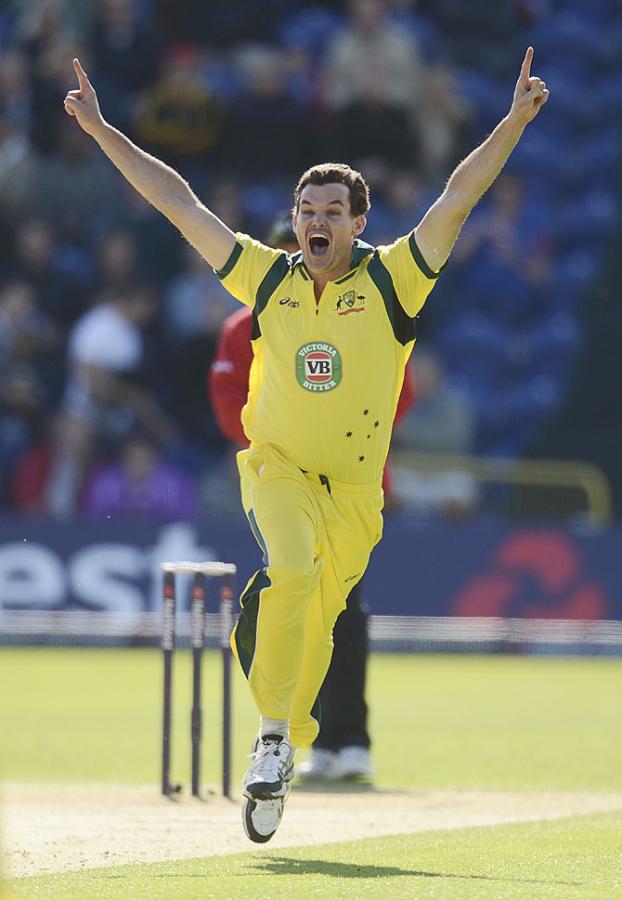 Image: Australia's Clint McKay celebrates after achieving a hat-trick against England. Photograph: Philip Brown/Reuters
Australian fast bowler Clint McKay has announced retirement from international and domestic cricket.
McKay, who will continue to ply his trade with Leicestershire in England's County Championship, played a single Test for Australia against the West Indies in 2009, as well as six T20 Internationals, but the fast bowler excelled in the 50-over format, finishing with an outstanding bowling record in 59 ODIs.
He became a key fixture in Australia's one-day side from 2009 - where he picked up the wickets of Sachin Tendulkar and Mahendra Singh Dhoni on international debut in Hyderabad - to his last match for Australia in early 2014, taking 97 wickets at 24.37, including a hat-trick against England.
Over that period, only Mitchell Johnson took more ODI wickets for Australia than McKay, who was named Australia's ODI Cricketer of the Year at the Allan Border Medal awards in 2013.
The 33-year-old was disappointed he wasn't selected to play more international cricket, though optimistic about Australia's bowling stocks looking forward.
"Yeah it was difficult to take," McKay told cricket.com.au about losing his spot in Australia's ODI team. "But that's sometimes how things pan out.
"I didn't have a great series of India (in 2013) and that was the beginning of the end (of my international career). I came back to Australia and had a good summer – I only played three games but I did quite well in two of those three games.
"It was a little disappointing to lose my spot but the young generation coming through have got some superstars in the making. They were performing quite well and it was great for them to get their opportunity.
"It was disappointing that it had to come at my expense but it's just one of those things that happens in the pressure of sport."