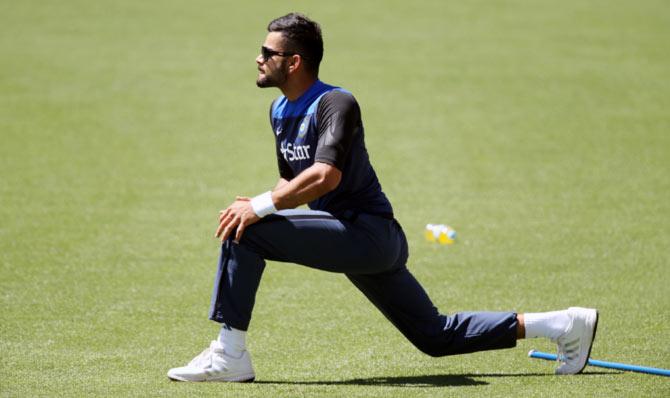 Virat Kohli stretches during a training session at the Adelaide Oval. Photograph: Morne de Klerk/Getty Images
The first Test between Australia and India will take place in Adelaide after a major reshuffling of the series following the death last week of Australian batsman Phillip Hughes.

The first Test was supposed to start in Brisbane on Thursday but has been delayed by a week and switched to Adelaide to give grief-stricken players more time to recover with Hughes' funeral taking place on Wednesday.
- Time will help cricketers to deal with Hughes tragedy
"Nobody should underestimate just what these players are going through right now," Cricket Australia (CA) chief executive James Sutherland said in a statement on Monday.
"These are difficult days and we need to support them in dealing with their grief.
"It's very clear that playing a Test right now is just too soon and we are reacting accordingly."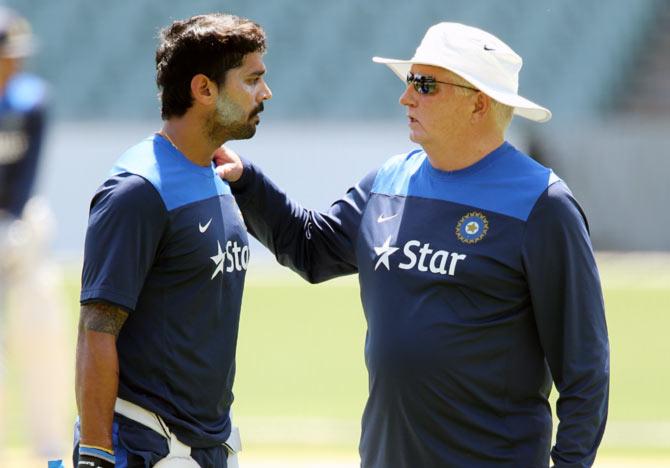 India coach Duncan Fletcher (right) speaks to Murali Vijay. Photograph: Morne de Klerk/Getty Images
Cricket Australia and the Board of Control for Cricket in India met with the players' union (ACA) and other key stakeholders, including broadcasters and commercial partners, before agreeing on a new schedule for the lucrative Border-Gavaskar series.
The dates for three of the four Tests were changed and the entire series squeezed into 33 days, despite fears of player burnout before the World Cup, which will be held in Australia and New Zealand early next year.
"Based on our discussions with the players and with support of health experts, we believed the first Test in Brisbane was still too early for them to return to the field, and that the Adelaide Test presents more time for them to grieve and mentally prepare," ACA chief executive Alistair Nicholson said.
Adelaide Oval, which was due to host the second Test from December 12-16, will now host the series opener from December 9-13, in what is sure to be a highly emotional occasion.

Brisbane will now host the second Test from December 17-21 while the third Test will proceed as planned from December 26-30 in Melbourne.

The fourth and final Test will still take place in Sydney in the New Year, but will start on January 6, three days later than originally scheduled.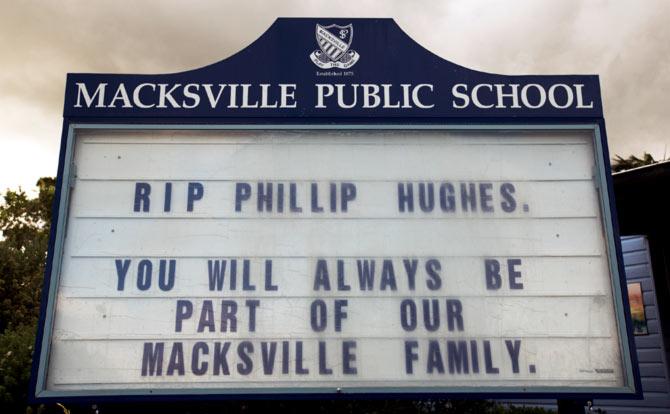 A message in memory of late Australian cricketer Phillip Hughes in Macksville. Photograph: Joosep Martinson/Getty Images
Some changes were expected after CA postponed the start of the first Test and the Indian team, currently in Adelaide, cancelled their flight to Brisbane on Monday.
Hughes died in a Sydney hospital last Thursday, two days after he was struck in the head by a short-pitched delivery during a domestic first-class match.
His death has triggered an outpouring of emotion, sympathy and support from inside and outside the cricketing world.
The funeral for the left-hander, who would have turned 26 on Sunday, will be held in his hometown of Macksville in northern New South Wales.
Hughes was a popular member of the Australian cricket community and several members of the Australian team were playing in the match when he was struck by the ball.