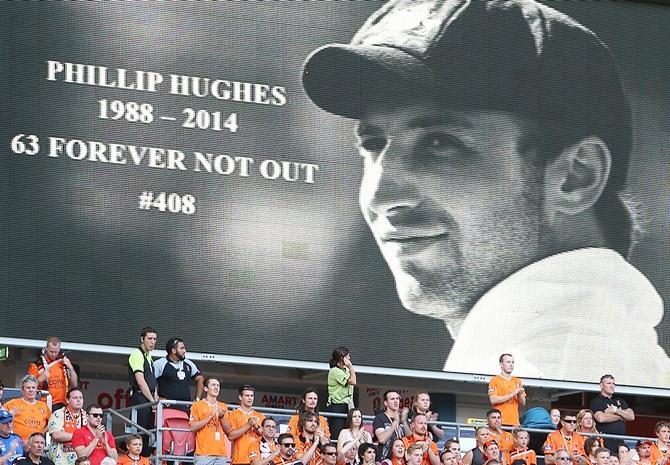 A tribulte to Australian Cricketer Phillip Hughes who recently lost his life. Photograph: Chris Hyde/Getty Images
Cricket Australia and the Board of Control for Cricket in India (BCCI) remain in discussions over the future of the first Test between the two countries that was supposed to have started on Thursday in Brisbane.
The Indian cricket team has decided to remain here instead of travelling to Brisbane, further indicating that the Adelaide Test appears likely to become the first match of the India-Australia series.
The December 4-8 match at the Gabba was postponed indefinitely on Saturday, following the death last Thursday of Australia batsman Phillip Hughes.
Hughes died two days after he was struck in the head by a short-pitched delivery in a first class game at the Sydney Cricket Ground, with his death causing an outpouring of emotion, sympathy and support from inside and outside the cricketing world.
"We know that there are many people who have purchased tickets to the test match who will be wondering what happens next," Cricket Australia James Sutherland told the cricket.com.au website on Monday.
"Once the situation has been resolved, we will advise them as a priority. Fans should simply hold onto their tickets until further notice."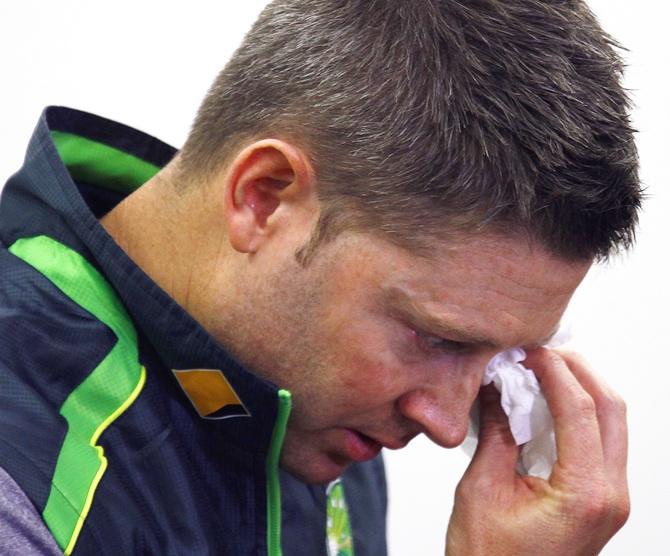 Australian cricket captain Michael Clarke wipes his eyes as he cries. Photograph: David Gray/Reuters
Local media reported that a decision on the Test was likely to be made later on Monday, with the India team expected to arrive in Brisbane to begin their preparations.
A two-day game against an Australian XI in Adelaide scheduled for last Friday and Saturday was cancelled following Hughes's death.
The funeral for the left-hander, who would have turned 26 on Sunday, will be held in his hometown of Macksville in northern New South Wales on Wednesday, with the timing of that considered a major determinant in postponing the first Test.
Ricky Ponting consoles Simon Katich at St Vincent's hospital. Photograph: Joosep Martinson/Getty Images
The fate of the first Test, however, had been in the balance even before Hughes died of his horrific injury as many of the Australia team were among his closest friends and few expected them to be mentally ready for the game anyway.
TV rights make an incoming tour by the India Test team by far the most lucrative in the world game so cancellation of the Brisbane match is unlikely.
There is precious little room for manoeuvre, however, with the second Test scheduled to take place in Adelaide from December 12-16 with the third starting on Boxing Day (December 26) in Melbourne and the fourth in Sydney running from January 3-7.