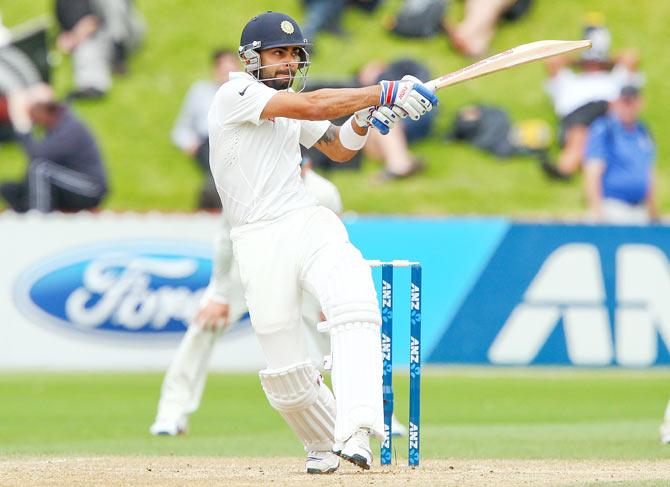 India skipper Virat Kohli. Photograph: Hagen Hopkins/Getty Images
India's Australia tour started on a positive note following a commendable all-round display against Cricket Australia XI, as the two-day practice match ended in a draw in Adelaide on Tuesday.
At the Gliderol Stadium, the visitors finished with 363-8 declared after 91 overs, in reply to the hosts' first-day total of 219 all out.
After the Indian bowlers, led by Varun Aaron, made full use of the seamer-friendly conditions, it was the turn of their batsmen to get in some good batting practice.
Skipper Virat Kohli top-scored on the day with 60 runs, while Murali Vijay (51), Cheteshwar Pujara (55), Wriddhiman Saha (56 not out) and Karn Sharma (55 not out) scored half-centuries.
Suresh Raina (44) and Rohit Sharma (23) were also among the runs.
The outing allowed the Indian batsman to get well-versed with the conditions ahead of the four-Test series, starting in Brisbane on December 4.
The day began with Vijay and Pujara at the crease, intent on making good use of the conditions.
They batted with ease and duly notched their respective half-centuries in good time, putting on 85 runs for the second wicket.
Both batsmen retired after completing their respective fifties.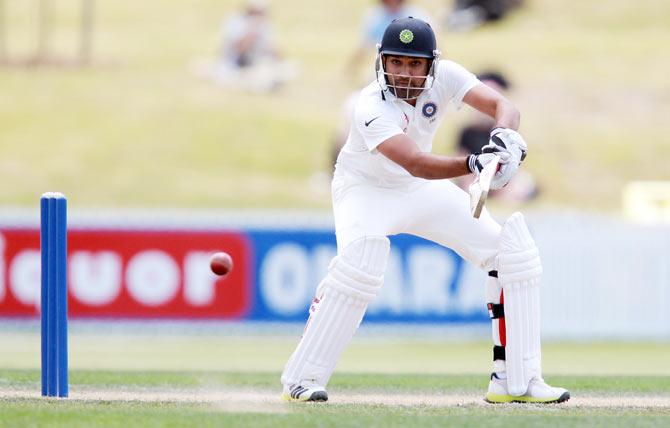 Rohit Sharma. Photograph: Jason Oxenham/Getty Images
Ajinkya Rahane (1) was the only frontline batsman to miss out on the day. He was dismissed by 16-year-old Sam Grimwade, thanks to a diving low catch at mid-off by Ryan Carters.
Sharma then came to the crease and added 47 runs with Kohli but fell just before lunch.
After lunch, Kohli and Raina batted without any trouble and pushed the score past the hosts' first innings total.
Raina was a touch aggressive, especially against the slower bowlers, and perished in the same attacking manner.
Kohli got passed his fifty but decided not to retire and continued batting. However, shortly after, he got out to an uncharacteristic aggressive stroke -- stepping out to the bowler only to be caught at mid-wicket.
Ravichandran Ashwin (6) also missed out on the runs, offering a simple return catch.
But Saha and Sharma didn't waste the opportunity to impress, the latter particularly harsh on the bowlers as he struck his runs (23) off only 55 balls, inclusive of five fours and two sixes.
On Day 1 of this tour game, Varun Aaron picked 3-72 while Bhuvneshwar Kumar and Mohammad Shami chipped in with two wickets each to restrict the hosts to 219 in 71.5 overs.
Later, opener Shikhar Dhawan (10) was dismissed cheaply as India had finished at 55/1.
India's second and final two-day practice match will be played against Cricket Australia Invitational XI at the Adelaide Oval on Friday.
Scorecard
Cricket Australia XI (1st innings):
R Carters c Saha b Ashwin 58
M Short c Saha b Kumar 0
A Turner c Saha b Aaron 29
N Stevens b Aaron 0
K Smith c Dhawan b Kumar 40
A Gregory c Saha b Aaron 3
J Pattison c Saha b Mohammed Shami 7
J Lalor c Aaron b Mohammed Shami 18
D Moody lbw b KV Sharma 0
H Nielsen not out 43
H Conway st Saha b KV Sharma 7
Extras: (b 6, lb 5, nb 3) 14
Total: (all out in 71.5 overs) 219
Fall of wickets: 1-1, 2-52, 3-52, 4-126, 5-138, 6-140, 7-151, 8-167, 9-167, 10-219.
Bowling: B Kumar 12-2-32-2, Mohammed Shami 17-6-44-2, V Aaron 18-1-80-3, Karn Sharma 12.5-5-30-2, R Ashwin 12-3-22-1.
Indians (1st innings):
M Vijay retired out 51
S Dhawan c Turner b Lalor 10
C Pujara retired out 55
V Kohli c Grimwade b Short 60
A Rahane c Carters b Grimwade 1
R Sharma lbw b Lalor 23
S Raina c Carters b Pattison 44
W Saha not out 56
R Ashwin c & b Short 6
K Sharma not out 52
Did not bat: B Kumar, V Aaron, M Shami.
Extras: (b 1, lb 1, w 1, nb 2) 5
Total: (for 8 wickets in 91 overs) 363
Fall of wickets: 1-21, 2-106, 3-120, 4-131, 5-178, 6-233, 7-267, 8-285.
Bowling: J Lalor 20-2-55-2, D Moody 17-2-74-0, A Gregory 6-1-26-0, H Conway 10-1-37-0, S Grimwade 17-3-61-1, J Pattison 7-0-24-1, M Short 10-1-60-2, A Turner 4-1-24-0.
NOTE: Players per side 13 (11 batting, 11 fielding)