Virat Kohli hit back at critics who have been calling for his head after a string of poor performances in the ongoing four-Test series against Australia, asking why people are after him.
The young Indian batsman has played just six Test matches, but in the current series Down Under he hasn't done well, his highest score being 44, which he put up in the first innings on the opening day of the third Test, in Perth, on Friday.
"I don't know why people are after me. Even after I made two 50s against the West Indies, after just one Test it was as if I was on verge of being dropped. Hitting eight one-day international hundreds can't be a fluke; after all, that is international cricket too," Kohli told reporters.
"People have questioned my technique and temperament. I have batted at number three in ODIs and it's not that in all 70 matches I have batted in easy situations.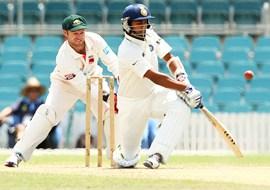 "I have learnt as much as I can but I have played just six Tests. It would help me in future. It's not the end of the world nor the last series ever played. I have to keep working hard and not worry about being dropped," he added.
The 23-year-old didn't feel batting at number three – his favourite position in ODIs -- is the solution.
"I don't want an easy way out. I want to bat in tough situations and learn from that experience. I don't want to play safe," said Kohli, who is batting at number six in the series.
Kohli said he had made a few technical adjustments before he came in to bat in this Test.
- For Rediff Realtime News on the Perth Test, click here
"I had decided to play straight and not towards onside early on. That's what I practised in the nets on the last two days. I went in with a plan."
The top-scorer in India's paltry 161 at WACA, Kohli lamented the fact that his team is losing wickets at critical junctures throughout this Test series.
"We are losing wickets in important phases -- just before lunch, tea or close. We lose wickets at important moments of the match. We had put on 80 runs (for the fifth wicket) and were looking to convert it to 150. But we couldn't and that's what is happening," he said.
Kohli and VVS Laxman were dismissed before tea by Peter Siddle. While Kohli mistimed a drive and was caught by David Warner at point, Laxman edged one to Michael Clarke.
Stressing on the importance of playing shots, Kohli said the dismissals were not because of any lack in temperament or technique, but it is just that things didn't go their way.
"You need to put away bad balls and you can't get into shells. Australians also play shots. Sometimes you have edges flying in gaps and sometimes it doesn't. Unfortunately, it hasn't gone our way. It isn't for any lack in temperament or technique. Things haven't been going our way," he said.
"You need to hit bad balls for boundaries in international cricket. Since they are not giving you much, you have to convert loose balls into boundaries. I tried to go for one but couldn't execute it. It's not as if I tried to slog the ball," he added.
Kohli felt the wicket had a lot to offer by way of seam in the first session though it did flatten out thereafter.
"They bowled well and forced ourselves to play shots ... but there are still four days to go. Anything can happen in cricket. They could lose wickets in a cluster. It's a funny game," he said.
Kohli also spoke about the verbal duel he got into with Warner in the last session of play.
"They have been saying a lot about averages to Indian batsmen. Warner and Cowan, Ishant and myself got a bit into that stuff. It goes on in cricket.
"He (Warner) was under pressure when he started. He had been out playing defensively and today he wanted to go after (the bowlers). It came off well for him."