Coach Mickey Arthur is hopeful of Shane Watson returning to the Australian One-day fold in the latter part of the ongoing tri-series, but he is hesitant to put a definitive time frame on the all-rounder's return to the national team.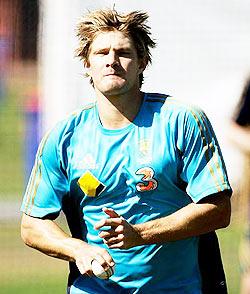 Plagued by calf and hamstring issues this summer, Watson will make his long-awaited return to the cricket when he lines up for Sutherland in a One-day clash with Easts at Waverley Oval on Saturday.
Arthur said the 30-year-old Watson remained one of his most important players.
"It's been frustrating for us and frustrating for Shane," Arthur said on Thursday.
"Hopefully it goes well for him this weekend then we can re-asses where he is and hopefully get him back for the One-day camp.
"But I don't think we can put a time frame on that. We've got to be happy and he's got to be happy his body can sustain batting and bowling," Arthur was quoted as saying in the Age.