Former Australian skipper Ricky Ponting announced his retirement from ODIs on Tuesday after he was dropped from the squad.
A string of wasteful performances in the last five innings in the ongoing Tri-series, forced the selectors to drop the Aussie great.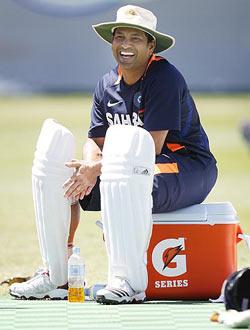 "It's a bit hard to say I've retired given I've been dropped but I don't expect to play one-day international cricket any more and I'm sure the selectors don't expect to pick me either," the 37-year-old told a news conference at the Sydney Cricket Ground.
Now, Sachin Tendulkar hasn't been in great nick either and there have been calls for him to retire from the 50-over game.
The carrot of the 100th ton is hanging in front of the great man, which perhaps is effecting his performance.
Even Kapil Dev voiced his opinion saying, "From what we have seen in the last three months, he should have announced his retirement before the World Cup.
It's important to know that every cricketer has his time," Kapil said.
So following Ponting's announcement to quit ODI's, we ask you the question, is it time for Tendulkar to follow in Punter's footsteps and retire gracefully from One-dayers?