The change of format and infusion of young blood failed to bring about a turnaround for India as Australia thrashed the lacklustre visitors by 31 runs in the first T20 International in Sydney on Wednesday.
Australia rode on wicketkeeper-batsman Mathew Wade's blistering 43-ball 72 to score an imposing 171 for four and then bowled well to restrict India to 140 for six in what turned out to be a lop-sided contest.
After the 0-4 drubbing in the Test series, the induction of the limited overs specialists didn't bring about any change in the script as neither the batsmen nor the bowlers could create any sort of impact.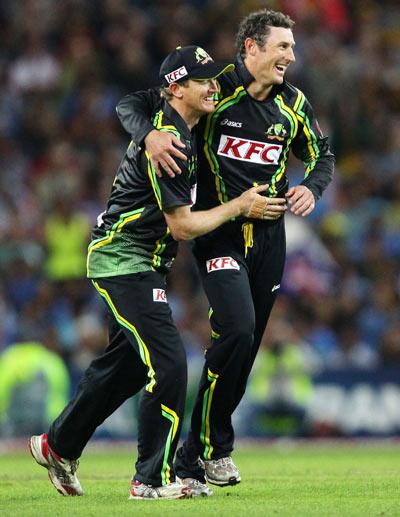 The game was as good as over when India lost their first four wickets for 53 runs inside the first eight overs. Virender Sehwag (4), Gautam Gambhir (20), Virat Kohli (22) and Rohit Sharma (0) were cooling their heels in the pavilion within a blink, giving the hosts the advantage.
It only got worse when Suresh Raina (14), after a hit or two, was clean bowled by the highly regarded Daniel Christian. Only skipper Mahendra Singh Dhoni held his ground and struck 48 off 43 balls with a boundary and three sixes. His late flourish was eye-catching but it was too late by then.
There was a brief sparkle when Gambhir and Kohli put on 41 runs off 30 balls but the disaster was round the corner. Kohli holed out in the deep off Brad Hogg's bowling.
Gambhir lofted a catch inside the ring as he failed to read the off-break from David Hussey. Kohli, a redeeming feature of Test series, was claimed by 40-year-old chinaman bowler Hogg off the fourth ball of his first over.
Hussey was the surprise packet for Australia, who claimed two wickets for only four runs in his first two overs. Hussey claimed Gambhir and Rohit Sharma with his part-time off-spin.
For Sharma, who had waited all this summer for his first representative game, it was a dismal start as he was bowled off the first ball he faced.
Sehwag was the first one to begin it all in a rather characteristic dismissal this summerlooking to play on the onside, closing the face of his bat too early and edging a catch, off the side of his bat to lone slip Hussey.
Earlier, wicketkeeper-batsman Wade announced his return to international cricket with a bang by smashing a half-century.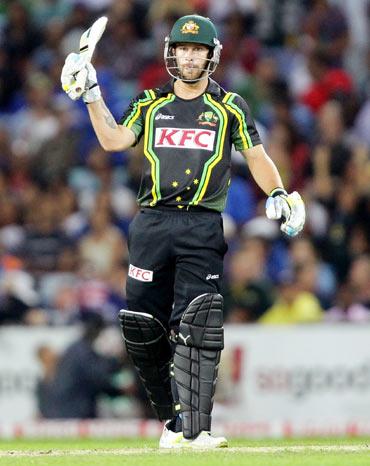 Wade smashed his way to 72 off only 43 deliveries as the home team scored 171 for four in 20 overs in their rain-affected innings. 
Wade, playing only his third Twenty20 international, after two unsuccessful ones against South Africa last year, struck clean and powerful blows to flatten up the largely spin-oriented Indian bowling. His runs included five fours and three sixes.
Current sensation David Warner (25) led an early charge and then Wade took over as the Indian attack bore a mediocre look. 
The visitors opted to field first and sensing a slow wicket, relied almost exclusively on its spinners but still found the home batsmen come out strongly at them. Ravichandran Ashwin was brought in first up at the sight of Warner, knowing the off-spinner had scalped him twice in the final Test in Adelaide, last month. 
Ashwin was allowed to get away in his first over but in the next, Warner slammed 6,4 and 6 off successive balls to unsettle the burly offie. 
The first of this hit for the maximum took everyone's breath away as it was a 'Switch-Hit' and still carried the ball beyond ropes over widish long on. 
Warner didn't last long but his 25 off 14 balls with two sixes and a four gave Australia the much-needed early momentum.
Wade, his partner and replacement for Brad Haddin, showcased his talent with brilliant shots all around the park. He didn't begin well enough, his first boundary was a streaky shot past slip off Praveen Kumar but then there was no stopping. 
Wade shifted gears in the eighth over when Ashwin was brought in from the other end. He smote him straight for a six and later really took a liking for Ravindra Jadeja, smacking his third delivery over covers for a four. 
In the left-arm spinner's next over, he smashed a four and followed it up with a six to bring up his half century off 34 balls. There was another four off the next to celebrate his maiden landmark in international cricket. 
Australia were now rattling along and Praveen Kumar, returning for his third spell, was hammered for 18 runs with Wade smashing his first and final delivery for a four and a six. 
Hussey was an excellent presence at the other end and had just hit leg-spinner Rahul Sharma for a six when rain intervened with Australia on 131 for 2 in the 15th over. Wade was unbeaten on 70 at this stage. 
Wade left the centre-stage as soon as the game resumed after a 20-minute rain hold up. He tried to cut Suresh Raina off the backfoot but the off-break beat him to uproot the leg-stump. 
The break appeared to have done good to the Indians who conceded only 40 runs from the remaining five-odd overs.      The lanky leg-spinner Rahul Sharma received a scare in his first over itself when he tried to take a return catch off Travis Birt but the shot had been so fiercely struck that it split the webbing of his bowling hand. 
Indeed, Sharma bowled the final over of the innings, dropping another return catch, but cleaning up David Hussey for 42 runs made off 30 balls with a four and three huge sixes. 
Besides Wade and Hussey, Warner (25) and Birt (17) were the other two wickets to fall, both falling to catches by Suresh Raina at the edge of the ring off Vinay Kumar and Ravichandran Ashwin.