Former Australian pacer Nathan Bracken has accused Cricket Australia of negligence, arguing their doctors and lead physiotherapist can't provide "competent" medical advice to elite athletes.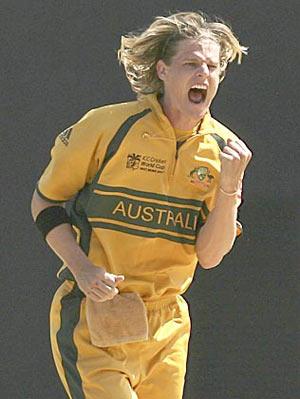 According to a report appearing in Sydney Morning Herald, the former left-arm pacer has sued the governing body and three of its medical professionals claiming they failed to "investigate, diagnose and treat" his right knee injury suffered the day before an ODI against England in 2007.
"Lawyers for Cricket Australia and their doctors and physio are defending the allegations. The case, yet to go to hearing, was mentioned in the Supreme Court. Bracken was ordered to declare the size of damages he wants Cricket Australia to pay by February 22 and provide more details of his injuries," the paper stated.
It is understood the former bowler will seek at least $1 million for lost earnings. The case returns to court on March 2.
In his statement of claim, Bracken states that the two doctors and a physiotherapist working for Cricket Australia should have recognised from MRI scans that he needed to have arthroscopic surgery on his knee in 2007.
The Central Coast-based athlete says their failure to refer him for further examination by a specialist orthopaedic surgeon and to restrict him from training and playing ruined his career. He says a simple knee arthroscopy would have allowed his international cricket career to continue until 2015.
In the weeks and months following his knee injury, the team physio Alex Kountouris and the team doctor Trefor James just gave him a prescription-analgesic and an anti-inflammatory drug and told him he was fit to play.
Bracken says that Dr Simon Carter sent him for an MRI but only diagnosed bone bruising and said he was fit to play. By continuing to play, he says he developed a "lunge lesion" in his right knee. He later developed "constant debilitating right knee pain". He retired in early 2010.