Australia are looking forward to blooding some of their young players in English conditions on their upcoming tour of Britain with half an eye on next year's Ashes, captain Michael Clarke said.
Australia play five One-day internationals against England and one against Ireland but no Tests on the tour, which comes a year before they return for the first of back-to-back Ashes series in 2013.
Although Clarke is more immediately focused on retaining the number one ranking in the 50-over game, his ultimate goal is for Australia to top the tables in all three forms of the game.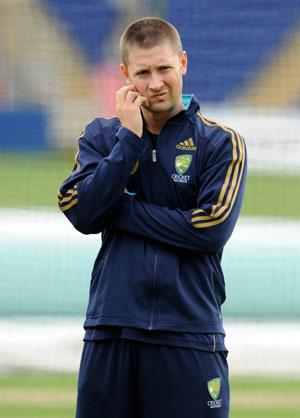 To that end, he is keen for the younger players, particularly quick bowlers Pat Cummins and James Pattinson, to get as much experience as possible on English wickets.
"The Ashes is a long way from my mind right now but any opportunity you get to play in the same conditions you will face in 12 months time can only be good for a team," Clarke added.
"I think a lot of guys involved in this squad have a big chance of being involved in the Ashes team so it's important that we get as accustomed to those conditions as possible.
"England have got a very strong One-day team, particularly in their own back yard, and we've got a lot of new players who don't have much experience in the UK," he added.
"We've been the number one One-day team in the world for a while now but we need to continue to raise the bar.
"I think once we get on the plane it's probably the start of a two-year journey for this Australian team ... to have a lot of success and get back to being the No. 1 in all three forms of the game."
Teenager Cummins and Pattinson, 22, were two of the more exciting finds for Australia last year as they turned their Test fortunes around after the humbling 3-1 defeat in the last Ashes series.
Clarke said he was not remotely bothered about showing them off to the English over the next few weeks.
"These days you can get as much footage on a player as you like," he laughed. "It is important they get experience of playing in those conditions.
"I think them just being in England, seeing what those conditions are like, and if they get an opportunity grab it with both hands, is important."
Clarke said he would be looking to the more experienced bowlers, like the returning Mitchell Johnson, to bring the bowling group together and ensure they operate as a unit -- as they did so effectively against India earlier this year.
One experienced hand who will be missing is Mike Hussey, who has withdrawn from the tour for personal reasons, but Clarke said they would not have to look very far for a batsman who could dictate the pace of an innings.
"Everybody always misses Mike Hussey," he said. "(But) fortunately God gave us a brother. I'm pretty sure while Mike Hussey is away, Dave Hussey will play that role."
Clarke played down the chances of a player strike over the new Memorandum of Understanding with Cricket Australia, which is currently being negotiated.
Another piece of good news was the retirement from One-day cricket of England's Kevin Pietersen.
"As an opposition player, I'm thrilled I don't have to play against him in One-day cricket because he's such a good player and he's had a lot of success and he's matchwinner," Clarke said.
"But England have a lot of good players in their team, they enjoy the form of the game, they've got some good talent coming through and they're really high on confidence."
Australia play warm-up matches against Leicestershire and Essex, and the international against Ireland before the five-match series against England begins at Lord's on June 29.