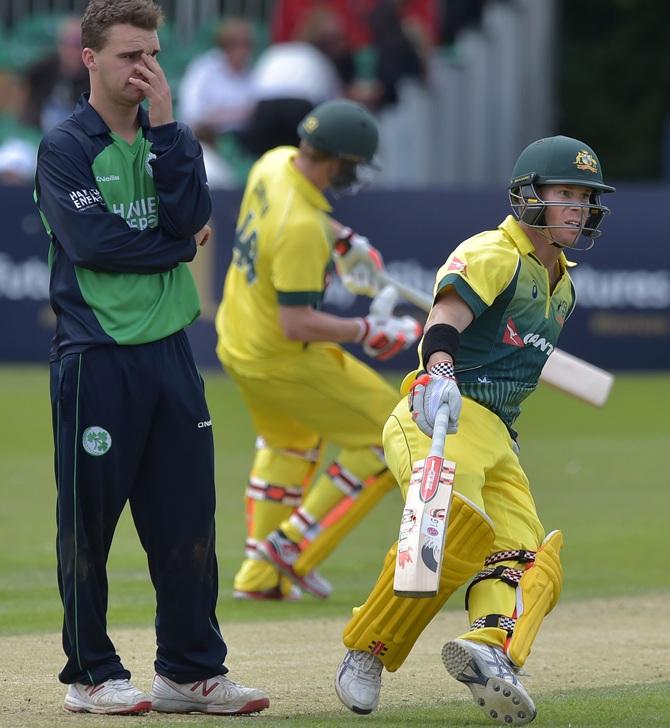 Australia's David Warner, right, during the ODI game against Ireland. Photograph: Charles McQuillan/Getty Images
Australia defeated Ireland by 23 runs under the Duckworth/Lewis method for rain interrupted matches in their lone one-day international, in Belfast, on Friday.
An opening stand of 139 between David Warner (84) and Joe Burns (69) gave the Aussies, fresh from their Ashes defeat, the foundation for a big score.
Ireland's Stuart Thompson breaks his bat whilst striking a ball. Photograph: Charles McQuillan/Getty Images
Ireland, set a revised target of 181 in 24 overs were dismissed for 157 in 23.4 overs, with Nathan Coulter-Nile taking three for 13 and Pat Cummins two for 19.
Man-of-the-match Warner Warner top-scored with 84 and fellow opener Joe Burns made 69 on ODI debut in what was Steven Smith's first match as full-time Australia captain following the retirement of Michael Clarke.
Scorecard:
Australia
J. Burns c O'Brien b Young 69
D.Warner c Joyce b Murtagh 84
S. Smith c O'Brien b Thompson 21
G. Bailey bowled Murtagh 1
G. Maxwell c O'Brien b McBrine 2
S. Watson not out 26
M. Marsh c Murtagh b Mooney 11
M. Wade n.o. 2
Extras: (B-1, LB-3, W-1, NB-1)6
Total: (6 wkts, 40.2 overs) 222
Fall of wickets: 1-139, 2-165, 3-167, 4-170, 5-190, 6-214
Bowling: Young 6-0-49-1, Murtagh 10-1-45-2, Mooney 6-0-33-1, Thompson 6-1-37-1, McBrine 9-0-40-1, Stirling 3.2-0-14-0.
Ireland (revised target 181 in 24 overs)
W. Porterfield b Starc 4
P. Stirling c Wade b Coulter-Nile 0
E. Joyce b Maxwell 44
N. O'Brien c Burns b Maxwell 45
A. Balbirnie c Coulter-Nile b Cummins 12
G. Wilson c Wade b Cummins 1
S. Thompson c Wade b Starc 24
J. Mooney run out (Bailey) 0
A. McBrine c Cummins b Coulter-Nile 7
T. Murtagh n.o. 2
C. Young b Coulter-Nile 0
Extras: (b6, lb1, w5, nb1, pen5)18
Total: (all out, 23.4 overs) 157
Fall of wickets: 1-5 (Porterfield), 2-7 (Stirling), 3-93 (Joyce), 4-106 (O'Brien), 5-115 (Balbirnie), 6-137 (Wilson), 7-137 (Mooney), 8-155 (Thompson) 9-157 (McBrine), 10-157 (Young)
Bowling: Starc 5-0-34-2 (1nb, 1w); Coulter-Nile 4.4-0-13-3 (2w); Cummins 5-0-19-2 (1w); Marsh 3-0-26-0; Maxwell 4-0-41-2; Watson 2-0-12-0 (1w)