Michael Hussey smashed a brilliant century to help Australia win the third and final one-day international against Bangladesh by 66 runs on Wednesday to complete a clean-sweep of the three-match series.
Hussey bludgeoned 108 and Shane Watson hit 72 as Australia piled up 361 for eight. Bangladesh made a decent fist of the run chase with opener Imrul Kayes (93) and Shahriar Nafees (60) sharing a second-wicket stand of 136 but the hosts fell short on 295 for six.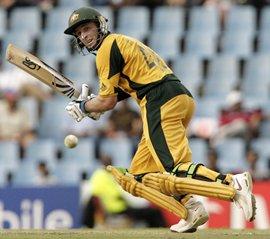 Watson gave the Australian innings another electric start. Following on from hitting a world record 15 sixes in his 185 not out on Monday, the opener raced to a half-century in 25 balls before left-arm spinner Abdur Razzak trapped him leg before to end his onslaught.
Ricky Ponting (47), dropped by Razzak off Mashrafee Mortaza at midwicket when he was on four, and captain Michael Clarke (47) built on the early impetus and Hussey, who hit his third one-day century, clubbed nine fours and two sixes in the middle overs on a fine batting pitch.
Australia kicked on again after Hussey fell, Mitchell Johnson hitting 41 from 24 balls.
Bangladesh were going well at 179 for one in reply before debutant James Pattinson had Kayes caught behind for his first one-day wicket and Australia soon regained control with Johnson dismissing Nafees.
Mahmudullah hung on until the end to remain unbeaten on 68.
Scorecard
Australia:
S. Watson b Abdur Razzak 72
R. Ponting lbw b Abdur Razzak 47
M. Clarke b Mashrafe Mortaza 47
S. Smith c and b Suhrawadi Shuvo 5
M. Hussey lbw b Shafiul Islam 108
C. Ferguson c Alok Kapali b Mashrafe Mortaza 3
M. Johnson c Imrul Kayes b Mashrafe Mortaza 41
T. Paine lbw b Abdur Razzak 7
J. Hastings not out 21
X. Doherty not out 2.
Extras: (lb-3, w-4, nb-1) 8
Total: (for eight wickets; 50 overs) 361
Did not bat: J. Pattinson
Fall of wickets: 1-110, 2-129, 3-142, 4-231, 5-239, 6-309, 7-320, 8-350.
Bowling: Shafiul Islam 8-0-77-1, Mashrafe Mortaza 9-0-80-3 (1w), Shakib Al Hasan 7-0-48-0 (1nb), Abdur Razzak 9-0-58-3 (1w), Suhrawadi Shuvo 5-0-28-1, Alok Kapali 2-0-8-0, Mahmudullah 10-0-59-0 (2w)
Bangladesh:
Tamim Iqbal b Johnson 32
Imrul Kayes c Paine b Pattinson 93
Shahriar Nafees c Watson b Johnson 60
Mahmudullah not out 68
Shakib Al Hasan c Doherty b Watson 9
Mushfiqur Rahim c Smith b Watson 1
Alok Kapali c Pattinson b Johnson 13
Suhrawadi Shuvo not out 3.
Extras: (b-2, lb-5, w-9) 16
Total: (for six wickets; 50 overs) 295
Did not bat: Shafiul Islam, Mashrafe Mortaza, Abdur Razzak
Fall of wickets: 1-43, 2-179, 3-197, 4-221, 5-223, 6-270.
Bowling: Johnson 9-0-67-3 (2w), Hastings 9-0-42-0 (1w), Pattinson 7-0-39-1 (1w), Watson 9-0-49-2 (1w), Doherty 6-0-33-0, Smith 8-0-45-0, Clarke 2-0-13-0
Australia won the toss and chose to bat
Result: Australia win by 66 runs
Australia win the three-match series 3-0