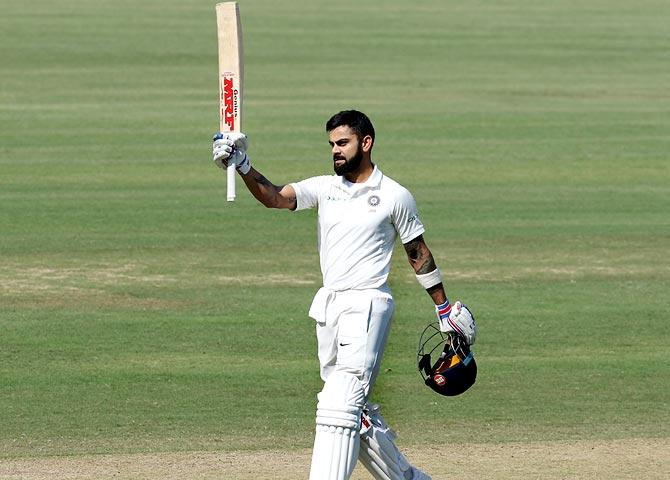 IMAGE: Virat Kohli celebrates after completing his century against Sti Lanka in December 2017. Photograph: BCCI
Virat Kohli will set another benchmark in 2018, striking an endorsement deal unheard of in the history of Indian sports and international cricket, apart from breaking a plethora of records, predicts a renowned astrologer.
Narendra Bunde, a resident of Nagpur and a 'cricket astrologer' by profession, had "foretold" last year that Mahendra Singh Dhoni, now 36, would be playing in the 2019 World Cup in England, at a time when many questioned his place in the limited overs game.
Now, he predicts Kohli will win the T20 World Cup, ODI World Cup and break Sachin Tendulkar's record of 100 international centuries by 2025.
"All my past predictions had been correct. I can see Virat winning the T20 and ODI World Cup by 2025 and also break Sachin's record," Bunde said.
"Besides, he will also strike the biggest ever endorsement deal in cricket in 2018. You can somewhat compare this with Tendulkar's record signing with Mark Mascarenhas's Worldtel but the money involved will be obviously bigger today."
In the 1990s when Tendulkar was going great guns, Mascarenhas changed the game of celebrity management and turned the cricket icon into a multi-millionaire.
Having got his predictions right about Tendulkar's comeback from a tennis elbow injury, his Bharat Ratna honour, Sourav Ganguly's comeback, India's World Cup triumph in 2011, Bunde says that time has come for Kohli's team to taste success abroad.
India toured South Africa recently and will travel to England in the summer followed by a tour of Australia.
"Kohli's Venus is very strong at the moment and that is why he will do well abroad. And I am very sure India will do really well in Australia."