The Pakistan Cricket Board (PCB) has made it clear their team will participate in the Asia Cup in Bangladesh only after getting a clearance from their government due to security concerns in the violence-hit neigbouring country.
The PCB statement has come after the chief executive of the Asian Cricket Council (ACC) Ashraf ul Haq told the media after a Board meeting that all the participating nations had no issues in playing in the Asia Cup and it would be held as scheduled from February 16.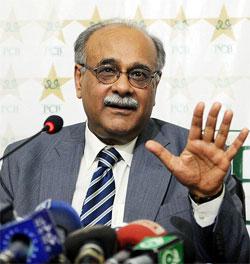 But the PCB Chairman, Najam Sethi negated the remarks from the ACC official.
"After the ACC meeting, I saw a lot of media statements from various quarters, especially the ACC Chief Executive, which tend to suggest that PCB, along with other participating countries, does not have any reservations regarding Pakistan team's participation in the Asia Cup in Bangladesh," Sethi said.
"This is obviously contrary to the position conveyed by our COO Subhan Ahmad at the ACC meeting. The PCB does have reservations on the prevailing security situation in Bangladesh with specific reference to Pakistan.
"Indeed, that is why PCB has decided to send its security representative to Bangladesh to attend the ICC security meeting on 20th January to assess the situation there and report back," Sethi said.
The two cricket boards have not had very good relations since 2010 when Bangladesh after agreeing to tour Pakistan for a short One-Day series pulled out at the last moment due to security concerns and a high court restraining order.
The PCB after a year again accused the BCB of backing out from a commitment to play in Pakistan.
Sethi said that while Pakistan remained keen to play in the regional tournament in which India, Sri Lanka, Bangladesh and Afghanistan are also the participants but it could not do so without first getting government clearance.
"We will continue to assess the conditions and liaise with the government and follow its advice with regard to the security situation. Our participation would be dependent upon the reports that we receive in this regard," he said.
Recent protests and violence in Bangladesh in the run up to the elections have been directed at Pakistan with protesters calling for a ban on Pakistani goods and for severing of diplomatic ties with Pakistan.
The PCB did not allow its players to take part in the Bangladesh Premier League last year due to the strained relations.
Interestingly, the ICC World T20 Cup is also due to be held in Bangladesh after the Asia Cup and the ICC will meet on January 9 to discuss the security reports from Bangladesh.
Image: PCB chairman Najam Sethi