'They have good left-arm seamers in their armoury while we have better spinners.'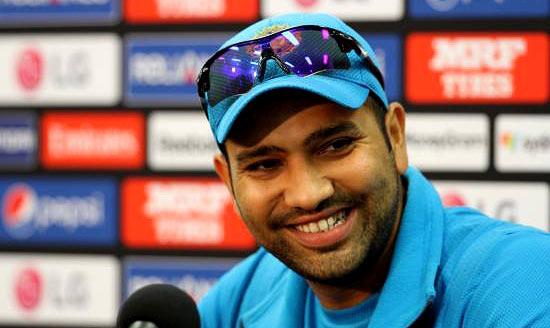 IMAGE: Indian opener Rohit Sharma. Photograph: Solaris Images.
Indian opener Rohit Sharma said that the team will not only be thinking of Pakistan's ace pacer Muhammed Amir, who has made a successful comeback after being suspended owing to match-fixing, but the team has a plan to counter all bowlers from the arch-rivals.
"I have played him before but also other bowlers. We are preparing for each individual and not just about one. We have to be well prepared and we are up for the challenge. We are not thinking too far ahead and doing everything possible we can to win games," Rohit said on the eve of India's Asia Cup T20 match against Pakistan.
Rohit also praised the selectors and captain Mahendra Singh Dhoni for giving him the confidence when he had a string of low scores at the start of his international career.
"If any individual knows that he has the backing of the team, that's when he opens up and expresses himself better -- gets the performance going," Rohit told mediapersons in Fatullah on Friday.
"For us also, we have been playing with the squad for a while which shows that we have a good bunch, which is ready to take up the challenge at any given point of time. That's a good sign and we are very proud of that.
"It's a good sign going to the World T20. But we have three more games to go and the focus now is on against the game versus Pakistan," India's hero against Bangladesh in the last game, said.
Rohit feels the Indian team will focus on their core strength, which is batting rather than think about Pakistan's four-pronged pace attack.
"Yes, they have a formidable bowling attack but we would want to concentrate more on our strengths and prepare our plans accordingly. Our strength is batting and depending on the wicket we will have to focus on that. Every team has its own specialities. They have good left-arm seamers in their armoury while we have better spinners."
Rohit also termed his match-winning 83 off 55 balls against Bangladesh in the Asia Cup opener as one of his better T20 innings considering the nature of the Sher-e-Bangla strip.
"It was unusual to see a wicket such as that in this part of the world. Having said that, we have to play on whatever pitches we get. I would probably rate this innings higher because of the odds (that were stacked against us). It was not an easy wicket and we lost wickets upfront.
"It was my responsibility as a top-order batsman to bat through which I am happy to have done. We have spoken about it in the team meetings that one of the top-order batsmen have to bat as long as possible. After that it was up to the bowlers who didn't disappoint us at all."
Rohit said Pakistan cannot be taken lightly as they have also played a lot of T20 cricket courtesy Pakistan Super League.
"They have been playing lot of T20 cricket of late. There are challenges for a batsman on wickets such as Mirpur."
At this very ground during the 2014 Asia Cup, India had lost with Shahid Afridi hitting two sixes in the final over but that is not something that this team is thinking about.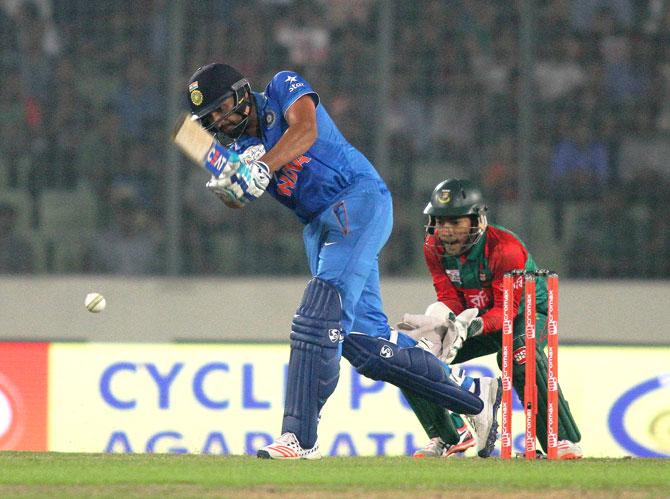 IMAGE: Rohit Sharma hits a shot during his 83-run knock against Bangladesh in Asia Cup opener. Photograph: Solaris Images.
"What happened two years ago does not matter at all. That was an ODI and this is a T20 match. Here current form is important. Our team does not dwell on the past nor do we look too much into the future."
Rohit also played down the mini-collapse that the Indian top-order encountered in the last game.
"It's not a matter of concern because we still scored big. Games will happen where you will lose wickets but we have a solid team which is ready to take up the challenge. Against Bangladesh, our middle-order did well and Hardik came in and smashed all around.
"On these type of tracks, as a batsmen, you have to concentrate on basics. The technique has to be sound and ability to assess the conditions as soon as possible."