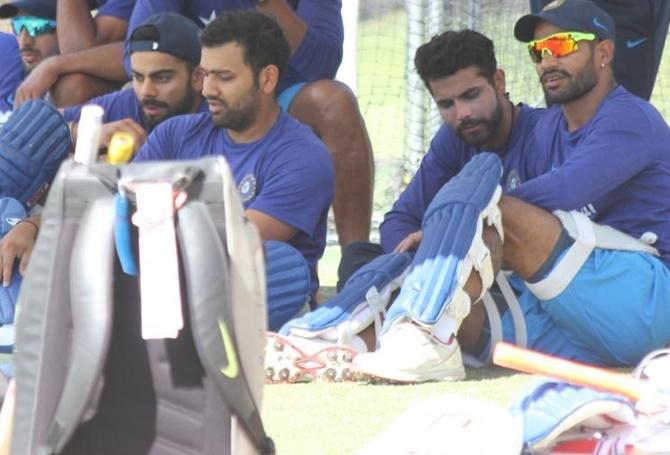 IMAGE: Indian players during a training session. Photograph: BCCI
Pakistan's chief selector Haroon Rasheed has had a pep talk with the national team members and is confident that they can still qualify for the final in the ongoing Asia Cup.
"I wouldn't rule out Pakistan despite the loss to India. We have a good strong side and our bowling is our strength. I spoke to the players and I have tried my best to encourage them and raise their morale," Rasheed told PTI.
"I told them they have the capability of winning their remaining matches in the Asia Cup and setting up another encounter with India in the final where they can make amends for the defeat in the group match," he said.
"The prospect of playing India again in the Asia Cup should spur our players on to improve their performances in the tournament," he said.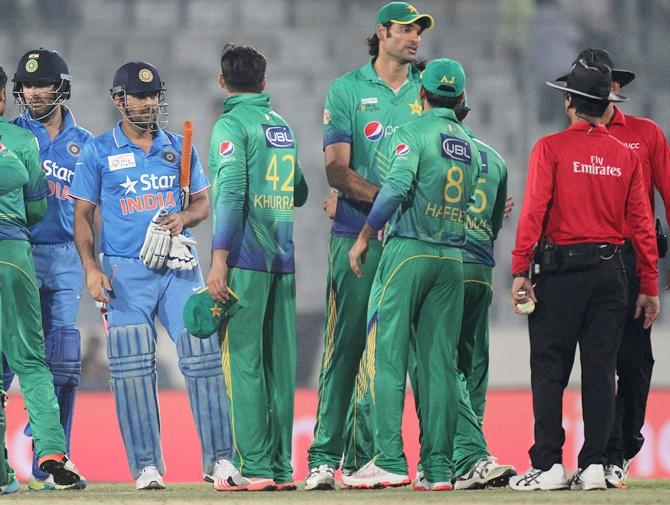 IMAGE: Pakistan players shake hands with MS Dhoni and Yuvraj Singh after their Asia Cup match. Photograph: Solaris Images
He said the players were disappointed and downcast after the manner in which they lost a low scoring match to India.
"But they realize they batted very poorly and they need to play according to the conditions." The chief selector, also a former Test player, said the selectors had picked the best possible squad for the Asia Cup and World T20 that will follow in India.
"I think Muhammad Hafeez, Shoaib Malik, Umar Akmal and Shahid Afridi as the senior most players in the side need to lead by example and they must perform and the rest of the players will then also chip in."
Pakistan has to win its remaining matches against UAE, Bangladesh and Sri Lanka to qualify for the final and set up another possible clash with India.