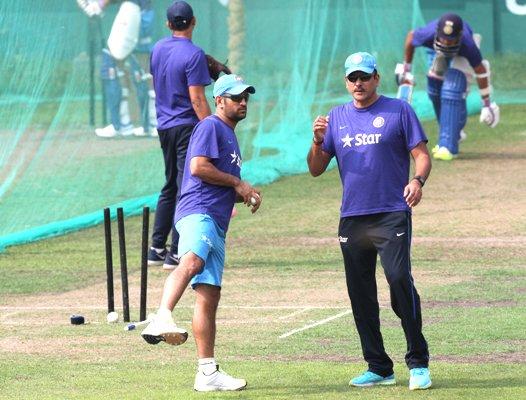 IMAGE: India's limited-overs teams' captain Mahendra Singh Dhoni and team director Ravi Shastri during a practice session. Photograph: Solaris Images.
If Sri Lankan all-rounder Angelo Mathews is to believed, the key to India's success in the T20 format is identifying the core group of players and then forming a winning combination with it.
"Indians have been playing really good cricket in the past couple of years. They have been patient and sticking to a squad they thought was going to be their team for the World Cup," Mathews said, shortly after Mahendra Singh Dhoni and Co inflicted a five-wicket defeat upon Sri Lanka in the Asia Cup.
"That's what you've got to do; stick with a team and be patient. Be patient with whoever you pick, without chopping and changing too much, especially before the Asia Cup and World Cup. You have to be ready to go. You have to chop and change and check combinations before," added Sri Lanka's stand-in captain.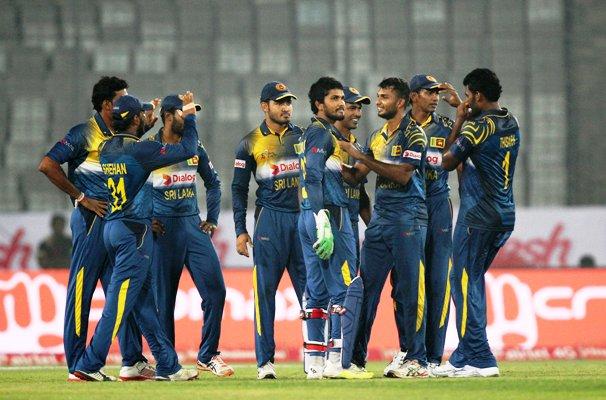 IMAGE: Sri Lankan players during their Asia Cup match against India. Photograph: Solaris Images.
Mathews made no bones about the fact that the string of defeats has had a "damaging" effect on the morale of his squad ahead of the ICC World T20 in India, starting next week.
"It's quite damaging, especially for the confidence level and the morale. You can't keep losing; it's difficult to digest.
"We haven't played our best yet and the most worrying thing is that we haven't clicked as a batting order. So close to the World T20, we have to connect the dots together and maybe try a few combinations," added an upset Mathews.