'I am new to Kings XI, so it is going to be how we come together, how the team dynamics work and take it forward.'
Rediff.com's Harish Kotian listens in.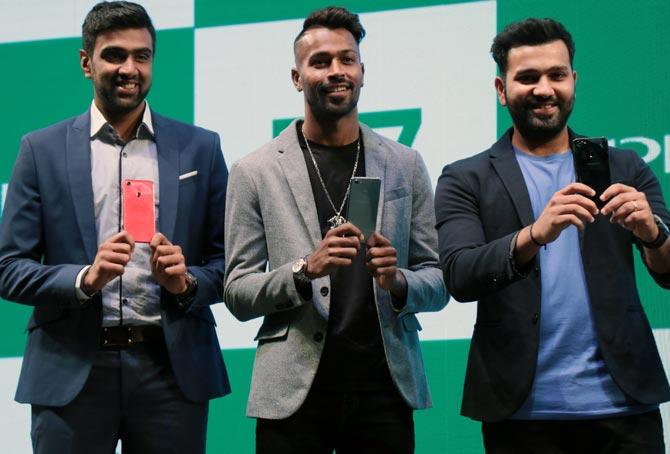 IMAGE: Ravichandran Ashwin, Hardik Pandya and Rohit Sharma pose with the newly launched Oppo F7 mobile phone in Mumbai, March 26, 2018. Photograph: Hitesh Harisinghani/Rediff.com
Ravichandran Ashwin can't wait for the Indian Premier League to begin.
The ace off-spinner has been handed the responsibility of leading the Kings XI Punjab in IPL-11, which commences on April 7.
Ashwin was bought by the Kings XI for Rs 7.6 crore (Rs 76 million) during the IPL Players Auction in January, the team's second most expensive buy after K L Rahul (Rs 11 crore/Rs 110 million).
This will be the first time that the 31 year old will lead a team in the IPL.
Ashwin says he views captaincy as a "challenge" and hopes to learn from experienced players in the Kings XI team like Yuvraj Singh and Chris Gayle.
"I have played with a lot of players who played in the IPL and hopefully I can learn from them and their experience and try and be the best (captain) that I can," Ashwin said in Mumbai on Monday, March 26, at the launch of Oppo's new phone, the Oppo F7.
Ashwin played for the Chennai Super Kings from 2009 to 2015 before he joined the Rising Pune Supergiant in 2016 following CSK's two year suspension from the IPL. He missed last year's IPL because of an injury.
Ashwin believes the pressure in a franchise-based tournament like the IPL is similar to a corporate environment where only results matter.
"It is as good as being in a corporate environment where you are supposed to deliver and people are looking towards you to deliver results," Ashwin said.
"It is going to be a little pressure oriented in that scenario, but it is also going to be exciting. If you can produce results, there is nothing like it, but if you can't, then you have to learn and move forward," Ashwin, who is viewed as a thinking cricketer, added.
"I am reaching (Mohali) tomorrow (Tuesday) and once we get together and mingle with the boys, then we will know, that's the only challenge of the IPL," Ashwin said.
"Those who have a retained core have a pretty much set team whom they are used to, but we (the Kings XI) have almost reformed ourselves in so many ways," he said.
"I am new to the franchise, so it is going to be how we come together, how the team dynamics work and take it forward."
India Captain Virat Kohli is all set to play for Surrey this summer to prepare for the forthcoming series in England. Ashwin said he is keen to play a few county games as well.
"The plan is definitely there, but the feasibility needs to be worked upon," he said.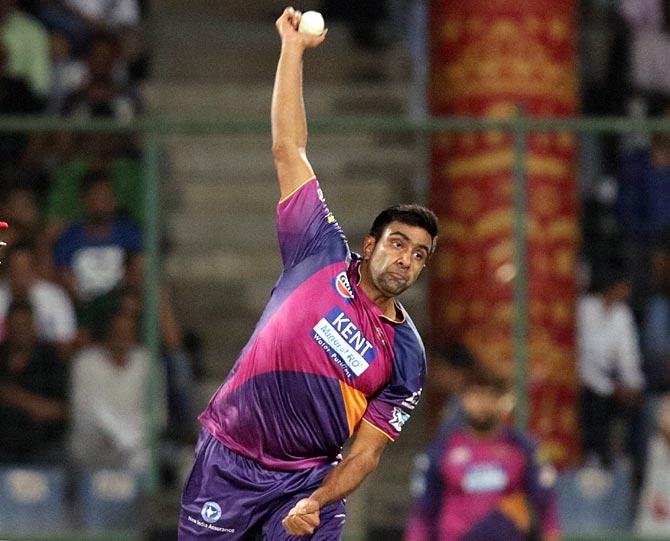 IMAGE: Ashwin bowls for the Rising Pune Supergiant during IPL-9. Photograph: BCCI
Rohit Sharma, who led the Mumbai Indians to a third IPL title last year, hopes to repeat the success, but felt there is still a lot of work to do.
"Firstly, we need to get to know each other as there are a lot of new faces in the squad. That's how we plan every season and we do that every season," he said.
Mumbai Indians, Rohit said, are lucky to have Mitchell McClenaghan back in the team as a replacement for the injured Jason Behrendorff. Mumbai Indians did not pick McClenaghan during the auction.
"He (McClenaghan) is a great asset and has been a performer for us," Rohit said. "Due to some mishap during the IPL auction, we were not able to get him, but now we have got him and we are very excited to have him back."
Mumbai Indians, Rohit said, would miss veteran spinner Harbhajan Singh, an integral part of the team for ten seasons.
Bhajji was picked up by Chennai Super Kings for Rs 2 crore (Rs 20 million).
"His experience has been immense," Rohit said, "and he has been a great asset for our team and we will definitely miss him."