What makes Ravichandran Ashwin the world's premier Test spinner?
Dhruv Munjal, T E Narasimhan and Gireesh Babu find out.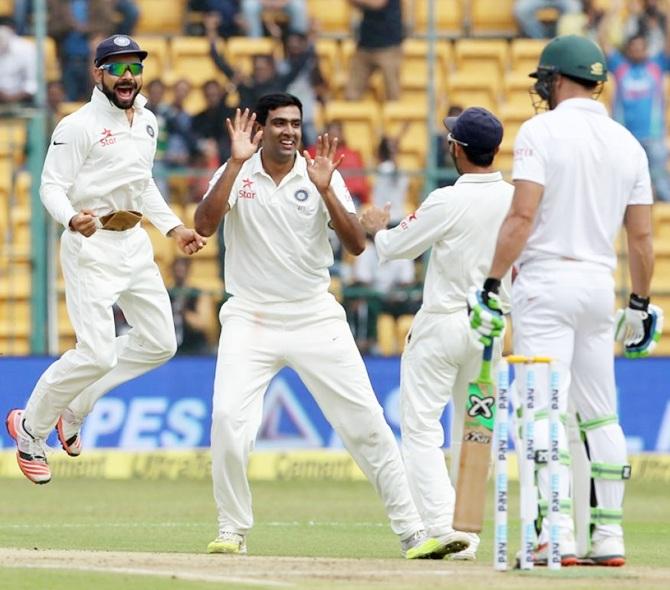 IMAGE: Another wicket for Ravichandran Ashwin, this time it is his former Chennai Super Kings tea-mate Faf du Plessis. Photograph: BCCI
'When you're an off-spinner, there's not much point glaring at a batsman. If I glared at Viv Richards, he'd just hit me even further. -- David Acfield
You would be forgiven for not having heard of Acfield. A damp cricket ball flitting across the doleful countryside made up of dark clouds and squally weather at the County Ground in Chelmsford -- where Acfield plied his trade -- naturally had few takers.
Acfield was no John Embury or Fred Titmus either, and rather expectedly, never got the chance to play for England. Acfield, though, could bowl some serious off-spin -- in 420 first-class games for Essex, he picked up 950 wickets between 1970 and 1981.
But perhaps more telling than the bagful of batsmen he managed to hoodwink was Acfield's dissection of the art of off-spin bowling, which actually makes for compelling introspection even today.
Off-spin, like any other form of bowling, warrants assiduous dedication and endless toil. The rewards, however, are often bleak: Rampaging batsmen quickly force you to swap attacking intent with damage control; on unhelpful pitches, wickets are hard to come by.
And, when compared to its more seductive counterpart -- leg-spin -- the fear factor is absent, and weapons for destruction scarce and rendered mostly inefficacious in the modern game.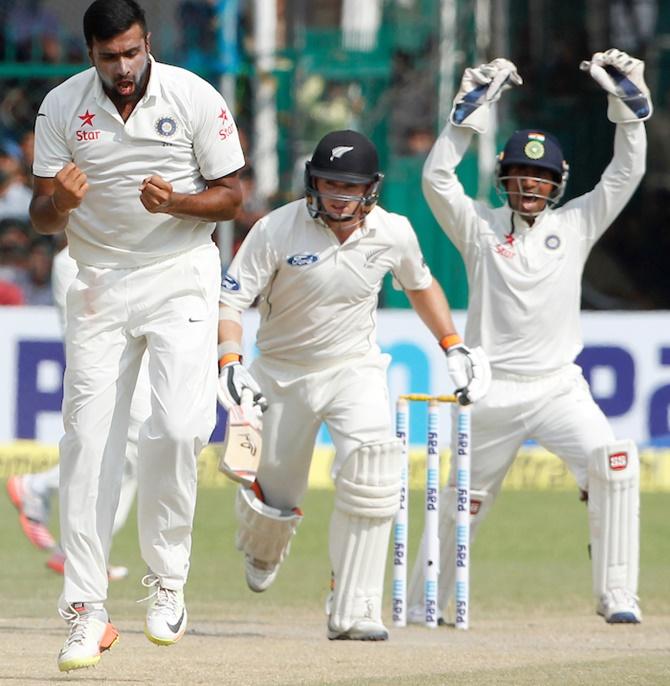 IMAGE: Ashwin celebrates Tom Latham's wicket in the first Test against New Zealand in Kanpur. Photograph: BCCI
The good thing is that nobody told Ravichandran Ashwin that. Soon after he chose to become a specialist off-spinner following a woebegone run of results as an opening batsman in junior cricket, Ashwin quickly understood the limitations of the art he had chosen to take up.
'If you don't want to make a difference, then what's the point of playing? I didn't just want to be a member of the squad, I wanted to make a difference and be a match winner,' the 30 year old said following India's 197-run win over New Zealand in Kanpur.
Trying to be different is something that Ashwin has done all throughout his career.
To overcome the lack of rip in his bowling, a la Muttiah Muralitharan, Ashwin started relying more on bounce to get at batsmen.
To defy the somewhat vapid trajectories that accompany off-spin, he developed a repertoire of frightening varieties -- all this with a clean action.
The results boggle the mind: 203 wickets in 37 Tests at an average of 25.06, with 19 five-wicket and five ten-wicket hauls.
In addition to spinning India to a landslide win against the Kiwis in Kanpur, Ashwin also became the second-fastest bowler to 200 wickets in Test cricket, behind Australian Clarrie Grimmett who reached the landmark in 36 matches, as opposed to Ashwin's 37.
You can understand why Grimmett managed to garner all those wickets at an astronomically impressive strike rate. He was one of the earliest exponents of spin in the 20th century, and as a leg-break bowler, invented the flipper. For most of his career, Grimmett was a mystery bowler who successfully bamboozled batsmen.
That Ashwin has been able to do this without obliterating batsmen with artillery unseen or unheard of makes his record look all the more phenomenal.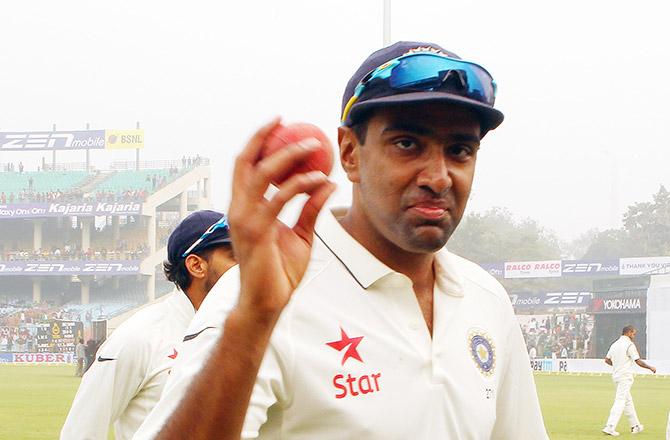 IMAGE: Ashwin, after another 5 wicket haul. Photograph: BCCI
"The best off-spinner around" is how Erapalli Prasanna, the former Indian off-spinner, describes Ashwin. "India is very lucky to have him. He is improving with every game. He deserves all the accolades that are coming his way."
In the summer of 2007, Sunil Subramaniam, a former Tamil Nadu left-arm spinner who enjoyed an impressive first-class career, was entrusted with a task: To bolster the state's spin attack.
By the time the first practice session he was overseeing got over, Subramaniam was mighty impressed by a tall, gangly kid by the name of Ashwin. He could turn the ball and bowl long spells at the same time, and set different fields to different balls that almost no one in his age group had the aptitudinal powers to fathom.
"I immediately understood that here was someone whose IQ was much higher than all the others around him," says Subramaniam, who is now head coach at the Tamil Nadu Cricket Association Academy. "And his intelligence wasn't bookish. It was something that had come to him by playing loads of matches."
Ashwin had already played some 2,000 matches in different forms before making his first-class debut.
Intelligence is often an underrated genius in cricket. Brawn, at most times, leaves little wiggle room for intelligence to thrive.
The blithe disregard for genuine acuity is somewhat understandable given the slam-bang nature of the metamorphosis that modern cricket has undergone.
Yet, Ashwin's moxie stems from his ability to think. As Syed Kirmani, the former India wicket-keeper, explains: "He is thinking all the time. 'How can I get the batsman out? What can I do differently?' That's what makes his performances so marvellous."
Subramaniam puts it more succinctly. "Bowling is all about line and length. But when you do a thing repeatedly, you tend to become monotonous and stop thinking about the game. You must avoid that."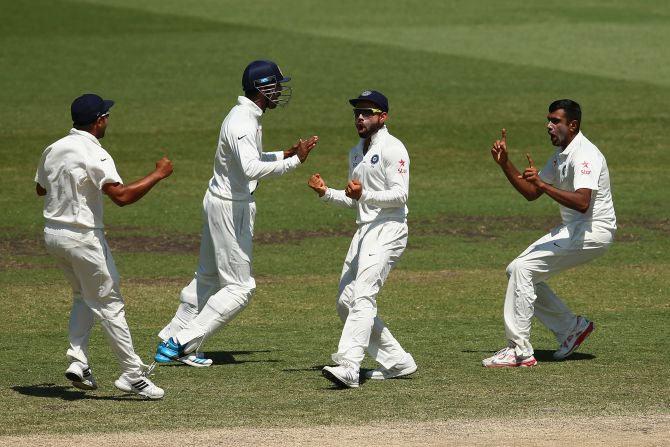 IMAGE: Test Captain Virat Kohli, second from right, and Ashwin, right, work in tandem to bamboozle the opposition. Photograph: Cameron Spencer/Getty Images
On a cricket field, Ashwin's brainpower is easily distinguishable.
Animated conversations with his two captains -- Virat Kohli and Mahendra Singh Dhoni -- are routine. Over the years, he has also deftly mastered the use of the crease -- you seldom see him go over the wicket to the left-hander, for example, just to always keep the LBW in play.
Off the field, Ashwin is like a breath of fresh air. In contrast to the sanitised jargon some of his colleagues dish out, Ashwin speaks with conviction and candour -- each sentence booming with brilliant insight.
As a child, Ashwin's intelligence resonated elsewhere too. In school, despite the enormous cricket potential, his studies never suffered.
In a bid to keep up with all his studious cousins, Ashwin developed an interest in books -- the Ramayana and the Mahabharata particularly excite him.
Others remember him as a grounded youngster who knew the value of hard work. Till he didn't have a car, his father Ravichandran used to drive him to matches and then often click photographs of his son from the boundary.
Friends say Ashwin's preparation for everything he did was always meticulous. He has even spoken about becoming an entrepreneur once his cricket career comes to a halt.
The plaudits, however, have taken their time to truly arrive. The wait for Ashwin to get into the Indian team was long.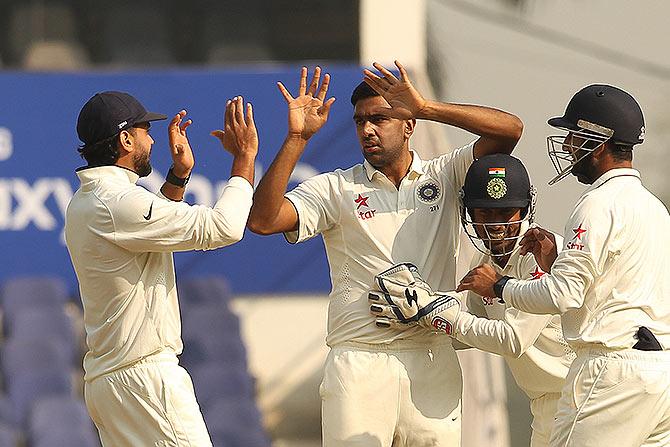 IMAGE: Ashwin high fives fellow Tamil Nadu player Murli Vijay while wicket-keeper Wriddhiman Saha and Cheteshwar Pujara exult Hashim Amla's wicket. Photograph: BCCI
Soon after making his first-class debut in 2006, Ashwin became the mainstay of the Tamil Nadu side. But the steady combination of Anil Kumble and Harbhajan Singh, along with the emergence of Piyush Chawla and Pragyan Ojha, prevented him from breaking into the national team.
It was only in 2010 that Dhoni, then skipper of the Chennai Super Kings in the Indian Premier League, spotted the qualities Ashwin possessed: That of a steady spinner who could help India cope with the slide of Harbhajan, who, by then, was battling inconsistency.
His former teammates say Ashwin was fortunate to make his Test debut against the West Indies at home in 2011. "The West Indies wasn't the strongest team around. Plus, it was at home. So, it was always going to help the spinners," says a former junior teammate.
Ashwin, making the most of a typically notorious Feroz Shah Kotla pitch, picked up nine wickets in that game.
Only a couple of months before the Windies came calling, India, the newly-crowned world champions, were thumped 4-0 on their English sojourn. A debut against England would have meant a really tough start to his career, some people feel.
But as Ashwin realised while pursuing software engineering at Chennai's SSN College of Engineering -- where the teachers were severe on him whenever he made it to class -- life isn't a bed of roses.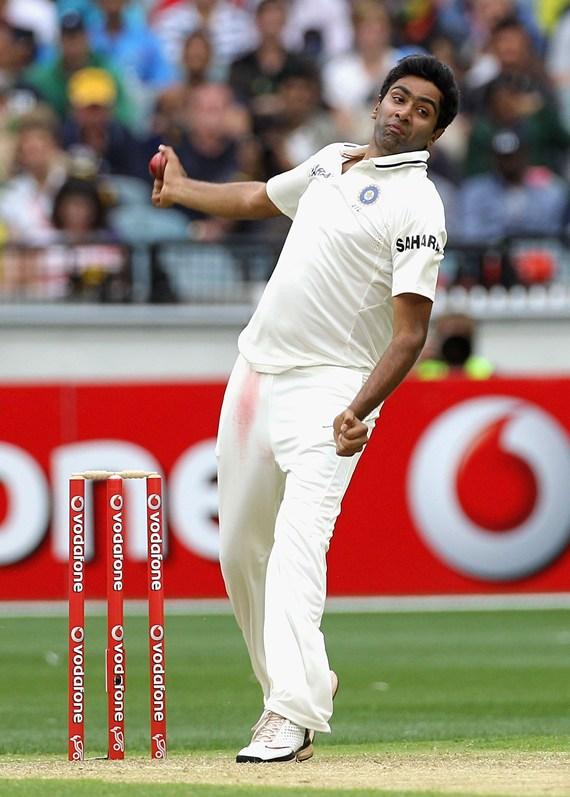 IMAGE: Ashwin's overseas record hasn't been as impressive as his figures at home.Photograph: Paul Kane/Getty Images
After India were beaten 2-1 by England in the 2013 home series that they were expected to stroll through, for Ashwin, the vultures were circling, the brickbats singing in an ominous tone.
He, however, issued a firm rebuttal to the naysayers by picking up 29 wickets against Australia later that year.
The critics have also pointed out his prosaic record overseas, where Ashwin has 67 wickets in 17 Tests. In the past, Alastair Cook, David Warner and Steven Smith have all been severe on him.
Others question the pitches that have been laid out for him at home: Rank turners that are akin to capricious minefields by the time day four of a Test match comes around.
In limited-overs cricket, Dhoni has often not trusted him when confronted with belligerent hitters. Against the West Indies in the World T20 semi-final earlier this year, Dhoni bowled Ashwin for just two overs.
In January, the Indian captain had gone a step further -- dropping him for a couple of ODIs against Australia.
Some experts feel that on turning pitches, Ashwin is a colossus, bordering on the unplayable; but on flat tracks, he is a meek lamb waiting to be slaughtered.
Kirmani, though, feels he has done well in all three formats, and in all conditions. "You can only call yourself a spin artist if you've done well in all formats, and Ashwin has done that."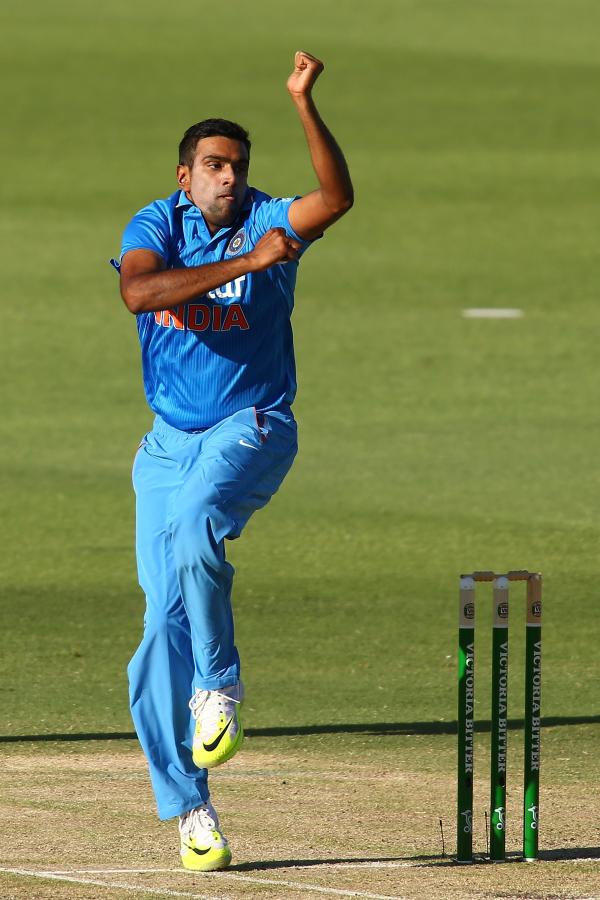 IMAGE: Ashwin keeps adding weapons to his arsenal, improving all the time. Photograph: Paul Kane/Getty Images
Ashwin keeps finding ways to come back. Among his spin arsenal are two variations that he has so adroitly developed: The carrom ball, which spins away from the right-hander, and the slider, a new delivery that comes in like a fast in-swinger.
The most difficult part for a batsman: He bowls all of them with the same action.
"He practises these variations thousands of times in the nets. That's why he never gets it wrong in actual play," says a member of the Indian coaching staff, requesting anonymity. "Moreover, he is incredibly hard-working."
After a Duleep Trophy game during the 2010-2011 season, where Ashwin had persisted with a middle- and leg-stump line on a pitch that was turning square, Subramaniam, seething, got hold of him and made him bowl in the nets immediately after the match ended.
"I'm a great believer in grids. So, I laid them out on the pitch and asked him to bowl on grid 1, which was slightly outside off-stump," says Subramaniam. "He bowled 108 balls; 82 per cent of them fell on grid 1. And he had bowled 55 overs in that game," he adds, amazed even today.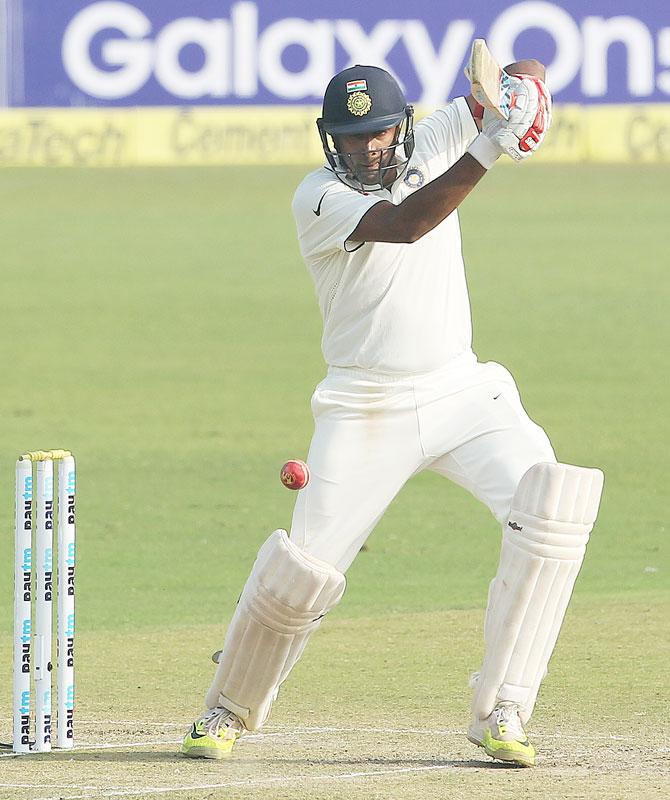 IMAGE: Ashwin has become one of India's more dependable batsmen. Photograph: BCCI
Perhaps more sensational has been Ashwin's growth as a batsman. He has four Test hundreds and can easily hold his own at number 6. "He has become a reliable all-rounder, a real asset," says Kirmani.
Subramaniam feels that by the time Ashwin is done, he can finish with 500 to 600 wickets. But knowing Ashwin''s unassuming demeanour, his mind will perhaps be on a closer target: Of becoming the fastest to 300 Test wickets. He has 11 more matches this season to achieve that.