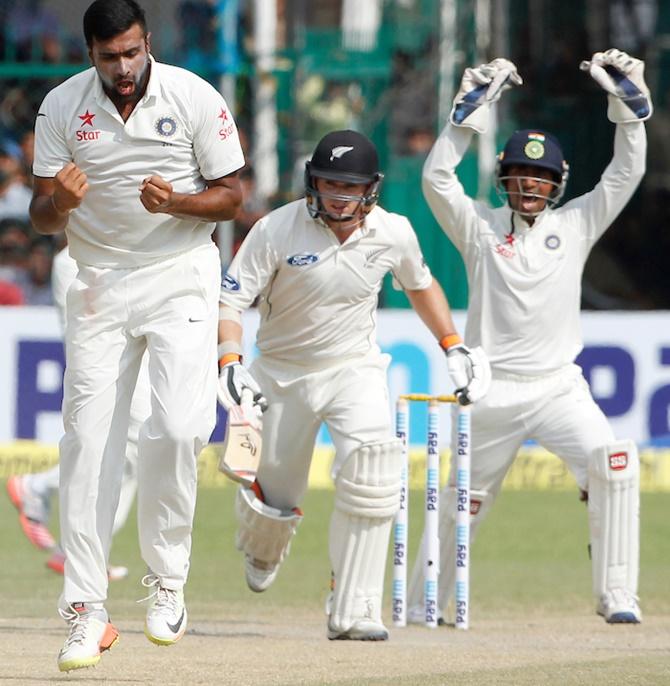 IMAGE: Ravichandran Ashwin of India, left, celebrates the wicket of Tom Latham of New Zealand during Day 4 of the first Test match held at the Green Park stadium, in Kanpur, on Sunday. Photograph: BCCI.
Off-spinner Ravichandran Ashwin, on Sunday, became the fastest Indian and second overall to take 200 wickets, reaching the milestone in his 37th Test.
Ashwin trapped New Zealand skipper Kane Williamson in front to get to the 200-mark on day four of the first Test at the Green Park.
The spinner had also got the better of Williamson in the first innings, when he went through the defence of the visiting captain with a vicious off-spinner.
With this feat, Ashwin left behind the likes of Dennis Lillee and Waqar Younis, who took 38 Tests to get to 200 wickets. South African pacer Dale Steyn took 39 Tests to reach the landmark.
Only leg-spinner Clarrie Grimmett got to the double century of wickets faster than Ashwin as the Australian reached there in 36 Tests.
Ashwin, who has so far taken seven wickets in the Kanpur Test, said he enjoyed his last 100 wickets.
"Ever since coming back from Australia (in 2014-15), I have been enjoying my last 100 wickets. I was planning my wickets better," said Ashwin after stumps on day four.
"The challenge from the opposition is always good. For example, Williamson was playing really well. It's a combination of playing good batsmen, conditions and match situations that makes this satisfying.
"I think its too early to talk about my achievements I have a long way to go. (12 more Tests to go in the season) It is very important to take one day at a time, Test cricket can set you back if you take it for granted. Be greedy in terms of what you want to achieve, but preparing for a Test, you have to take it one day at a time," he added.