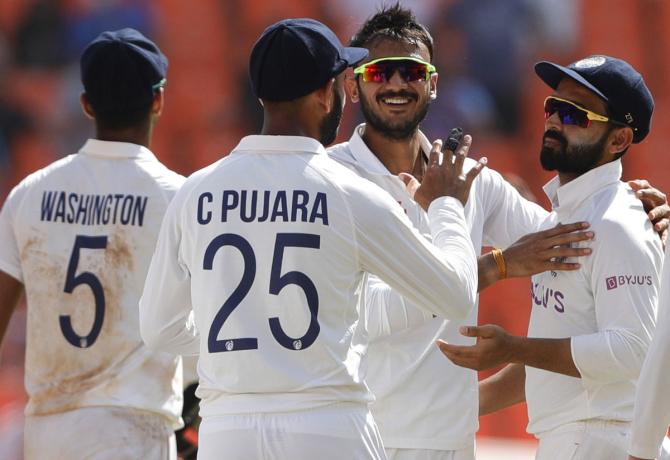 After losing the Test series against India, England coach Chris Silverwood praised the opposition's spinners Axar Patel and Ravichandran Ashwin saying the duo made life very hard for them.
Team India, on Saturday, roared into the final of the inaugural edition of the ICC World Test Championship (WTC) following an emphatic 3-1 series win over England.
Virat Kohli's men, who defeated England in the fourth and final Test by an innings and 25 runs at the Narendra Modi Stadium, will now face New Zealand in the WTC final slated to be played from June 18 to 22, with June 23 as the reserve day at the iconic Lord's Stadium in London.
Ashwin finished the four-match series against England with a tally of 32 wickets and he picked up his eighth Man of the Series award. Axar, on the other hand, claimed 27 wickets in the series.
"They (Ashwin and Axar) made life very hard for us... India outplayed us and they deserve a lot of credit. They came back hard after the first Test," Silverwood said during a virtual press conference.
"It's (59 wickets from four matches) probably a true reflection as well. It was difficult. They made life very hard for us, hard to get first innings runs which is something that we obviously try and pride ourselves on and something we're working hard towards that. But they made life very tough," Silverwood added.
India finished as the number one team with 72.2 percentage points in the WTC points table, the factor that determined the final placings rather than total points won, following a change to the points system owing to the Covid-19 disruption.
Silverwood also said: "We came here wanting to win this. We went hard in the first Test and won it and then India came back hard in the last three Tests. It is a very difficult place to come and win. Time and time again, history tells us that and not just for England but for other teams as well."
This defeat will make the team stronger as they pause and reflect on their performance during the past one month.
"It's going to hurt for a while. And obviously, probably reflecting some talking going on between the players and the various coaches, but hopefully we'll pull the positives out of it and learn from it and that will make them stronger moving forward," Silverwood said.
Looking ahead to the coveted Ashes in Australia later this year, Silverwood said the experience they would learn would help in the long run.
"When you start heading somewhere, there's always gonna be a few bumps in the road. The experience they will gain from this will be really valuable down the line," he said.
Asked how much damaging would it be realistically ahead of the Ashes, he said: "It will alter our outlook and what we're trying to achieve now. It'll just go down as an experience and help galvanise the side really. We've got some very fine young players in that side.
"None of us like losing a series like that, but I think we will reap rewards down the line of the experience. It's a very difficult place to come and win. As we've seen time and time again history tells us up, not just for England but for other countries as well."