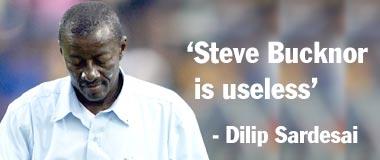 Vijay Merchant called him 'The man responsible for the Renaissance of Indian cricket.'
Dilip Sardesai is still fondly referred to as the 'Renaissance Man.'
Sardesai gave the Indian team the required steel that helped them win their first and only series in the West Indies.
The veteran with a reputation for candour spoke to Ashish Magotra about India's upcoming tour of Pakistan.
What are your first memories of playing Pakistan?
I first made it big against Pakistan. It was a match for Combined Universities against the visiting Pakistan XI led by Fazal Mahmood in 1961. I scored 85 and then got a chance in another tour game where I scored a century. I was in the reserves for the Test series and did not get a chance to play. I visited Pakistan with the ACC team. We had a very good time there, but the scenario is completely different now.
Fazal Mahmood is said to be among the greatest Pakistani bowlers ever. What was it like playing against him?
When I played against him, I was not very impressed. Maybe because he was past his best and no longer a very great bowler. He was supposed to be very deadly on matting surfaces but on turf wickets he was not very effective. Mahmood Hussain, Fazal Mahmood, Haseeb Ahsan and Intikhab Alam formed a decent attack but they were nothing special.
How would you compare that attack with Pakistan's bowling today?
Today, it is a completely different scenario. They have a good attack with Shoaib Akhtar leading the way. Mohammad Sami, Shoaib Malik and Danish Kaneria complement him well.
Personally, I have always felt that Shoaib has a suspect action. But the International Cricket Council can't be bothered. Normally he has a good action but when he goes for the effort ball; the one that is much faster than his other deliveries is when he seems to slip up.
There are so many chuckers in world cricket but all are allowed to play thanks to the ICC. The ICC allows them to play so that they can get the votes. I find it hard to believe that bowlers go to Australia for 7 to 10 days and come back with corrected actions. I mean, if someone is watching you bowl, you will never go flat out.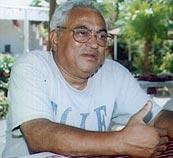 Maybe the umpires will call Akhtar during this series...
The ICC umpires do not have the guts to no-ball Akhtar or Shabbir (Ahmed, the right-arm fast bowler) during the tour in Pakistan as ICC President Ehsan Mani is a Pakistani. This used to happen in our time also when Charlie Griffith used to bowl. But not all his balls were illegal. It is one ball that is dangerous and the batsmen have to be on the look out at all times.
The ICC umpires must be forthright.
And it's not only fast bowlers, even the spinners have suspect actions. For instance, (leg-spinner) Shahid Afridi clearly throws the ball when he bowls his faster one. No one ever calls him. I am forced to wonder why this is happening because it is unfair to the bowlers who play by the rules.
What is your take on the quality of umpiring these days?
I can't comment on all the umpires but I do know that Steve Bucknor is useless. He is absolutely against India. He seems to have something against Sachin Tendulkar for sure.
Now the ICC has named him as umpire for the Pakistan tour as well. This after (Sourav) Ganguly had complained about him in Australia.
The BCCI (Board of Control for Cricket in India) should complain and say they do not want him as umpire for the series.
Who do you think will be the best player for Pakistan against India?
Akhtar -- the most dangerous bowler as far as wicket-taking is concerned. The ODIs are a batsman-dominated game but it is the Tests where he will really make a difference. He is a strike bowler and can change the course of the game by taking 3, 4 quick wickets in a session. India, sadly, has no strike bowler due to injuries. We need to take 20 wickets to win and we stil can if we stick to a good line and length.
Also Read: 'Pakistan will be a great place to play in'
Do you think Virender Sehwag can continue his good run of form?
When he first came on the scene, I thought he was not the right man to open the innings. But you can't argue with success. He has scored runs even in New Zealand, where everybody else failed. He is the one man in the team who can murder any attack when on song. One quick-fire century might just win the series for India. Just let him be and don't tell him how to play. He can't be taught and good luck to him.
How do you think India will fare in the ODIs and Tests?
I think it will be a good series for India. India's batting is as good as any team in the world at present. We should do well. For the ODIs, I put it at 65:35 in India's favour. That's because batting will win you matches in the shorter version.
For the Tests it will be a more even contest. India's batting against Pakistan's bowling. A 50 percent chance for both teams. I don't think Pakistan will be able to dismiss all the Indian batsmen even once in the series. But it will be interesting to watch.