England won the Ashes for the first time since 1987 in 2005.
It was the greatest series in the history of the game, but what has become of those Australian and English players a decade on?
Read on to know...
- Ready for the Ashes? What you must know about cricket's fiercest rivalry
Ricky Ponting (captain)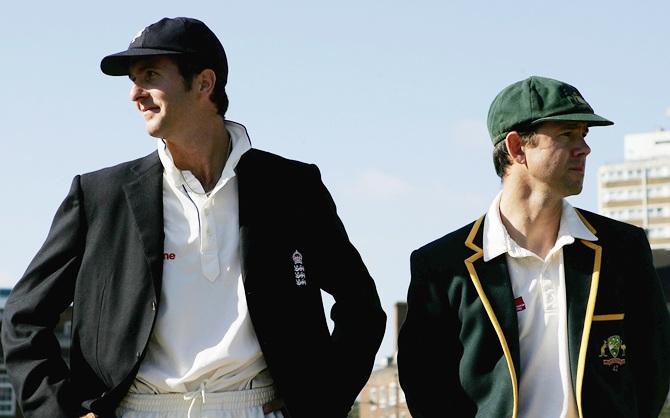 10 years back... England captain Michael Vaughan and Australia captain Ricky Ponting. Photograph: Tom Shaw/Getty Images
Former Australia captain Ricky Ponting established himself as the ultimate boss in the Indian Premier League for his franchise Mumbai Indians side despite the presence of cricket icons Sachin Tendulkar and Anil Kumble in the backroom as they clinched their second IPL title in 2015.
Mumbai Indians's sensational comeback was orchestrated by a star-studded backroom staff, led by Ponting.
The 40-year-old also spends much of his free time these days playing golf.
Adam Gilchrist
After hanging up his boots for Australia, Adam Gilchrist sizzled in the IPL. However, he played his last match in the cash-rich Twenty20 extravaganza for Kings XI Punjab in 2013.
Gilchrist was a genuine innovator, redefining the role of batsman-wicketkeeper. He was also one of the game's good guys, repeatedly choosing to walk if he felt he was out. These days he is busy with commentary, business and political work.
Michael Clarke
Michael Clarke made his first Ashes tour, aged 24, in 2005.
It was not a good outing; in nine innings he only once scored 56. He lost his place in the side.
Things have changed for him since then. He retired from One-Day Internationals at the end of the 2015 World Cup, which Australia won, but he is still the Test team's captain.
Matthew Hayden
Matthew Hayden was a powerful and aggressive left-handed opening batsman, but underperformed for Australia in the 2005 Ashes series. He retired from all forms of cricket in September 2012 and today he is a global multimedia broadcaster. He is also working with Cricket Australia.
Simon Katich
Left-hander Simon Katich also disappointed for the visitors in 2005. In 2014, Katich announced his retirement from Twenty20 cricket, drawing the final curtain on a distinguished playing career. His most notable achievement has been reaching the semi-final of Celebrity MasterChef Australia.
Brett Lee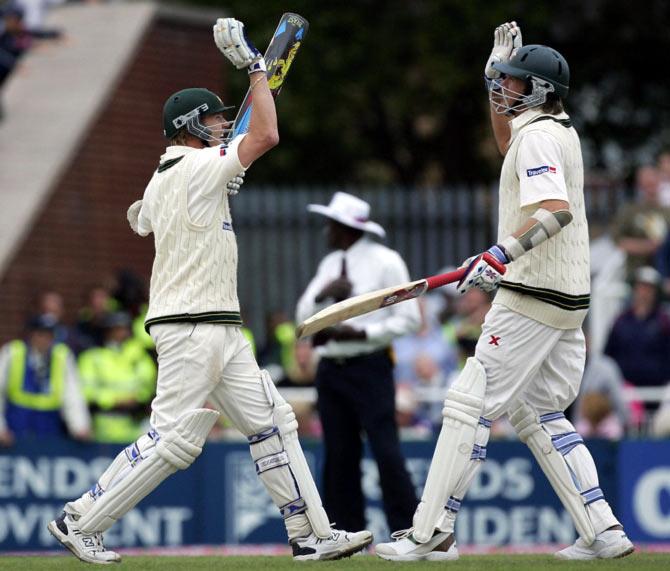 Brett Lee (left) and Glenn McGrath celebrate after holding on to draw the third Test match at Old Trafford, on August 15, 2005. Photograph: Hamish Blair/Getty Images
One of the fastest bowlers in the world, Brett Lee swapped the cricket pitch for the big screen, making his film debut in Australian romantic comedy unINDIAN. The 38-year-old boasts a large fan base in India, he recorded a song, You're The One For Me, with legendary singer Asha Bhosle in 2006, which was a chart-topper and further cemented his popularity abroad.
Lee is a Channel Nine cricket commentator and was the bowling coach for Ireland during the recent 50-overs World Cup.
Damien Martyn
Damien Martyn had a poor Ashes series in 2005. He played for Rajasthan Royals in the IPL in 2010. These days he is working as a television commentator.
Glenn McGrath
Australian fast bowling legend Glenn McGrath was one of the greatest bowlers in the game's history and the injury he picked up when he trod on a ball before the second Test at Edgbaston was a key factor in England's success in 2005. These days, the 45-year-old is doing a wonderful work as the president of the McGrath Foundation, a breast cancer support and education charity he founded with his deceased first wife, Jane.
Shaun Tait
Fast bowler Shaun Tait made his Test debut during the Ashes series of 2005 and was reasonably assured throughout. Unfortunately, as a result of injuries and bad luck, the bowler would only ever play one more Test match for Australia. He is married to an Indian swimsuit model Mashooma Singha and recently played in the Australian Big Bash T20 League. English county side Essex have also signed him up for the T20 Blast this season.
Shane Warne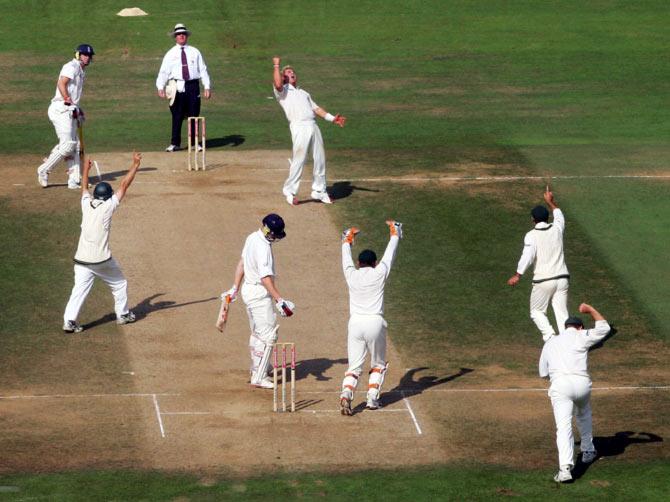 Shane Warne and the Australian players celebrates the wicket of Andrew Flintoff (on strike) during the third Test match at the Oval, on September 12, 2005. Photograph: Hamish Blair/Getty Images
The incomparable Shane Warne was at his transcendent best but could not prevent England reclaiming the Ashes.
He took 40 wickets at an average of 19.92 and scored 249 runs. Since retiring, the great one has hosted a chat show, dated British model and television personality Liz Hurley and other beauties, commentated on cricket and played poker professionally.
He is closely working with Sachin Tendulkar for their ambitious Legends T20 cricket League.
Jason Gillespie
Australia pace bowler Jason Gillespie struggled during the 2005 Ashes series.
He retired from first-class cricket in 2008 and is now Yorkshire's first team coach.
Michael Kasprowicz
Pacer Michael Kasprowicz was dropped from the Australian team and his Cricket Australia contract was not extended following the 2005 Ashes defeat. He completed a Masters of Business Administration at the University of Queensland Business School. He also worked as Cricket Australia director and last year he established his own boutique advisory company called Venture India, to help facilitate business deals and relations for Australian companies in India.
-------------------
ENGLAND
Michael Vaughan (captain)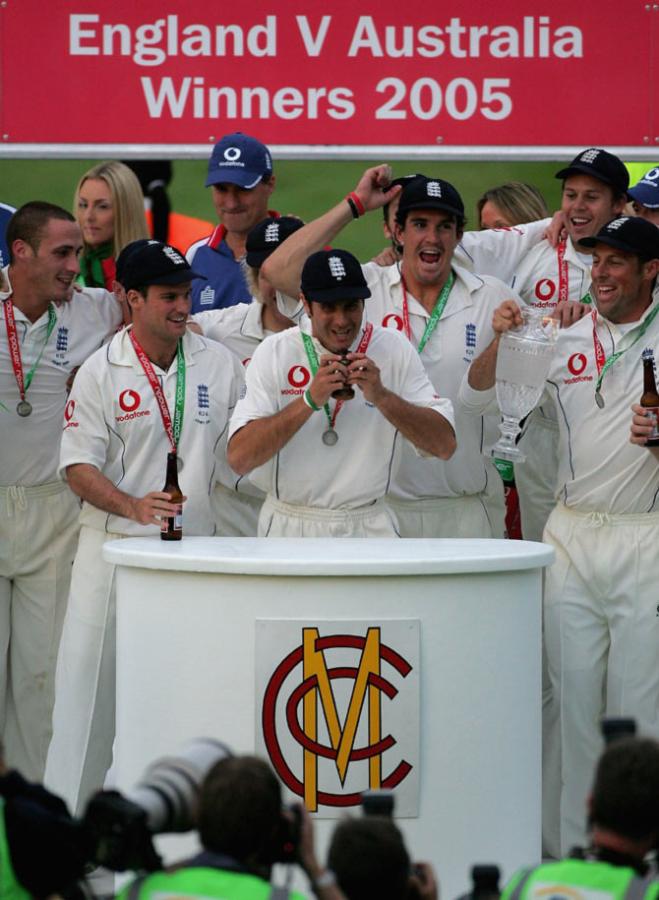 The England team celebrate winning the Ashes in 2005. Photograph: Clive Rose/Getty Images
Michael Vaughan was the inspirational captain who brought the Ashes home for the first time in 18 years and, since calling time on his playing career, he is a columnist and commentator and has appeared on Strictly Come Dancing.
Kevin Pietersen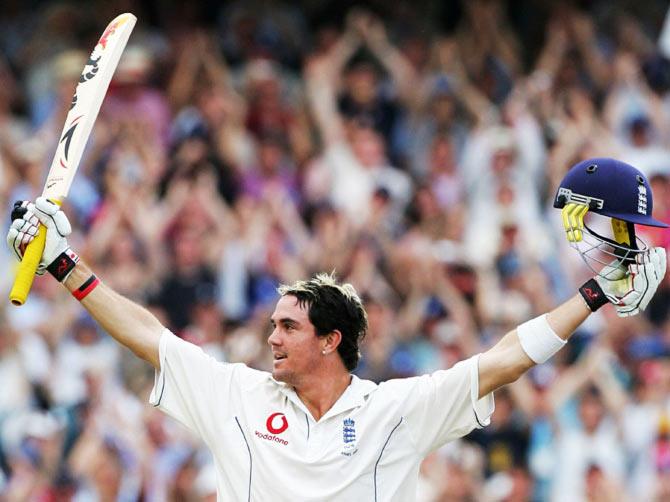 Kevin Pietersen celebrates his maiden Test century during the fifth Test at the Oval, on September 11, 2005. Photograph: Hamish Blair/Getty Images
The man who made his name against the Australians that summer is still playing cricket. However, Kevin Pietersen is not part of the squad despite being the most talented English cricketer of his generation.
Andrew Strauss
Left-hander Andrew Strauss notched up an average of 39.30 during the Ashes series of 2005 and was the only player to make two centuries. The 38-year-old succeeded Vaughan as captain and was one of the greatest in the country's history. He retired in 2012 and was appointed England's Director of Cricket earlier this year.
Geraint Jones
Wicketkeeper Geraint Jones will always be remembered as the man who took the catch to dismiss Michael Kasprowicz and win the Edgbaston Test. These days he captains Gloucestershire in first-class cricket.
Ian Bell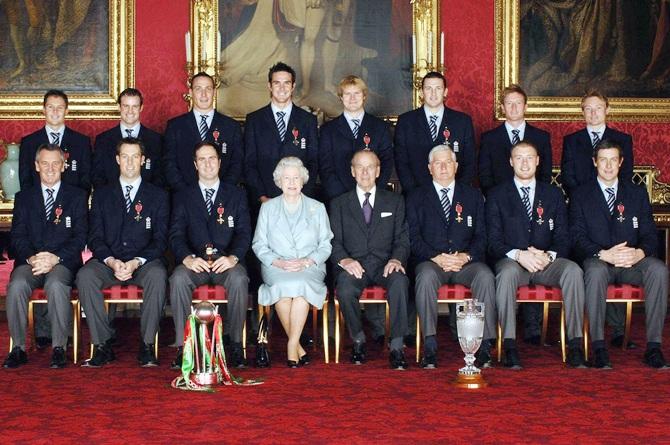 Queen Elizabeth II and the Duke of Edinburgh pose with members of England's 2005 Ashes-winning cricket team. Photograph: Anwar Hussein Collection/Getty Images
Ian Bell, like the rest of the squad, received an MBE (Most Excellent Order of the British Empire ) for his efforts after the 2005 Ashes series despite a string of poor performances. He is the sole Englishman who played in that series to have been called up for the 2015 Ashes squad.
Paul Collingwood
Despite only figuring in the fifth and final Test, Paul Collingwood's blocking was essential on that final day as Kevin Pietersen made hay at the other end. The fielding maestro has gone into coaching, most recently for Scotland at the World Cup though he is still the captain of Durham.
Andrew Flintoff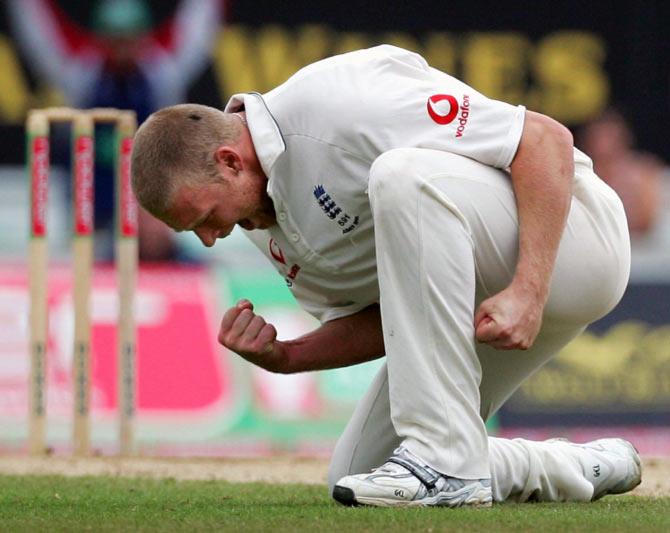 Andrew Flintoff celebrates the wicket of Shane Warne during the fifth Test at the Oval, on September 11, 2005. Photograph: Hamish Blair/Getty Images
Throughout the course of the glorious summer of 2005, Andrew Flintoff combined abundant talent, a strapping physique and whole-hearted exuberance to become the all-rounder England had craved for so long.
Flintoff was the BBC Sports Personality of the Year in 2005. Since his retirement in 2010, 'Freddie' has taken part in a professional boxing match and carved out a successful television career, most notably alongside James Corden in A League of Their Own.
Flintoff won the Australian version of I'm A Celebrity show after spending a month in a jungle where he took up many challenges including eating a rat's tail.
Ashley Giles
Left-arm spinner Ashley Giles, who has the famous nickname 'King of Spain', captured the wickets of all of the top Australian batsmen at least once during the 2005 series before retiring a couple of years later. He was England's limited overs head coach between 2012 and 2014 and is currently Lancashire's cricket director.
Steve Harmison
Steve Harmison was a key part of England's victory in 2005 and, at the time, one of the best fast bowlers in the world. In recent years he has commentated on Sky Sports.
Matthew Hoggard
Yorkshire legend Matthew Hoggard managed 16 wickets at an average of just under 30 during that famous series. Hoggard retired in 2013 and this summer he is taking on four open water swims to raise funds for Cricket Without Boundaries, a cricket development and HIV/AIDS charity.
Simon Jones
Injuries dogged Simon Jones throughout his career but his legacy is assured due to his performances against Australia that summer. Incredibly, the fourth Test in that series would prove his last as an England player. Jones recently released his autobiography having finally retired in 2013.
Marcus Trescothick
One of England's finest batsmen in the first half of the last decade, depression would see Marcus Trescothick pull out of the international squad in 2006. He still plays county cricket for Somerset and works as part of Sky's commentary team in the off-season.