'Obviously he's the fastest man ever so if we can have the title with him, that'd be cool.'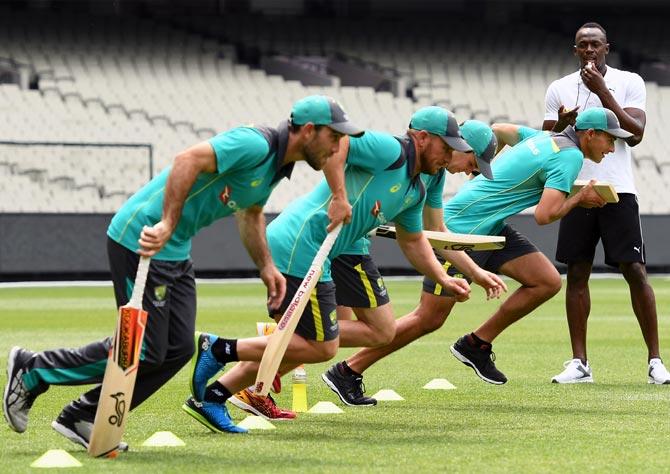 IMAGE: Usain Bolt, right, coaches Australian cricketers Glenn Maxwell, Ashton Agar, Peter Handscomb and Aaron Finch during the Gatorade Fastest Run at the Melbourne Cricket Ground on November 10, 2017. Photograph: Quinn Rooney/Getty Images for Gatorade
Australia's cricketers are getting help from sprint legend Usain Bolt to boost their running between the wickets for the upcoming Ashes Test series against England.

The eight-time Olympic champion had a session with the Australian batsmen to improve their 'explosiveness'.

"It's all about explosiveness, and that's one thing I've noticed with cricket -- they don't really have a lot of explosiveness when they're running," the Jamaican told the Herald Sun newspaper.

"They seem to always take off at a slow rate. Getting that right will definitely help people."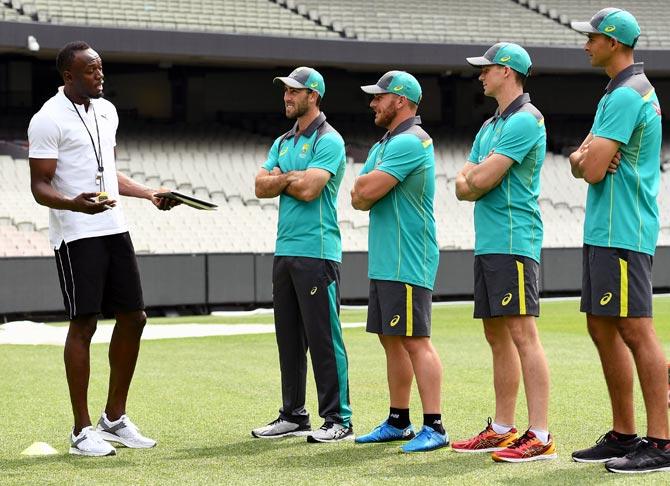 IMAGE: Usain Bolt, right, speaks to Australian cricketers Glenn Maxwell, Ashton Agar, Peter Handscomb and Aaron Finch. Photograph: Quinn Rooney/Getty Images for Gatorade
Bolt, 31, who retired from athletics after the World Championships in August, said he is trying to increase the awareness of running between the wickets of the Australian batsmen, according to AFP.

Australian batsman Peter Handscomb said getting tips from the world's fastest man is a big help ahead of the first Ashes Test against England, starting in Brisbane on Thursday.

"He was giving us a few pointers on how to get a little bit faster. We'll give it a crack," Handscomb said.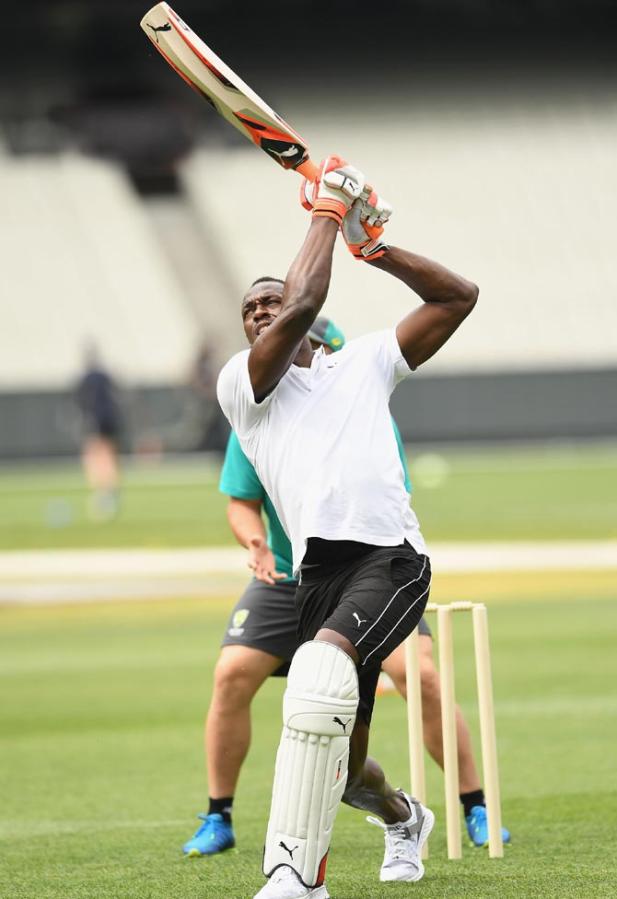 IMAGE: Usain Bolt plays cricket. Photograph: Quinn Rooney/Getty Images for Gatorade
"He was trying to get us nice and low in the turn and in and out. The first couple of steps are key and if we can get them right, we'll be fast.

"Obviously he's the fastest man ever so if we can have the title with him, that'd be cool."