Just hours before England retained the Ashes at Old Trafford by drawing the third Test against Australia, a "drunk" Monty Panesar "urinated" on bouncers after being thrown out of a nightclub in Brighton in the early hours of Monday and fined by the police.
Reports said the incident occurred at 0400 hours BST.
Panesar was part of England's 14-man squad but not in the playing eleven.
The 31-year-old left-arm spinner was partying at the Shooshh club on Brighton's beachfront, which was hosting a Gay Pride event. However, when a group of women complained he was hassling them, Panesar was asked to leave, the tabloid Sun reported.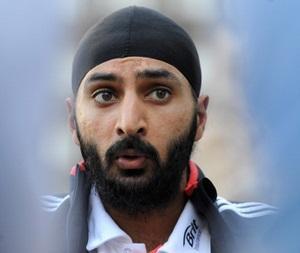 Panesar, born to Indian parents, proceeded to the promenade above the club and relieved himself on the bouncers standing below. The bouncers then chased Panesar until he was cornered in a nearby pizza parlour, according to the report.
The bouncers dragged him back to the club and called the police. He was fined 90 pounds sterling by the Sussex police.
A Sussex Police spokesman said, "A 31-year-old man received a fixed penalty notice for being drunk and disorderly after being seen urinating in public near the Shooshh Club in King's Road Arches, Brighton, around 4.13am on Monday."
Panesar later issued a statement, through his spokesperson, offering an "unreserved apology" for his behaviour.
"Monty would like to apologise unreservedly for any offence caused." The cricketer's spokesperson has since apologised on his behalf.
Sussex County Cricket Club have launched an investigation into the incident.
A statement on the club's website read: "Sussex County Cricket Club can confirm that an incident took place involving Monty Panesar in the early hours of Monday 5 August. The matter is under full investigation and the club will make no further comment at this stage."
Panesar, who has 164 Test wickets from 48 matches, has not been included in the squad for the next Ashes Test at Durham, which starts on Friday.
He was dropped by Sussex earlier this season in part due to a poor on-field attitude. Struggling with a sore shoulder, he had fallen into the habit of stopping the ball with his boot in the field and throwing it back to the wicketkeeper underarm.
Panesar was also arrested and interviewed by the police in 2011 after a heated argument with his wife in a pub car park. He was subsequently released without charge.
It is the latest incident to have involved an England player this summer.
In June, opening batsman Joe Root was punched by temperamental Australian batsman David Warner in a bar in Birmingham.
Warner was suspended and missed the first two Tests as a consequence.
Image: Monty Panesar
Photograph: Gareth Copley/Getty Images