Before rain intervened in the Old Trafford Test to leave Australia's Ashes comeback hopes in grave doubt, an annoyed Michael Clarke remonstrated with umpires after they ordered players off the ground for bad light on Sunday.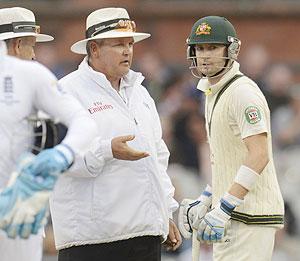 Since amendments to the Laws of Cricket were made in 2010, umpires do not have to consult batsmen to stop play for bad light, making the Australian captain's frustrations
For much of the day Manchester escaped the downpour that had been forecast for day four but, 30 minutes after the third Test was suspended because of the fading light, the hovering pitch cover went on as rain finally arrived.
Australia were on the brink of a declaration at 7-172 in their second innings, a lead of 331 runs and there is more heavy rain predicted by the Met Office overnight and Monday, meaning England could retain the Ashes without another ball being bowled.
Australia's David Warner said Clarke was not happy with the decision, which arrived with 32 overs left in the day's play.
Photograph: Philip Brown/Reuters