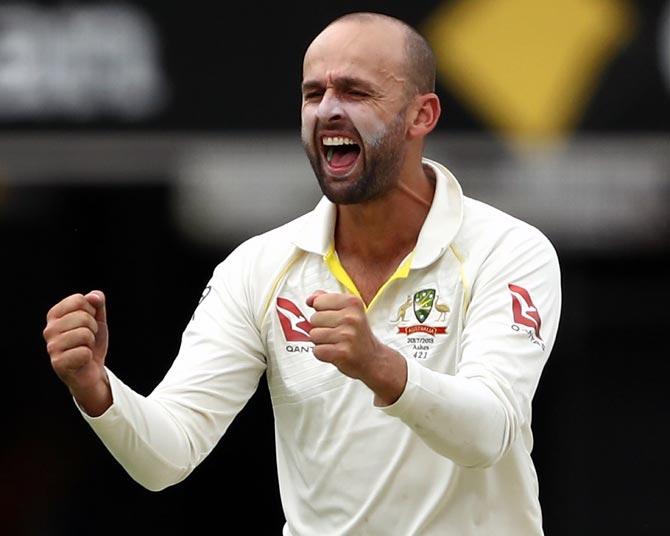 IMAGE: Australia's off-spinner Nathan Lyon celebrates. Photograph: Ryan Pierse/Getty Images
Australia spinner Nathan Lyon threw down the gauntlet to England's batsmen on Wednesday, challenging them to hit him out of the attack at Adelaide Oval in the second Ashes Test.
The 30-year-old has returned to his former home ground in top form ahead of the Test, which starts on Saturday, after taking five wickets in Australia's easy win at the Gabba.
Lyon took on a big workload in the series-opener but bowled with impressive economy, conceding less than 2.5 runs an over to stifle the tourists' scoring.
With none of England's batsmen taking the attack to the off-spinner at the Gabba, Lyon invited them to go on the offensive at Adelaide Oval, where he helped bowl Australia to victory against South Africa a year ago.
"I think if they did do that, it does definitely play into my hands," Lyon told reporters at the stadium.
"I like it when opposition guys try to attack me and try to whack me out of the attack.
"But it's a part of the game ... No doubt England will come prepared and they'll have a different plan for me compared to what they had in the first Test. But it is what it is.
"It's about adapting, it's about enjoying the challenge and embracing the game of cricket."
Lyon was criticised in the lead-up to the Gabba Test for saying he hoped Australia could end careers during the Ashes series, including that of his former club teammate and England captain Joe Root.
The plain spoken off-spinner was more generous on Wednesday, saying Root's team were a "classy" side and that the Yorkshireman's bowlers would be favoured by the conditions in the first day-night Ashes Test.
"I think with the pink ball, it's going to suit their bowlers," said Lyon.
"We know they're going to come back bigger and better and stronger.
"It's not going to be a walk in the park ... We need to make sure that we respect them."
Born in rural New South Wales, Lyon was famously a groundsman at Adelaide Oval before being fast-tracked into the Test team, so he knows the venue well.
Drop-in wickets are now used at the ground since a major refurbishment from 2012-13 and the pitch for Saturday is likely to feature a layer of grass to slow the wear of the pink ball.
Lyon, however, was relishing the prospect of more turn and bounce in Adelaide after extracting plenty from the surprisingly slow and spongy Gabba pitch.
"Damian Hough in my book is probably one of the best curators in the world. So, I had a look briefly at it then. It looks pretty exciting," he said.
"I've never seen a bad one here if I'm being brutally honest. It'll spin and bounce, (that's) always good."