Root defends underperforming veterans after Ashes hiding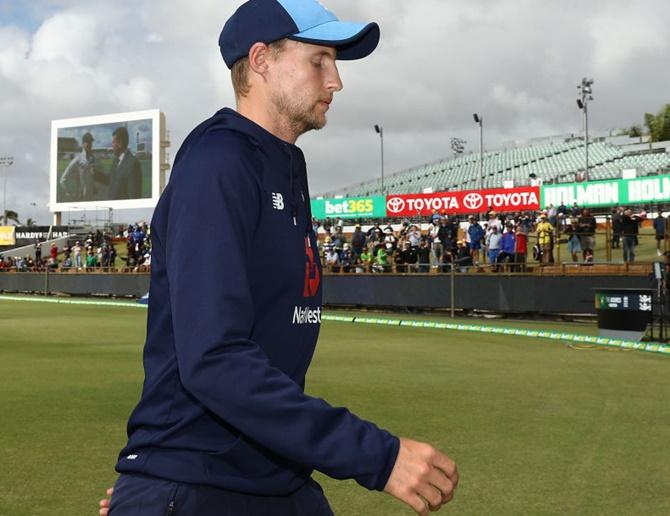 IMAGE: Joe Root of England looks dejected after Australia claimed victory during day five of the Third Test match during the 2017/18 Ashes Series. Photograph: Ryan Pierse/Getty Image
England captain Joe Root refused to blame his senior players for the tourists' stunning Ashes defeat but lamented his own failures to lead the way with the bat against Australia.
Four years after Alastair Cook's side surrendered the Ashes at the WACA in Perth with two matches to spare, Root's team handed back the urn just as meekly at the same venue on Monday with an innings and 41-run hiding before tea on day five.
They will head to the December 26 Melbourne Test 3-0 behind in the series and with a number of questions over the futures of opener Cook and paceman Stuart Broad.
All-rounder Moeen Ali is also under the microscope after a forgettable campaign with bat and ball.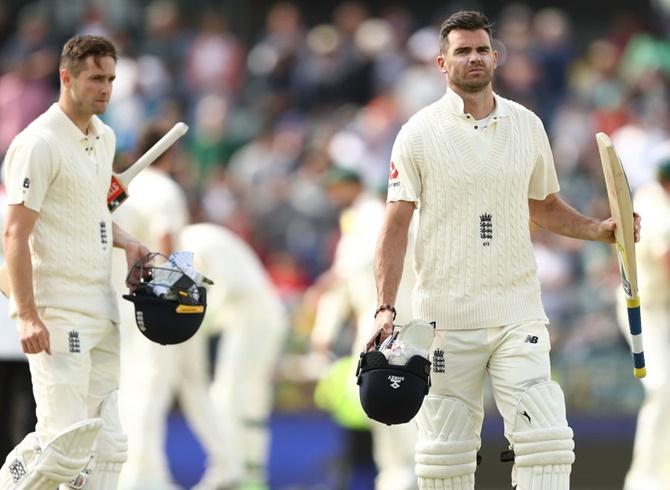 IMAGE: Chris Woakes and James Anderson of England look dejected. Photograph: Ryan Pierse/Getty Image
Former skipper Cook has scored only 83 runs in the series at an average of 13.83, comfortably the worst of England's specialist batsmen. England's most prolific Test runscorer was playing his 150th test at the WACA.
Veteran seamer Broad went wicketless for 142 runs as Australia racked up a mammoth 662 for 9 declared, his worst Test bowling figures.
For his part, Moeen has managed only three wickets for the series at a miserable 105.33 apiece.
Root, appointed captain only in February, backed Broad and Cook to still be playing for England in 12 months' time.
"I'd like to think so," the 26-year-old captain told reporters.
"They've got huge amounts of experience and they do offer a lot to the group and their performances over a long period of time speak for themselves."
"They've been in situations where things haven't gone for them before and that's why they've played so many games."
"It's important we don't panic and make hasty decisions after three games."
Root's first Ashes series in charge has felt cursed from the start, with the suspension of match-winning all-rounder Ben Stokes for an alleged assault overshadowing the tour.
The skipper has battled other off-field distractions and accusations of a problem drinking culture in the England camp.
Root turned the focus on his own failures with the bat, having been dismissed for 20 and 14 in Perth when his team desperately needed a big captain's knock.
"Probably the thing that's been my biggest detriment is trying too hard," said Root, who is averaging 29.33 for the series.
"I've been desperate for us to win this series."
"The first innings getting caught down the leg-side's obviously quite disappointing. Things just haven't felt like they've run for me out in the middle," he added.