Australia captain Ricky Ponting apologised on Tuesday for "overstepping the mark" in his confrontation with umpire Aleem Dar in the fourth Ashes Test against England.
The 36-year-old was fined 40 percent of his match fee by the International Cricket Council on Monday after the extended discussion with Dar about a TV referral decision over an appeal for caught behind against England's Kevin Pietersen.
"Yesterday was me overstepping the mark and obviously I apologise for the way that looked, it's certainly not the way I want to be looked upon as a captain," Ponting told Australia's Channel Nine on Tuesday.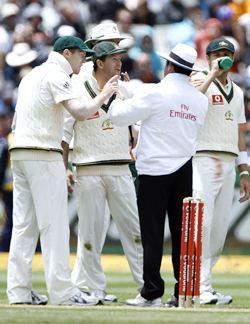 "I think it's really important that if you are a captain of a senior or junior side you don't look at what I did and think that's right. It's certainly not and I apologise for that.
"I understand that it didn't look good. The facts of the matter are that I was charged last night with having a prolonged discussion with the umpires.
"The umpires made it quite clear to the referee and myself that in no way was I aggressive ... I just went on a bit too long. I accept that I was wrong."
Ponting said he did not think his frustration at Australia's poor position in a Test they must at least draw to retain hopes of reclaiming the Ashes had contributed to the incident.
The hosts finally dismissed England for 513 just before lunch on Tuesday's third day, a first-innings lead of 415 runs over Australia with more than 2 1/2 days remaining at the Melbourne Cricket Ground (MCG).
Ponting, who has scored just 93 runs at an average of 15.5 in this series, said he was not thinking about the pressure on his captaincy.
"My head's about making runs in the second innings," he added. "I can't afford to look further than what I've got ahead of me in the next couple of days of this game.
"I'm enjoying cricket as much as ever, there's no doubt about that. This series has been a tough one for me personally because I haven't scored the runs I would have liked to.
"But I've just got to get out there and get the job done and if I do that, then there won't be any talk about me."