Australia captain Ricky Ponting's frustration over a TV referral decision boiled over into an ugly row with umpire Aleem Dar on the second day of the fourth Ashes Test on Monday.
Ponting, whose team faces a huge task to save the Test and keep alive their hopes of winning back the Ashes, spent more than a minute remonstrating with Dar after demanding a review of a not out decision against England batsman Kevin Pietersen.
Wicketkeeper Brad Haddin had launched a loud but solo appeal for caught behind, convinced Pietersen, who was on 49, had nicked the ball from quick Ryan Harris.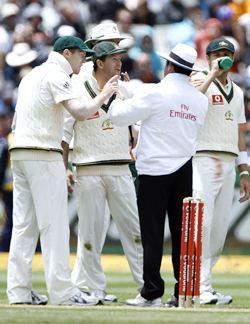 A review of the decision revealed no "hot spot" where the ball passed Pietersen's bat but a furious Ponting, who was joined by finger-jabbing seamer Peter Siddle, argued long and hard with Dar, prompting jeers from the crowd.
Pakistani Dar, widely regarded as one of the best umpires in world cricket, later called on the technology to save England's Matt Prior after he was caught behind.
Prior, who was on five, walked but was called back to the crease as Dar consulted the third umpire, whose review of the footage showed bowler Mitch Johnson had planted his heel on the line and the delivery was a no-ball.
Pietersen made just two more runs after the first appeal before falling lbw to the fired-up Siddle but Prior went on to form a formidable partnership with Jonathan Trott.
Ponting, who has been critical of the referral technology being used for the first time in an Ashes series, could be fined part or all of his match fee for arguing with the umpire's decision.