Sachin Tendulkar's son Arjun took his first step towards following in the footsteps of his illustrious father as he was named in the Mumbai Cricket Association's under 14 probables list for the off season training camp, to be held next month.
12-year-old Arjun, a student of Dhirubhai Ambani School in Bandra-Kurla Complex, bats left handed at the top of the order and bowls medium pace with the same hand.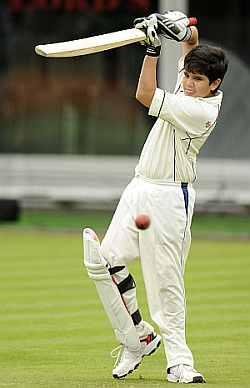 "He showed good form during the summer vacation under 14 tournament conducted by MCA, scoring over 250 runs in five games," said MCA joint secretary and junior selection panel convener Dr P V Shetty about the junior Tendulkar's selection in the 32-strong probables list.
Arjun, playing for Khar centre in the tournament, also scored a century.
The selected players would undergo the training camp at MCA's indoor cricket academy from July 3, Shetty said.
The probables: Akash Sawla, Bhupen Lalwani, Riddish Sawant, Aman Sharma, Prithvi Shaw, Kaustubh Dipte, Agni Chopra, Jay Dave, Mehtab Ansari, Tanush Kotian, Akash Malbari, Ojas Pandit, Om Jadhav, Hashir Dafedar, Rishikesh Padwal (wk), Mahesh Patil Dhruva Vedak, Varun Joijode, Sidak Singh, Azim Shaikh, Shivam Mehrotra, Sarvesh Rahate, Mukund Sardar, Rahul Dube, Suraj Patel, Aftab Ansari, Pratamesh Chavan (wk), Aditya Jha, Samit Pawar, Sagar Chabria, Arjun Tendulkar and Jairaj Deshmukh.