'Box office' Archer ready to be patient after injury return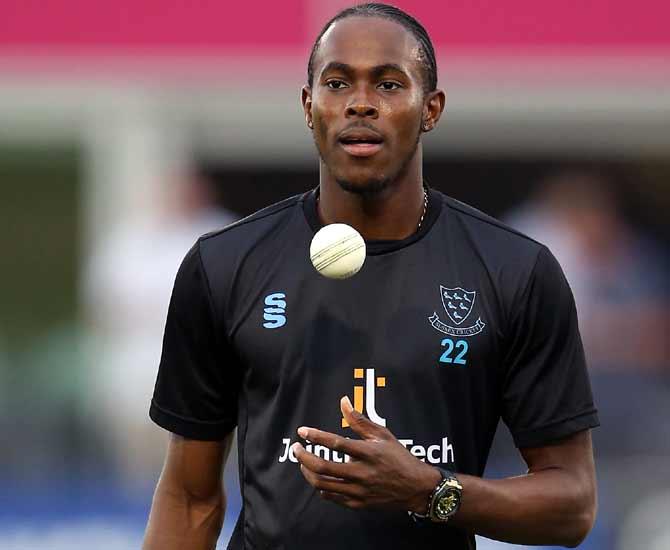 Jofra Archer said it is a "surreal" feeling to be back playing cricket again after a lengthy injury lay-off and the England speedster knows he must be patient during his comeback in an important year for the team.
Archer spent 17 months on the sidelines with back and elbow injuries before returning to international cricket in the one-day series in South Africa.
His career-best 6-40 helped secure England's 59-run victory in Wednesday's third one-dayer in Kimberley, though South Africa won the series 2-1.
"Being back after however long, it's kind of surreal," Archer said after England snapped a five-match winless streak in ODIs.
http://119.252.147.139/us/genLink.html--- linkgenerator
"You only get that feeling after you start playing. It's definitely gone up a few notches.
"It's just a long road, this is a small tick but I want to see how I am in April, June, July and September. This is just the start of the road."
Archer bled 81 runs for the lone wicket of lower order batsman Wayne Parnell in the series opener against South Africa.
But the 27-yer-old was at his menacing best on Wednesday - destroying stumps, hitting Aiden Markram with a bouncer and regularly exceeding 90 miles per hour.
"It was fantastic and probably deserving of the player of the match award," captain Jos Buttler, who bagged the honour for his blistering hundred, said of Archer's display.
"When the game was in the balance, to come back there and take the wicket of (Heinrich) Klaasen broke the game open for us."
England will hope a fully-fit Archer will help them reclaim the Ashes from Australia and retain the 50-overs World Cup title in India later this year.
"He is a graceful fast bowler and it is so good to have him back in international cricket," former England captain Nasser Hussain told Sky Sports.
"He is like gold dust and needs looking after. He is so valuable for English cricket and world cricket. He is so box office."
Bairstow's recovery from freak injury on 'right track'; batter indicates he is keen on Ashes return
England's multi-format middle-order batter Jonny Bairstow's chances of being part of the national team for the home Ashes series have brightened as he says his recovery from a freak injury is on "right track".
Bairstow had broken his leg and dislocated his ankle when he slipped on a golf course in September last year and missed the T20 World Cup in Australia and the subsequent away Test tour of Pakistan.
The grievous injury saw the 33-year-old break his fibula in three places, which required complicated surgical intervention. With the Ashes scheduled at home in June-July this year, a fully-fit Bairstow should be an automatic choice in the squad as the firepower he lends to England's batting is unmatched.
Bairstow was in the form of his life last year, averaging 75.66 with four Test centuries before he was struck down by the injury.
"It (the leg) is improving, we're on the right track, we're about four-and-a-half months post it (the injury) happening now," Bairstow said at the Marylebone Cricket Club 'spirit of cricket' panel on Wednesday, according to 'Yorkshire Post'.
The cricketer, who was a part of England's Test resurgence under coach Brendon McCullum and captain Ben Stokes, however, has not set a return date, though he remains optimistic about the Ashes.
"I haven't actually got a return date just yet but I'm seeing a surgeon later on in the month so we'll wait and see how that goes, but things are tracking in the right direction.
"It's (injury) a bit more complicated than just breaking your leg, but that's just one of the things that you deal with. Everyone has been dealt a card, everyone has challenges put in front of them, but it's just another thing you can overcome."
He added that while the long layoff has not quite affected his morale, staying at home, at times, became boring.
"It's been a lot different (post the injury), taking the injury away from it, not being ... on planes and flying everywhere and being around a group of lads, being at home has been a lot different."
"It's been quite good at times, it's been quite boring at times."
Bairstow said that a day before he slipped on the golf course, white-ball coach Matthew Mott and skipper Jos Buttler were discussing with him the prospects of opening the innings in T20Is.
"It has been tricky, obviously the night before I did my ankle, I spoke to Matthew Mott and Jos (Buttler) and they spoke about me opening the batting in T20 side and that's what I've been wanting to do for a little period of time, so I was absolutely delighted."
"And then it's amazing how quickly things can turn on its head, within 12 hours I was laying on a hospital bed, my leg in a cast and my ankle being put back in place."