Former India captain Anil Kumble was on Monday appointed chief mentor of Mumbai Indians, ahead of the start of the sixth Indian Premier League season.
The 42-year-old not only holds the record of being the country's highest wicket-taker in both Tests and ODIs, but is also highly respected for his enormous experience and cricketing acumen.
Commenting on his appointment, Kumble said, "In my discussion with Reliance Group Management, I find that they have a great and compelling vision for sports in this country, which aligns with my venture Tenvic Sports' aspirations in making 'sports' as the main catalyst of youth development.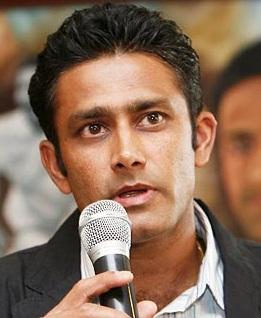 "Mumbai Indians is a very competitive team in the IPL with high-profile players and committed owners. It's my honour to join the Mumbai Indians as chief mentor and to align our joint interest in making sports as an important agenda in youth development. I look forward to the new assignment," he said, in a statement.
Mumbai Indians' owner Nita Ambani said, "In Anil Kumble we have a new Chief Mentor who has extensive cricketing knowledge not only as a player of international stature but also as an able administrator. He is one of India's leading sporting icons and we have great pleasure in having him on board."
Royal Challengers Bangalore, where Kumble held the same role prior to joining Mumabi Indians, issued a statement, saying: "Royal Challengers Bangalore (RCB) and its Chief Mentor Anil Kumble have agreed to a separation with immediate effect. The parties have taken this consensual decision after considering various aspects. The parties have reaffirmed their mutual goodwill and have expressed satisfaction over the process of separation." RCB said.
Kumble further stated, "I have had an enjoyable association with RCB, as player, captain and mentor. During this period we have achieved most of our objectives and RCB has emerged as one of the leading franchises in the IPL.
"I leave with happy memories. I am thankful to Dr. Vijay Mallya for offering me the role of Chief Mentor, a position that allowed me to observe the challenges of being a franchise owner from close quarters and develop a nuanced perspective of the commercial elements of sport.
Mallya said, "Anil has been a great asset to RCB as captain, chief mentor and advisor. He has helped shape the entire team and was instrumental in creating a unique sense of passion and commitment.