'I don't know what constitutes dangerous bowling. It's the umpire's personal take on it.'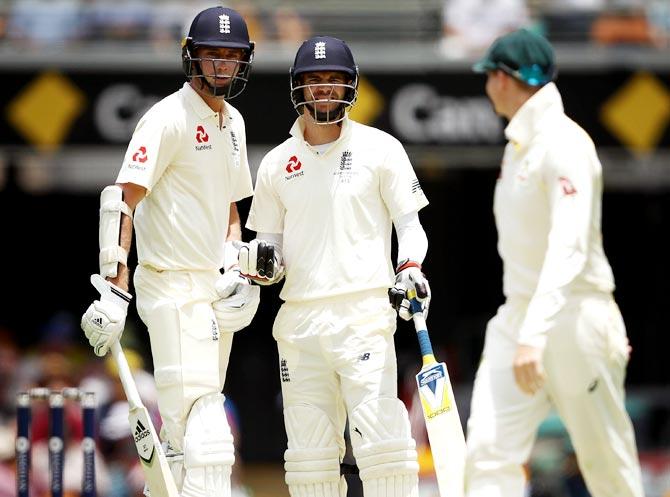 IMAGE: England's Stuart Broad and James Anderson exchange words with Australia Steve Smith during the first Ashes Test in Brisbane. Photograph: Ryan Pierse/Getty Images
England paceman James Anderson raised concerns about potentially 'dangerous' short-pitched bowling at the tourists' tail-enders during the first Ashes Test, but his captain Joe Root said the lower order would just need to learn to 'deal with it'.

Anderson said he had spoken to umpire Marais Erasmus as Australia's fast bowlers launched a furious pace assault during the second innings as England were skittled for 195 on the way to a resounding 10-wicket defeat at the Gabba.
"I was batting with Jake (Ball) in the second innings and he got bowled two short balls from (Pat) Cummins that went over the shoulder," the veteran quick told the BBC in the leadup to the second Test at Adelaide Oval, starting Saturday.

"There was a third very close and wasn't given (a no-ball) and I questioned, 'when does it get dangerous?'

"I don't know what constitutes dangerous bowling. It's the umpire's personal take on it.

"Marais said he was happy with it at the time. It's down to the umpires."

Umpires can penalise the bowler with no-balls and remove them from the attack if they judge their bowling as likely to cause injury based on the batsman's skill level.

The dangers of fast bowling were underlined in 2014, when Australia batsman Phillip Hughes was struck in the neck by a short ball and died in hospital two days later at the age of 25.

Australia used short-pitched bowling to rout England's tail throughout the 5-0 whitewash in 2013/14, a tactic skipper Steve Smith said his bowlers are using as a "blueprint" for the current series.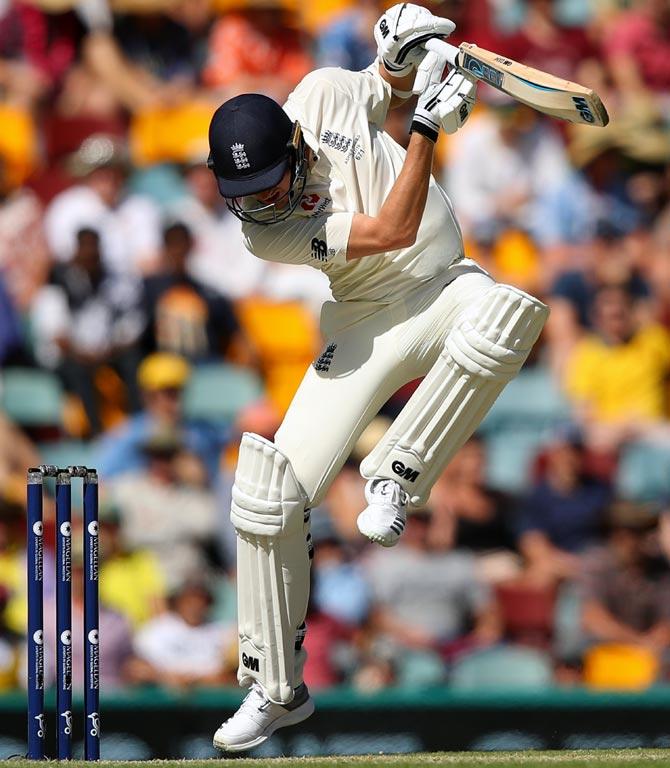 IMAGE: England's Jake Ball tries to avoid a bouncer from Pat Cummins. Photograph: Ryan Pierse/Getty Images
After Australia wrapped up the win at the Gabba on Monday, Smith said England's tail could expect more of the same in the remaining four Tests of the series.

Anderson's concerns were not shared by Root, despite a Mitchell Starc short ball smashing into the captain's helmet during the second innings of the Gabba Test.

"I think it's Test cricket," Root told reporters at Adelaide Oval on Friday.

"And as a lower order player against an attack like that, you've got to expect traffic round that area and you've got to make sure you deal with it."

Root's helmet was damaged by the Starc blow, but he swapped into a new one and went on to score 51 after having a concussion Test before the start of play on day four.

"They played to their strengths and you can't knock that," the skipper added.

"I think we have got to make sure as a lower order we're very prepared to face a lot of balls in that area and deal with it better than we did in that first game, simple as that."

Anderson was preparing for another pace blitz at the tail in Adelaide, the first Ashes day-night Test.

"We have to plan to get a barrage, which we are doing," the 35-year-old said.