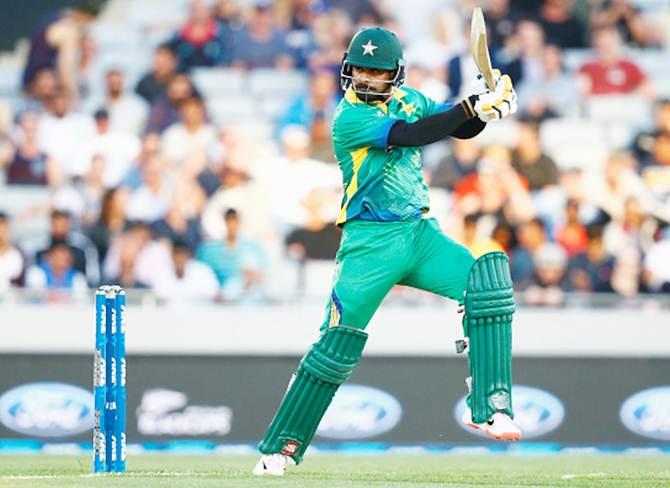 Pakistan opener Mohammad Hafeez bats during the first T20 against New Zealand at Eden Park, in Auckland, on Friday. Photograph: Phil Walter/Getty Images
Pacer Mohammad Amir claimed a wicket on his return to international cricket following a five-year ban as Pakistan registered a 16-run victory over New Zealand in the first Twenty20 International in Auckland on Friday.
Playing his first match for Pakistan after being banned for taking payments to bowl no-balls, the 23-year-old toiled without much luck before claiming a wicket off his final delivery to finish with figures of 1-31.
Home skipper Kane Williamson (70) and Colin Munro (56) had seemingly set New Zealand on course to reach the 172-run victory target before their chase stalled and the hosts were dismissed for 155 in exactly 20 overs.
After being asked to bat, former captain Mohammad Hafeez (61) helped the tourists overcome a slow start, hitting Trent Boult for back-to-back fours and clobbering Corey Anderson for two boundaries and a six in the same over.
Pakistan skipper Shahid Afridi (23) hit two sixes and a couple of fours in the same Matt Henry over in a typically busy eight-ball knock, while Umar Akmal (24) chipped in with a 14-ball cameo to help Pakistan put up a competitive 171-8 total.
Amir received visa clearance for New Zealand only last week and appeared nervous with the new ball in his hand, starting with a wide and soon opting for a change of ends.
However, he came close to claiming a wicket in his second over but Afridi spilled a simple catch to reprieve Williamson, then on five.
Batting at the other end, Munro decided to counter-attack, belting three sixes and a four off the last four deliveries of Umar Gul's second over en route to a 25-ball fifty.
Pakistan regained control of the contest when Wahab Riaz (3-34) ended Munro's eventful knock before Afrid dismissed Grant Elliott and Luke Ronchi in the same over to jolt the hosts.
Amir endured a second slice of misfortune when Sohaib Maqsood dropped debutant Todd Astle off his bowling before he finally tasted success in the penultimate over, this time Afridi making no mistake in taking the catch to account for Henry.
Hamilton hosts the second of three Twenty20 Internationals between the sides on Sunday before they embark on a three-match one-day international series.
Scorecard
Pakistan
M. Hafeez c Astle b Milne 61
A. Shehzad c Elliott b Milne 16
S. Maqsood c Ronchi b Santner 0
S. Malik c Elliott b Santner 20
U. Akmal c Munro b Milne 24
S. Afridi c Williamson b Boult 23
I. Wasim c Boult b Henry 18
S. Ahmed c Williamson b Milne 2
W. Riaz not out 3
U. Gul not out 1
Extras: (w3) 3
Total: ( for 8 wickets; 20 overs) 171
Fall of wickets: 1-33, 2-52, 3-78, 4-110, 5-146, 6-147, 7-167, 8-168.
Bowling: Henry 4-1-32-1, Boult 4-0-42-1, Milne 4-0-37-4, Anderson 1-0-18-0, Santner 4-0-14-2, Astle 3-0-28-0.
New Zealand
M Guptill run out (Shahid Afridi/Imad Wasim) 2
K Williamson c Mohammad Hafeez b Wahab Riaz 70
C Munro b Wahab Riaz 56
C Anderson c&b Imad Wasim 0
G Elliott b Shahiud Afridi 3
L Ronchi c Ahmed Shehzad b Shahid Afridi 0
M Santner c Shahid Afridi b Umar Gul 0
T Astle b Ulmar Gul 1
M Henry c Shahid Afridi b Mohammad Amir 10
A Milne not out 2
T Boult c Shahid Afridi b Wahab Riaz 0
Extras: (B-1, LB-7, W-3) 11
Total: (for 10 wickets in 20 overs) 155
Fall of wickets: 1-9, 2-89, 3-90, 4-107, 5-107, 6-108, 7-138, 8-152, 9-152, 10-155
Bowling: Mohammad Amir 4-0-31-1, Imad Wasim 4-0-18-1, Umar Gul 4-0-38-2, Shahid Afridi 4-1-26-2, Wahab Riaz 4-0-34-3.