Waqar should have been in Dubai and Sharjah for the PSL matches: Akram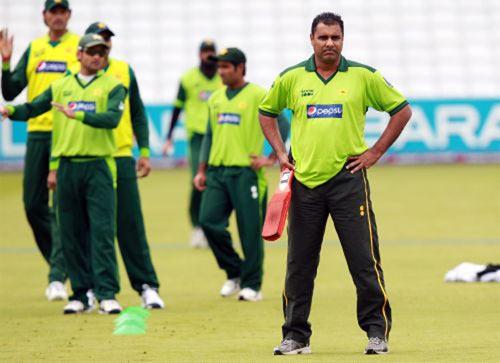 Image: Pakistan coach Waqar Younis with his players. Photograph: Jan Kruger/Getty Images.
Former Pakistan captain and fast bowling great, Wasim Akram slammed the formation of an inquiry committee by the cricket board to probe into the team's poor show in the Asia Cup in Bangladesh.
"I don't understand the purpose of announcing a probe committee when the national team is due to leave for India for the World T20," Akram told a news conference on Saturday.
Akram, who was Director of the Islamabad United franchise which recently won the Pakistan Super League in Dubai, said that it was lamentable that instead of supporting the team the players were being put under pressure.
"I don't agree with this thinking. This decision of the Pakistan Cricket Board to evaluate the team's performance in the Asia Cup at this time," he added.
"It does not make sense as the World T20 is just a few days away."
Akram, who is now a full time media commentator and coach, said the board should not make the mistake of changing the captain before the World T20.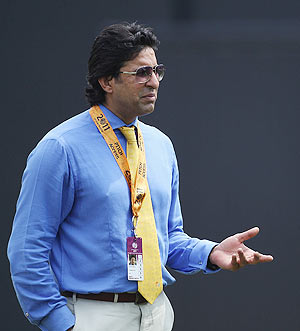 "Shahid Afridi has been playing for 20 years. We all know him well and his performances. He is the best man to lead the team even now. He just needs to be given full backing and support by everyone," he added.
Akram said he was hurt and upset at the scathing criticism directed at the Pakistan team during the Asia Cup.
"The team has been struggling in T20 cricket for a while now but we need to show more understanding and respect for the players who are already under a lot of pressure," he added.
To a question, Akram reiterated that he was always available to work for the betterment of Pakistan cricket.

"I am ready to serve Pakistan cricket but I need to be given a proper time table. I can't be asked at the 11th hour to come in. I work according to a schedule. I am ready to work in any capacity but first someone needs to offer me a proper role," he said.

Akram also said about his former fast bowling colleague and the present head coach of the team, Waqar Younis that he needed to give more time to watching domestic matches.

"Waqar should have been in Dubai and Sharjah for the PSL matches. He needs to watch the matches and players we have available to build a good combination," he added.
Image: Former Pakistan captain Wasim Akram
Photograph: PTI