Pakistan's suspended off-spinners Saeed Ajmal and Mohammad Hafeez have decided to go for informal tests to the ICC accredited bowling centre in Chennai.
- Hafeez to fly to Chennai for bowling action test
According to a senior official of the Pakistan Cricket Board (PCB), both the players had themselves asked the board to send them to Chennai.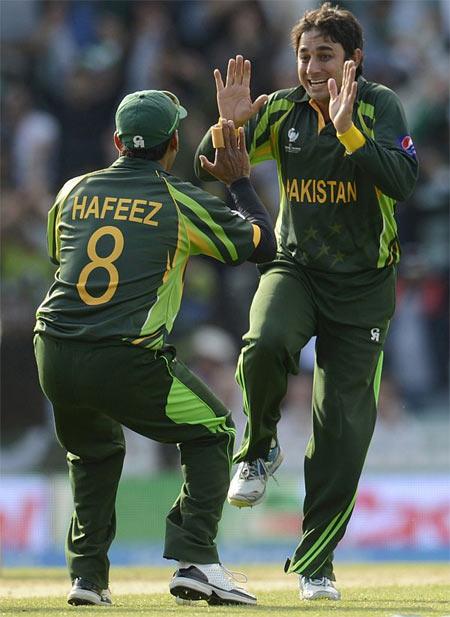 "Saeed and Hafeez apparently were not comfortable with the set-up in Brisbane and Loughborough and wanted to go to Chennai. Their travel plans are now final and we have got all clearances from the Indian High Commission and our foreign ministry," the official told PTI.
He said both players would leave for Chennai in two to three days' time.
"They will be appearing in informal tests in Chennai and if they clear those tests than we will send them for the official ICC tests soon," he added.
Pakistan will be announcing its final World Cup squad on January 7 and asked if there was enough time for the board to get the bowlers cleared for the tournament, the official said they had already asked the ICC to give dates for the official tests.
"We are doing our best to facilitate both of them and we are keen to see their bowling actions cleared before the World Cup. I think we will complete all this process in two weeks time," he stated.
Hafeez was suspended from bowling in international cricket last month by the ICC after failing a bowling test soon after he was reported for his action by match officials after the first Test against New Zealand.
Ajmal is also suspended from bowling in international cricket since September by the ICC.
Both have been named in Pakistan's preliminary World Cup squad of 30 players.
Ajmal appeared in two One-day matches against Kenya last week and bowled a total of 12 overs and later said he felt confident bowling with his remodeled action
Image: Pakistan's Saeed Ajmal and Mohammad Hafeez celebrate the fall of a wicket during a match against India
Photographs: Reuters