- 'You might see things quite different from what you usually see'
- 'I don't mind a bit of chat on the field; a bit of banter'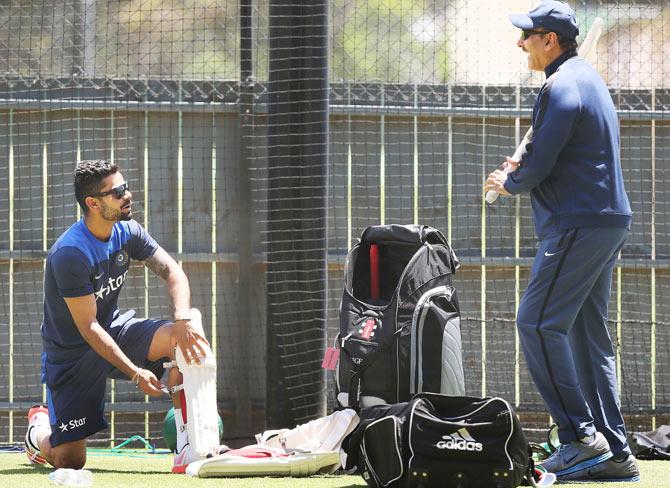 India's Virat Kohli talks to BCCI's director of cricket Ravi Shastri during an India training session at Adelaide Oval on Monday. Photograph: Michael Dodge/Getty Images
Virat Kohli is determined to make his mark as captain of India, if only for one Test, as regular skipper Mahendra Singh Dhoni recovers from a thumb injury on the sidelines.
Kohli, long regarded heir apparent to 33-year-old Dhoni, confirmed he would lead India in the first Test against Australia in Adelaide, starting on Tuesday, and wasted little time in differentiating himself from the under-pressure wicketkeeper.
"I am personally going to go with whatever my gut feel is," Kohli told reporters at Adelaide Oval on Monday.
"I'm going to set fields according to what I feel.
"So you might see things quite different from what you usually see.
"I'm someone who usually goes with what I feel, so it might look funny -- but as long as it's effective.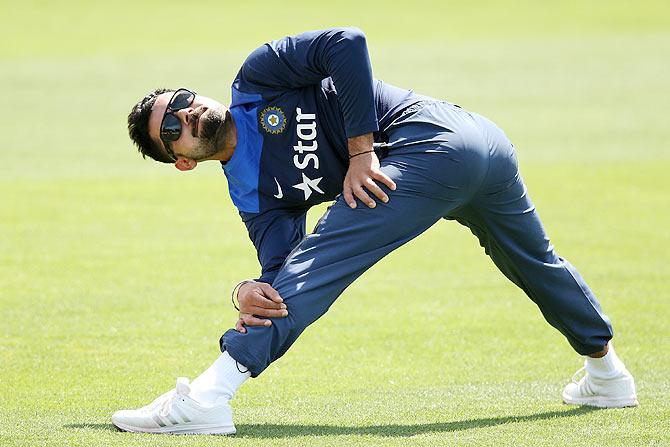 Virat Kohli stretches during a training session. Photograph: Morne de Klerk/Getty Images
"The intent is going to be aggressive and that's something that I play my cricket with and that's certainly something I'm going to try and use in my captaincy as well."
A steely-eyed batsman, the Delhi-born 26-year-old wears his heart on his sleeve and presents a stark contrast to the more measured Dhoni, whose outwardly tranquil nature has been seen by Indian pundits as a both a blessing and a curse in pressure situations.
After India crumbled to a 3-1 series loss in England, Dhoni's captaincy is under the microscope in Australia, where his team was whitewashed 4-0 on the last tour in 2011-12.
India have never won a Test series in Australia, but Kohli proved in his rookie season in the side that he had the temperament to thrive on the fast and bouncy wickets Down Under, scoring 75 on a ferocious WACA deck in Perth followed by a defiant 116 in Adelaide.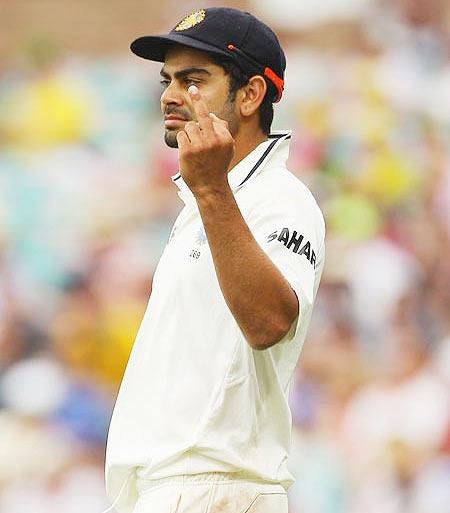 Virat Kohli gestures with his middle finger to the crowd during day two of the second Test between Australia and India at the Sydney Cricket Ground in January 2012. Photograph: Mark Kolbe/Getty Images
Kohli also found himself on the wrong side of fans on that tour and was fined for making an offensive hand gesture at them at the Sydney Cricket Ground.
"I don't mind a fight. I don't mind a bit of chat on the field. A bit of banter. I don't mind all that," said Kohli, who is likely to be targeted by Australia's rowdier supporters.
"It probably makes me more determined.
"I'm pretty focused all the time, but that's an added spice that I like. Last time around I enjoyed it.
"It was too aggressive for me initially... but after a few incidents I figured out there's no other way of playing in Australia, so I'll just be myself."