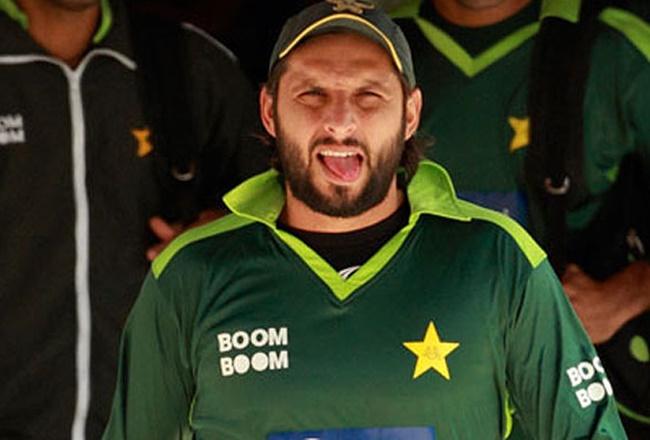 IMAGE: Pakistan all-rounder Shahid Afridi. Photograph: Getty Images
Pakistan's veteran all-rounder Shahid Afridi on Tuesday sparked controversy with a tweet about Kashmir.
That's not all, India's out-of-favour cricketer Gautam Gambhir found himself in the middle of the row after adding his own two bit.
Earlier on Tuesday, reacting to the clashes that ensued between locals security forces in Shopian and Anantnag following the encounters of 12 terrorists in the Valley, Afridi wrote on his Twitter handle: "Appalling and worrisome situation ongoing in the Indian Occupied Kashmir (sic). Innocents being shot down by oppressive regime to clamp voice of self determination & independence. Wonder where is the @UN & other int bodies & why aren't they making efforts to stop this bloodshed?"
This tweet sparked frenzy and the media rushed to the doorstep of Gambhir, who is known to have gotten into on-field verbal duels with Pakistani cricketers, particularly Afridi, in the past.
"Media called me for reaction on @SAfridiOfficial tweet on OUR Kashmir & @UN. What's there to say? Afridi is only looking for @UN which in his retarded dictionary means "UNDER NINTEEN" his age bracket. Media can relax, @SAfridiOfficial is celebrating a dismissal off a no- ball!!!" was Gambhir's reply.
On Monday, Pakistani cricketer-turned-politician Imran Khan, too, tweeted against the crackdown on terror groups.
"Strongly condemn the brutality of Indian forces against innocent Kashmiris and the killing of unarmed civilians in IOK. The people of Pak stand with the Kashmiris democratic struggle for self determination. The UNSC must act against Indian aggression in IOK" (sic).