Season 9 of the IPL has seen several youngsters punch above their weight.
Some of them make Aruneel Sadadekar/Rediff.com's Young Guns XI.
The Indian Premier League, in its nine year history, has seen many home-grown youngsters stamp their authority and climb the ladder to the international stage.
Ravindra Jadeja, Ravichandran Ashwin and, to an extent, Rohit Sharma made their mark in the IPL before making it to the Indian team.
The tournament also offers young international stars a chance to prove their calibre.
Season 9 has seen several youngsters punch above their weight. Some of them make Aruneel Sadadekar/Rediff.com's Young Guns XI.
Quinton de Kock, Delhi Daredevils
Inning: 10. Runs: 381. Average: 42.33. Strike Rate: 147.67. 100s:1. 50s: 2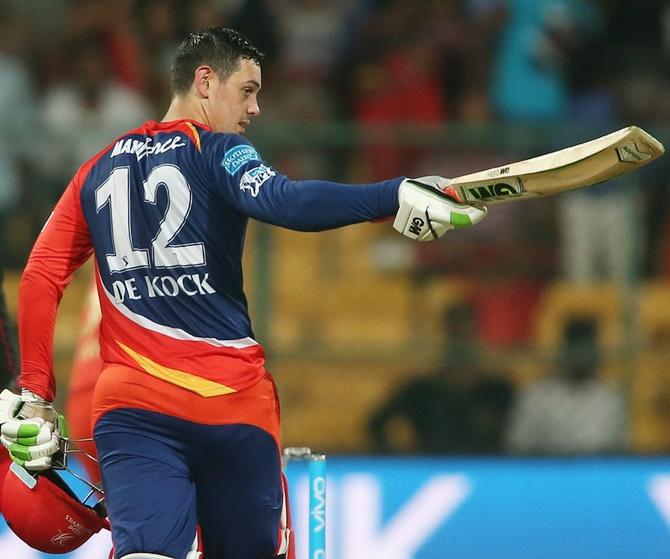 IMAGE: Quinton de Kock celebrates his century against the Royal Challengers Bangalore. All Photographs: BCCI
The 23-year-old South African batsman is the backbone of the Delhi Daredevils and among the top 10 run-scorers in the tournament.
In registering the first hundred of this season -- a splendid 51 ball 108 -- he helped the Daredevils chase down a challenging 192 runs target, set by the Royal Challengers Bangalore.
The baby-faced de Kock -- with those large expressive eyes -- has shown maturity behind the stumps, often setting the field.
Considering his international experience, I feel he can be entrusted with the captaincy of this young side next year.
K L Rahul, Royal Challengers Bangalore
Inn: 8. Runs: 332. Ave: 55.33. SR: 143.10. 100s: 0. 50s: 4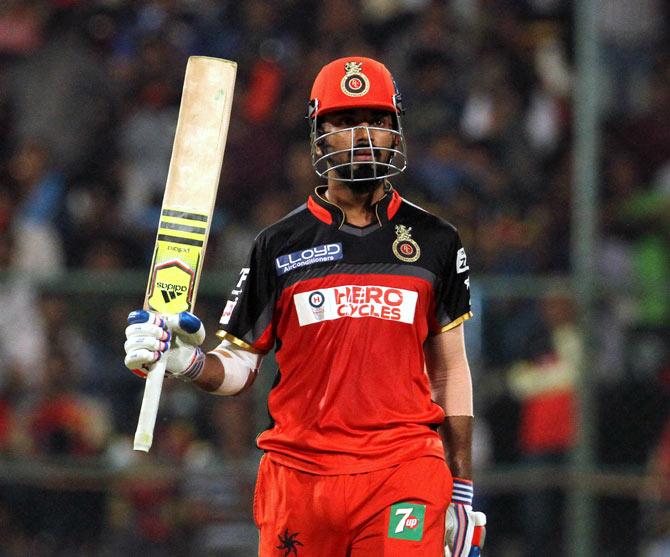 IMAGE: K L Rahul celebrates his half-century.
Considered a Test specialist, K L Rahul has shown that you can succeed with classical strokes in T20 cricket.
The Royal Challengers Bangalore batsman stepped up in star hitter Chris Gayle's absence -- the Jamaican had flown home for his baby girl Blush's birth -- and is having a dream season.
Scoring at an impressive strike rate, his four half-centuries and a healthy average give him the No 2 slot in my team.
Sanju Samson, Delhi Daredevils
Inn: 11. Runs: 261. Ave: 29.00. SR: 113.47. 100s: 0. 50s: 1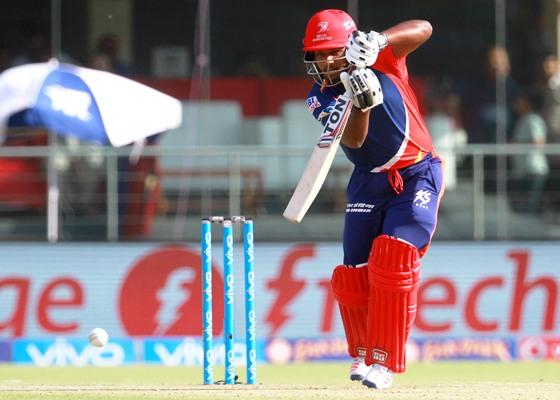 IMAGE: Sanju Samson in action.
Another youngster from the Delhi Daredevils team who has captured attention.
Samson hasn't had a very productive season, but the 21 year old proved in one innings what he is capable of.
He took the Man-of-the-Match award for his match-winning half century against the Mumbai Indians in the first game between the two sides at the Ferozshah Kotla.
His measured aggression, coupled with the ability to play all round strokes, makes him suited for the No 3 spot.
Sachin Baby, Royal Challengers Bangalore
Inn: 4. Runs: 101. Ave: 33.66. SR: 153.33. 100s: 0. 50s: 0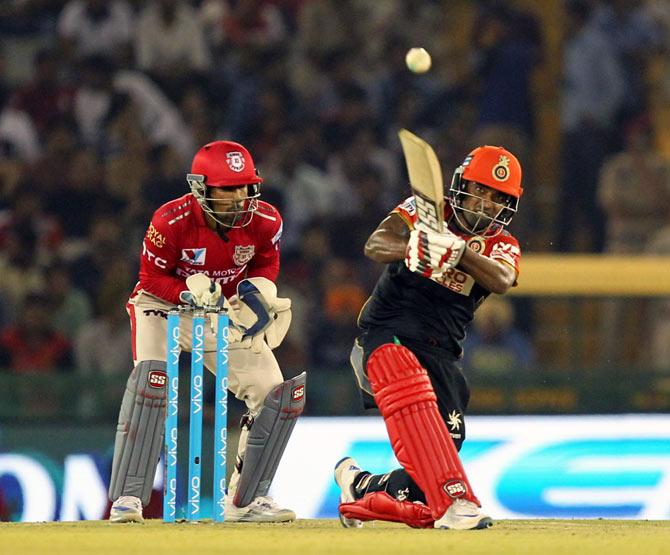 IMAGE: Sachin Baby hits through the leg side.
His inclusion was a tough call to make not only in this team, but also for the Royal Challengers Bangalore. He replaced India's Under-19 batting sensation Sarfaraz Khan in Virat Kohli's team.
Included in the RCB side in the tournament's second half, Sachin has a phenomenal strike rate of 153.33 and a healthy average.
He may be the oldest in this team at 27, but his electrifying fielding and aggressive batting makes him a player to watch out.
Rishabh Pant, Delhi Daredevils
Inn: 7. Runs: 161. Ave: 32.20. SR: 140. 100s: 0. 50s: 1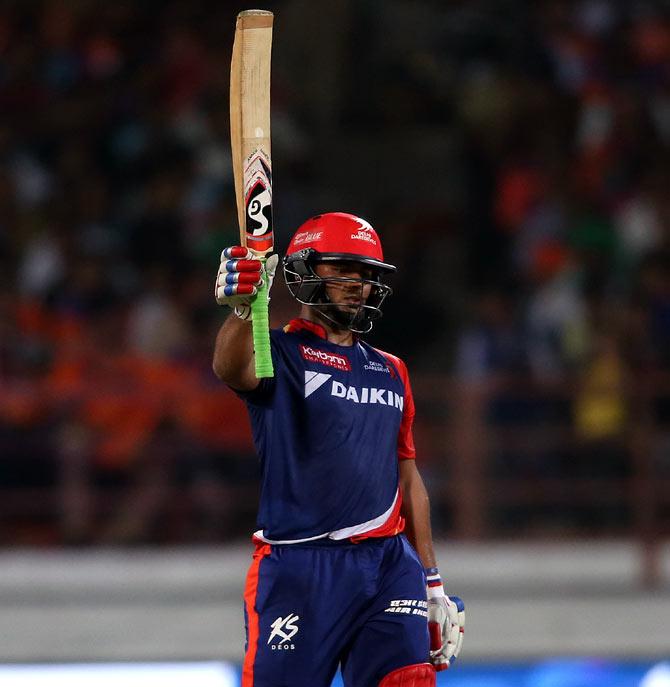 IMAGE: Rishabh Pant celebrates his half-century against the Gujarat Lions.
At 18, he is one of the youngest players in IPL 9.
Rishabh grabbed the spotlight with his maiden half-century, off only 25 balls, against the Gujarat Lions.
Playing only his third game in his maiden IPL season, he blazed his way to a 40 ball 69 to steer the Delhi Daredevils to an emphatic 8 wicket victory over the dominant Suresh Raina-led Lions.
Rishabh and Sanju Samson are already been touted as successors to the great Mahendra Singh Dhoni, considering both boys have the ability to clear the boundary regularly and can keep wickets.
Krunal Pandya, Mumbai Indians
Inn: 8. Runs: 233. Ave: 46.60. SR: 192.56. 100s: 0. 50s: 1
Overs: 29.1. Runs: 208. Wickets: 6. Average: 34.66. Strike Rrate: 7.13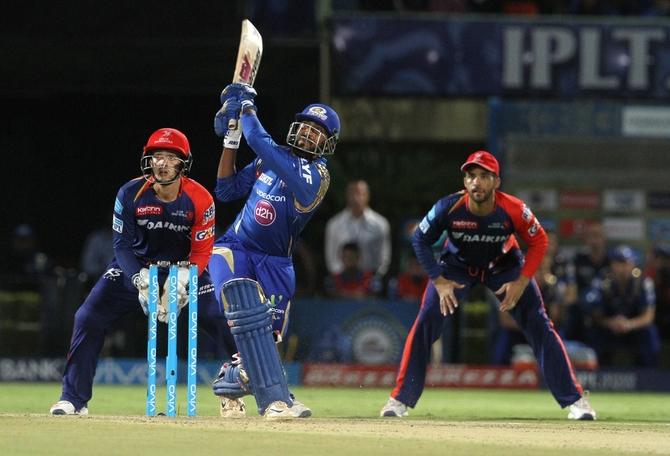 IMAGE: Krunal Pandya hits a six against the Delhi Daredevils.
This left-hand batsman and left-arm spinner, I believe, is the find of ILP 9.
Two Man-of-the-Match awards in 11 games in his maiden season is phenomenal.
Krunal first earned notice after dismissing Virat Kohli and A B de Villiers in quick succession in the first game between the Mumbai Indians and the Royal Challengers Bangalore at the Wankhede stadium.
His whirlwind 86 off only 37 balls, which powered Mumbai to a much-needed victory over the Delhi Daredevils made Krunal hot property.
In hitting 6 sixes and 7 boundaries in that game, Krunal confirmed he has the credentials of a batsmen to compliment his skilled left-arm spin.
Carlos Brathwaite, Delhi Daredevils
Inn: 4. Runs: 72. Ave: 18.00. SR: 248.27. 100s: 0, 50s: 1
Overs: 16. Runs: 144. Wkts: 4. Avg: 36.00. SR: 9.00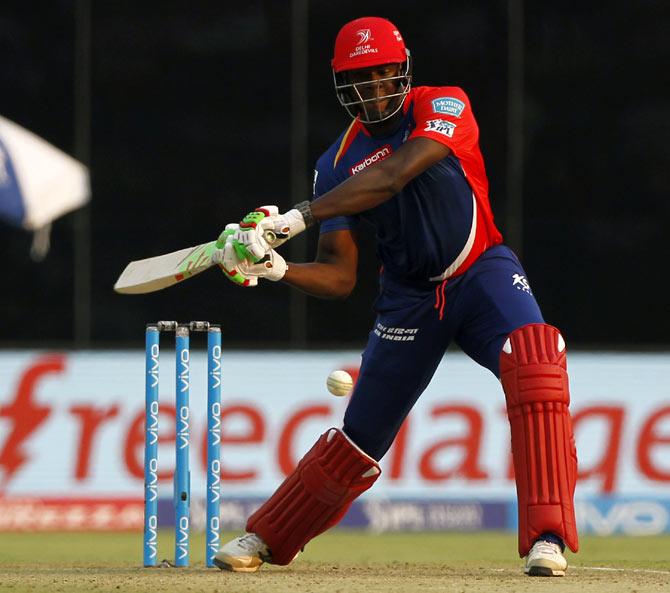 IMAGE: Carlos Brathwaite hits a six.
He hasn't featured much for the Delhi Daredevils because of Chris Morris's fine all-round showing, but the West Indian all-rounder, who showed what he is capable of during that final over in the World T20 final, can't be left out of my team.
In four innings this IPL, Brathwaite smashed a staggering 8 sixes and scored at a whopping strike rate of 248.27.
The towering West Indian may be susceptible against spin, but his fast-medium bowling lends much-needed balance to this side.
Adam Zampa, Rising Pune Supergiants
Inn: 3. Overs: 9. Wkts: 8. Avg: 7.75. Eco: 6.88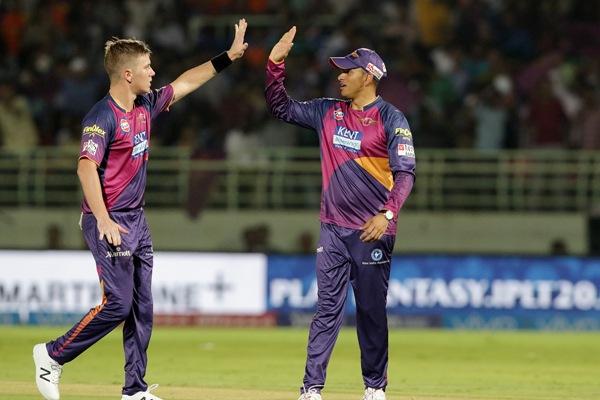 IMAGE: Adam Zampa celebrates with fellow Aussie and Pune teammate Usman Khawaja Yuvraj Singh's wicket
The Australian leg-spinner recorded the second best figures in IPL history, claiming 6/19 against the Sunrisers Hyderabad.
A canny leggie, he has all the variations -- leg-spin, the googly, top-spin and the flipper -- in his armoury.
The 24 year old's phenomenal average, backed by an impressive economy rate, makes him an obvious choice for this team.
Sandeep Sharma, Kings XI Punjab
Inn: 12. Overs: 43. Wkts: 13. Avg: 23.69. Eco: 7.16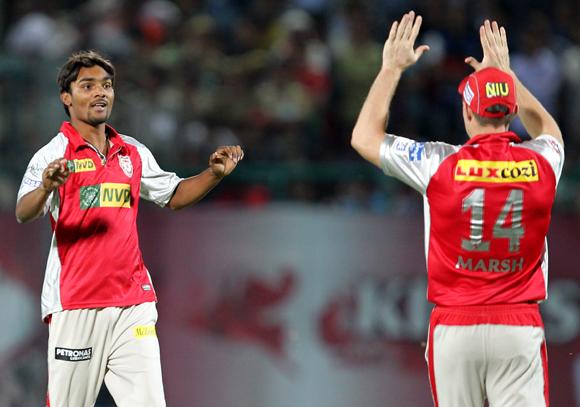 IMAGE: Sandeep Sharma has been the Kings XI Punjab's star bowler.
The Kings XI Punjab may have struggled this season, but Sandeep Sharma has done well with the ball.
The lanky medium pacer features amongst the top 10 wicket-takers.
The 23 year old has the ability to swing the ball on both sides of the wicket and bowl accurate yorkers.
Despite bowling in the powerplays and death overs he has a healthy economy rate.

Jasprit Bumrah, Mumbai Indians
Inn: 13. Overs: 48. Wkts: 14. Avg: 26.00. Eco: 7.58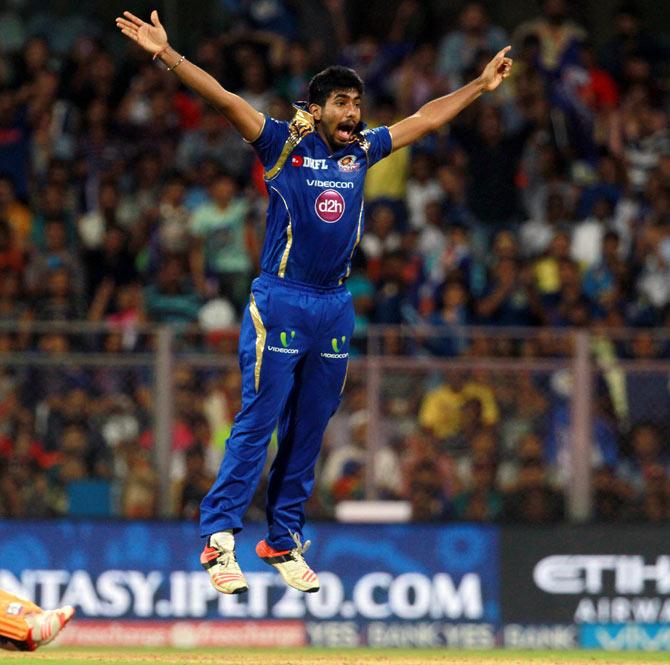 IMAGE: Mumbai Indians fast bowler Jasprit Bumrah.
Jasprit Bumrah has emerged as India's No 1 fast bowler.
The 22-year-old pacer regularly clocks 140-plus on the speed gun and is one of the best exponents of yorkers in world cricket.
He had injured Mumbai Indians pacer Lasith Malinga's big shoes to fill and he did it with aplomb.
His variations of pace and ability to surprise batsmen makes him a go-to bowler for any captain.

Mustafizur Rahman, Sunrisers Hyderabad
Inn: 12. Overs: 45. Wkts: 14. Avg: 21.42. Eco: 6.66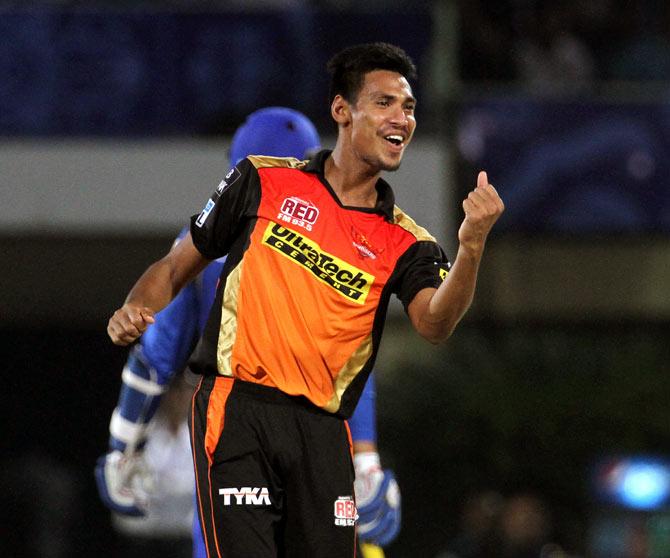 IMAGE: Mustafizur Rahman celebrates dismissing Tim Southee.
Mustafizur Rahman is undoubtedly the bowler of the tournament!
The left-arm Bangladesh pacer has all the tricks of his trade: Cutters, yorkers, slower deliveries and bouncers.
Almost every batsman has failed to read his deceptive bowling.
His 2/9 against the Kings XI Punjab was a masterclass amidst his many standout performances.
An amazing bowler indeed.
Performances recorded as on May 17, 2016.