From Australia captain Michael Clarke to other big names, tributes flew in for former Australia cricket captain and commentator Richie Benaud, who died of skin cancer late on Thursday, aged 84.
Here are some reactions from the cricket fraternity...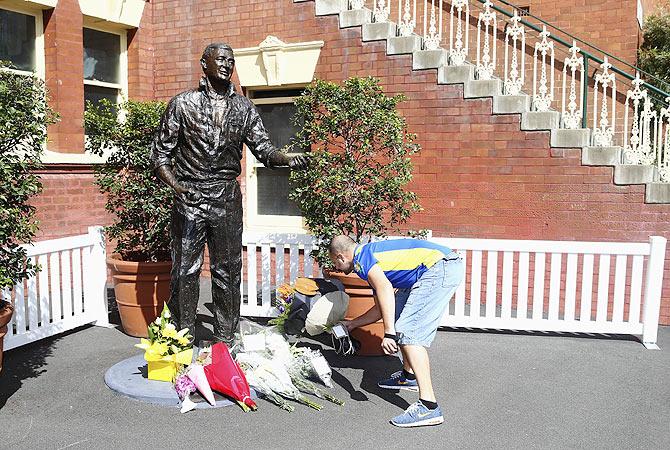 Tributes are placed at the statue of Richie Beanud at the Sydney Cricket Ground on Friday. Photograph: Ryan Pierse/Getty Images
Australian Prime Minister Tony Abbott
"He was the accompaniment of an Australian summer ... He has been a part of the lives of millions of Australians and he will certainly be very much missed."
Cricket Australia Chairman Wally Edwards
"Richie stood at the top of the game throughout his rich life, first as a record-breaking leg-spinner and captain, and then as cricket's most famous broadcaster who became the iconic voice of our summer."
Australia cricket captain Michael Clarke
"My vintage, we grew up with that voice. He was a great player and a great captain. A wonderful leader of men and he continued that off the field. He loved winning. He helped the Australian team have the attitude where they wanted to win. He played the game the right way."
Australia coach Darren Lehmann
"Richie was truly one of the game's greats."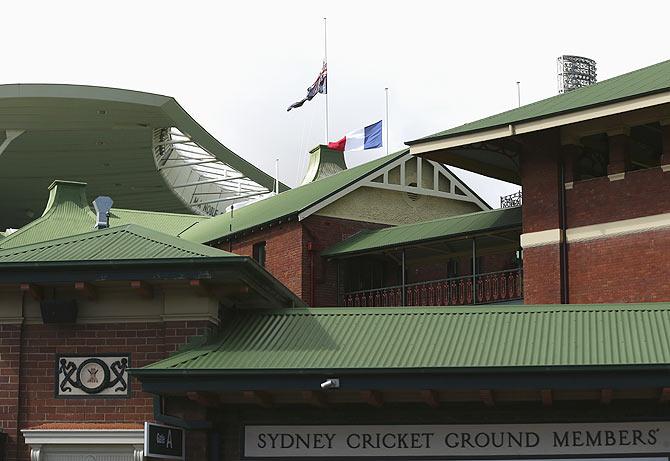 Flags fly at half mast in tribute to Richie Beanud at the Sydney Cricket Ground on Friday. Photograph: Ryan Pierse/Getty Images
Former Australia captain Steve Waugh
"His legacy to the game will always live on. More so Richie's stature as a true gentleman and role model for life will remain his greatest gift."
BBC cricket commentator Jonathan Agnew
"He was quite simply peerless. Nobody else had his authority, popularity and skill. If you speak to any broadcaster from any sport, they will point to Richie as the standard-bearer."
Former Australia leg-spinner Shane Warne
"As a cricketer, commentator and as a person, you were the best there's ever been and to top it off, an absolute gentleman."
Multiple Olympic medal winning cyclist Anna Meares
"Rest In Peace Richie Benaud. What a marvellous innings you had!"
Former Australian batsman Dean Jones
"A part of cricket died today."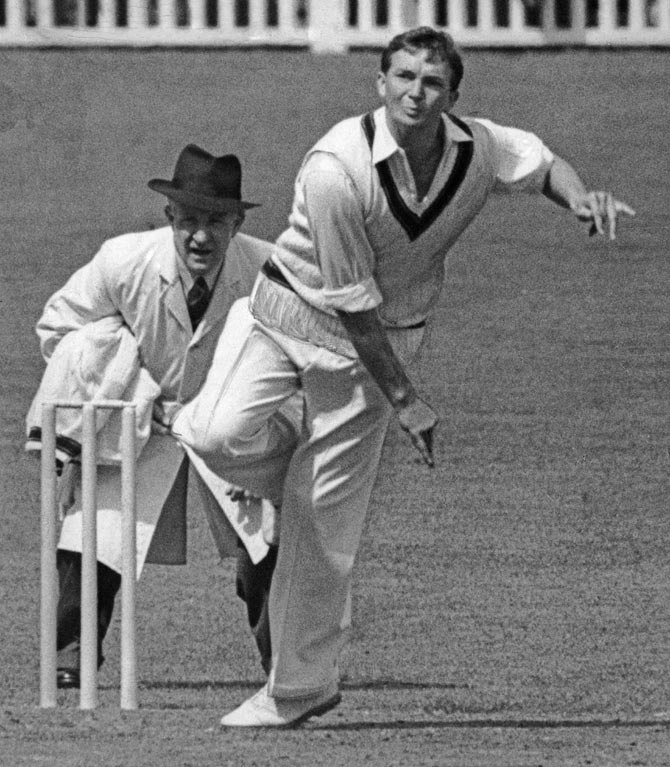 Australia cricketer and team captain Richie Benaud bowls against the MCC in the first innings at Brisbane, on 5th December 1958. Photograph: Central Press/Hulton Archive/Getty Images
Former Pakistan captain Imran Khan

"Saddened by the death of Richie Benaud, one of the greatest cricketing brains."

Former Pakistan fast bowler Wasim Akram

"The Voice of Cricket and a truly great man. Thank you for everything you gave us. You will be missed by so many."

Sri Lanka batsman Kumar Sangakkara

"So sad to hear about the passing of Richie Benaud. The great voice of cricket is no more. He defined an era with conviction and sincerity.
Former Australia fast bowler Glenn McGrath

"Very sad news about Richie Benaud. A legend of Australian cricket & the commentary box. We've lost a true Aussie icon

Australia all-rounder Shane Watson

"Respected and looked up to by all, you will be sorely missed #Legend Vale Richie Benaud"
Australia opening batsman David Warner

"Sad to hear the passing of the voice of cricket, great player and a true gentleman"
Australia fast bowler Mitchell Johnson

"A truly great person, you will always be remembered for what you gave to this world."

England and Wales Cricket Board

"Our thoughts are with the family & friends of legendary former Australia captain & cricket commentator Richie Benaud who has died aged 84."

New Zealand Cricket

"NZC is sad to hear that one of the game's great personalities Richie Benaud has passed away at the age of 84."