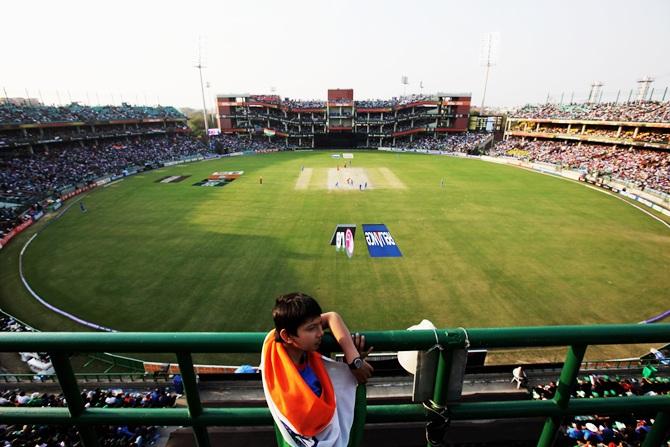 IMAGE: The Ferozshah Kotla Stadium, which is under the aegis of Delhi and District Cricket Association. Photograph: Daniel Berehulak/Getty Images
Beleaguered Delhi and Districts Cricket Association (DDCA), on Saturday, called an emergent meeting of its directors where 9 out of the 17 signed in favour of forming an interim committee, which will be tasked with implementing the Lodha Committee reforms in toto.
Former DDCA president Sneh Bansal had written a letter to the Lodha Panel secretary Gopal Shankarnarayan, claiming that all 24 directors of DDCA are ineligible as per Supreme Court ruling on January 2, but treasurer Ravinder Manchanda claimed otherwise.
Accordingly, 17 directors out of the 24 found "eligible", were called for an Executive Committee meeting of the Board of Directors. Out of 17, only Pravesh Verma (government nominee) was absent.
However, a few directors were learnt to have raised objection asking treasurer Manchanda as to how this meeting could be called in the current circumstances.
The nine directors, who signed in favour of interim committee to be formed were Manchanda, Subhash Sharma, Vivek Gupta, Salil Seth, Siddharth Sahib Singh, Ashok Sharma, Ajay Sharma, Vinod Garg and Vikas Katyal.
The seven who didn't signed the document were Sunil Jain, Rajan Tewari, Sunil Yadav, Dinesh 'Balli' Sharma, Dinesh Saini, Ravi Jain and Harsh Sharma.
"We would seek direction from the Lodha Panel so that eligible office-bearers can form an interim panel till elections are held for running the day-to-day functioning," treasurer Manchanda said.